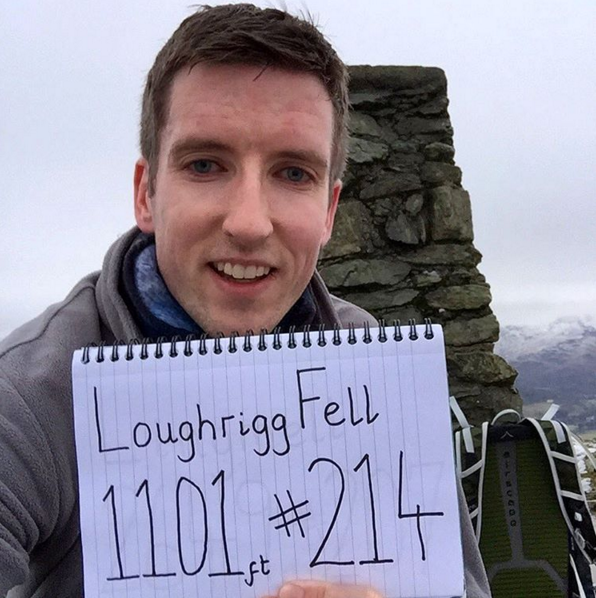 In 2015 mountaineer and photographer Tom Clague (better known to his army of Instagram followers as GreyFox2711) set himself the challenge of completing all 214 Wainwrights in just one year. Having finally completed this feat Tom talks to us about his motivation, the highs and lows and what is next on the agenda
---
Describe yourself and your challenge 
"It was 1993 when I was first introduced to the Lake District, I climbed Loughrigg with my Dad at the age of 5 and I have loved fell walking ever since. Initially I would go hiking maybe four or five times a year with my Dad but in April 2014 it became a more serious hobby.
"A friend of mine said he was interested in trying hiking and he knew I had some experience of the Lakes so he asked if I would join him. That was the start of a very busy year of hiking; we did various different hikes in the Lakes and Snowdonia, mostly long distance and over numerous mountains."
Why did you decide to challenge yourself to do all 214 Wainwrights?
"During a walk around the Kentmere Horseshoe on 28th December 2014 I noticed that I had hiked a fair number of Wainwrights in one hike. I think in total I climbed eight that day and I began to think if it would be possible to climb all 214 in one year. What with it being the 28th December it all seemed to fit perfectly and when I got home that evening I researched the possibility of climbing all 214 Wainwrights in 2015. I also thought this would be a fantastic way to see all the parts of the Lake District that I had not visited before and the idea of challenging myself to climb 214 fells and mountains in a year was exciting. With the help of Stuart Marshall's book, Walking the Wainwrights I knew it would be possible to climb all 214 in 36 walks."
Have you got a favourite?
"When people have asked me this question before I have always said Blencathra is my favourite of all the Wainwrights. It is a mountain that has a little bit of everything and makes for an exciting hike which ever route you decide to take. My favourite route up is over Souther Fell from Mungrisedale and on to Scales Tarn before ascending Sharp Edge to the summit. The views from the top are amazing on a clear day with all of the Lake District visible to the south. During my challenge I found a few other favourites however including Mellbreak, Rannerdale Knotts and Raven Crag. All of which have stunning views from their summits."
What was the biggest challenge you found while completing them?
"I suppose the biggest challenge I encountered was the weather. It wasn't really an option for me to wait for sunny days. I had 35 walks to complete in 52 weeks this meant I had to take on some hikes in awful conditions, snow, high winds, persistent rain and hill fog were all factors I had to deal with on occasion. A few of the worst days I had stick in the memory, in particular when I hiked the Langdale Pikes from Grasmere and encountered constant rain for almost 6 hours, and also exploring the Coniston Fells in June in 80-90mph winds.
"However, for all the bad weather days I also had some beautiful ones, and they allowed me to take some great photos of the Lakeland landscapes. Another challenge I faced was the amount of driving involved, travelling from Manchester to the Lakes 35 times in one year but knowing I was going to do something I love did not really make this such an issue."
You have taken some amazing photos that capture the beauty of the British landscape; do you have a favourite shot?
"Photography is another hobby of mine and I always take my camera with me when I go hiking, the two hobbies complement each other brilliantly as my hiking takes me to some of the best views in country so I can capture them and share them through my Instagram feed (@greyfox2711). During my Wainwrights challenge I took thousands of photographs and I would struggle to pick just one favourite I do however love the shot I took from Blencathra 18th April 2015."
Since completing the Wainwrights challenge you have moved on to Scotland and Wales; tell us a bit about this next challenge.
"By the time I had completed the Wainwrights I had become hugely into hiking and adventuring, I spend the majority of my spare time hiking and exploring and I enjoyed completing the challenge and sharing it on Instagram so much that I decided to look for a new challenge. I discovered that Snowdonia has 104 Hewitts within its boundaries, Hewitts are mountains in England, Wales and Ireland of at least 2000ft with a prominence of 30 metres or more.
Although this challenge may seem easy after completing 214 mountains last year the distances between the Welsh mountains and their height makes it much tougher, I have also had to plan these routes entirely by myself as nobody has written a book on Welsh Hewitts, yet!"
All the photographs featured are Tom's own. For more pictures from Tom's challenge head to his Instagram page here