When TGO Challenge organisers Sue Oxley and Ali Ogden made the decision to cancel the TGO Challenge 2020, they never dreamed that a virtual version of the cross-Scotland backpacking adventure would bring armchair inspiration to hundreds during lockdown. Here, the pair report on week 1 of the #virtualTGOC.
We certainly didn't want to be the first coordinators to cancel a TGO Challenge after 40yrs, in which even foot and mouth disease didn't stop it, but by March it was inevitable. Or was it? Our feet couldn't take us across Scotland this year but maybe memories and imagination could? It would be very different but maybe we could go from coast to coast without leaving home. On 7th May we started travelling virtually to the West Coast with some trepidation  – would anyone come with us?
Then this photo arrived from David Wishart and a message "all packed and ready to go" on his route along the Moray Coast and we breathed a sigh of relief – at least someone got it!
We need not have worried – a week latter we had 700 posts, 2,500 comments, 23,000 likes and 3,400 photos on Facebook alone. We have also had 0 abusive messages, just 1 inappropriate message (a non-Challenger suggesting we should get out in the hills . . . ) and 0 lockdown breaches. Who says social media is a bad thing?!
The advantage of a virtual Challenge is time travel can be employed. Indeed Andrew Walker asked the folks at CERN to help him break the speed of light when he missed the virtual sleeper so he could catch the Challenge Express from Glasgow which took him to Oban – in 2003! Move over Jodie Whittaker, Heather Thomas-Smith has commandeered the Tardis and is using it several times a day.
Many have decided they need a real camping fix. Pam Lawes should have been on her first crossing but despite the rain she put her tent up on the first night in the alternative Shiel Bridge which she found at the bottom of her garden.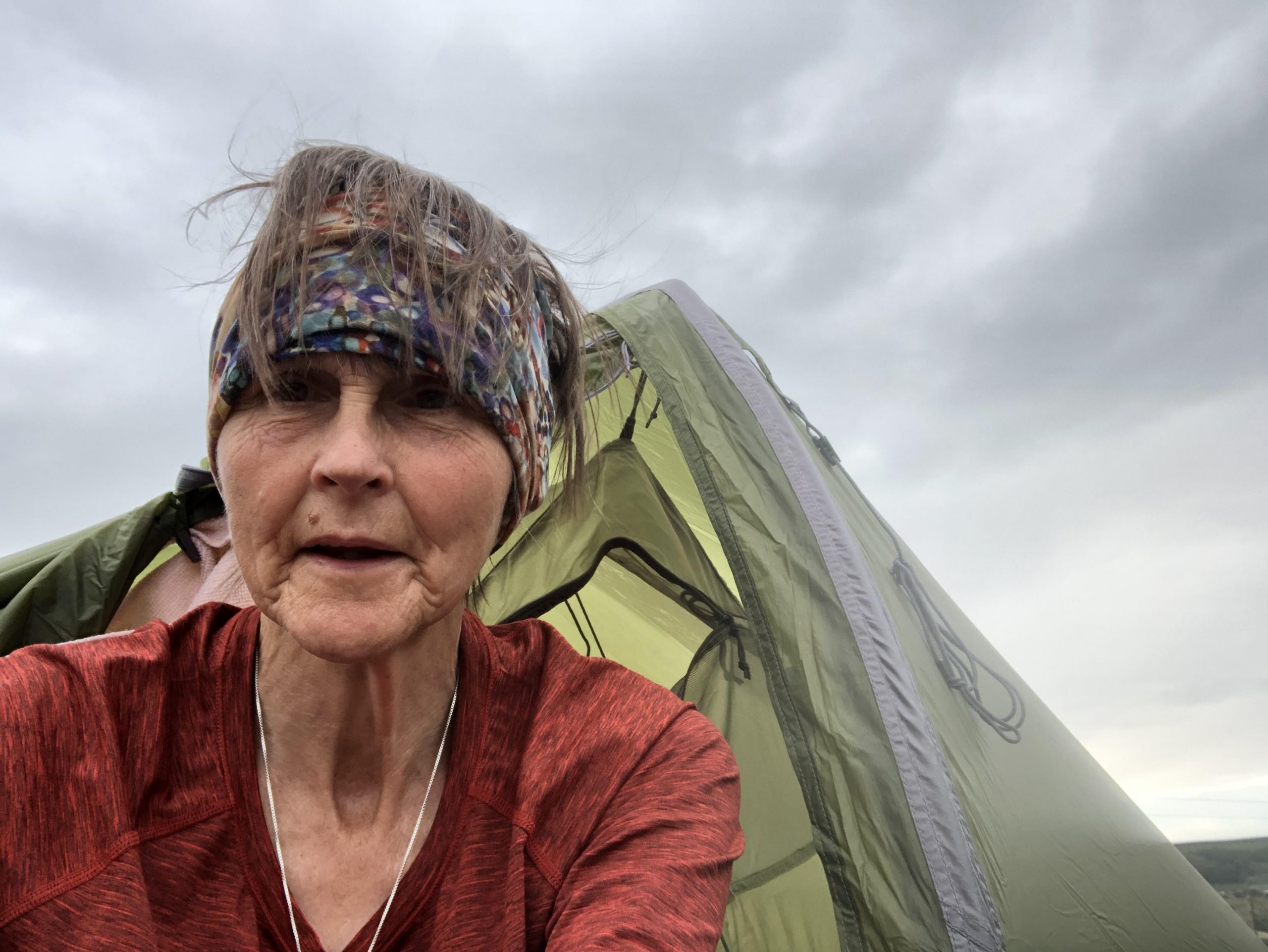 John & Sue Tattersall seem to have used every tent they have ever owned but also treated themselves to a night in a "luxury camping pod" aka their shed – though it is a very smart one!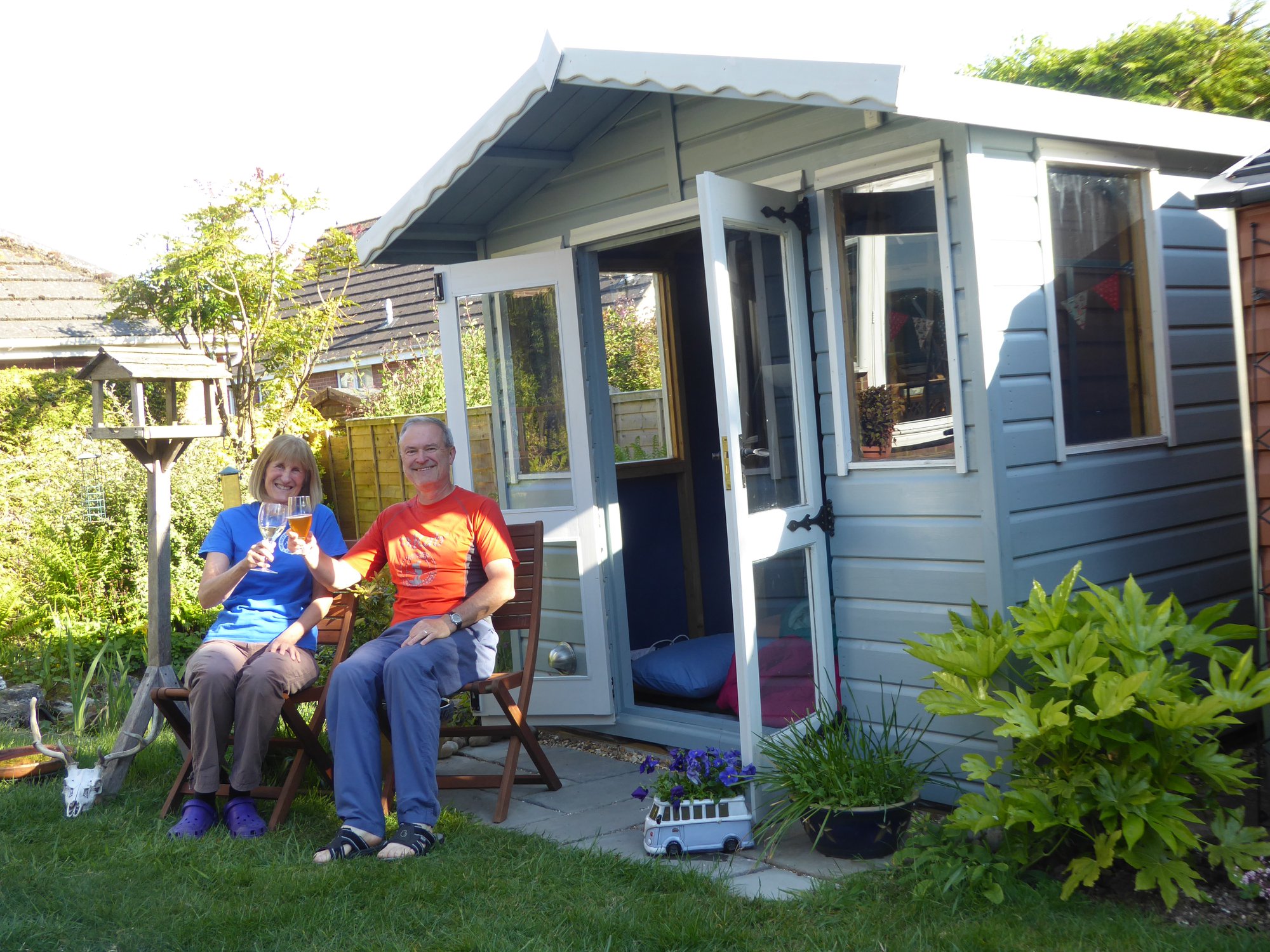 Rachel Cornish remembered to take her ice axe in case it snowed (and it did for real up here in the Highlands) and sheshowed some real Challenger ingenuity when crossing Loch Ness.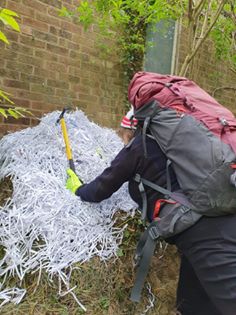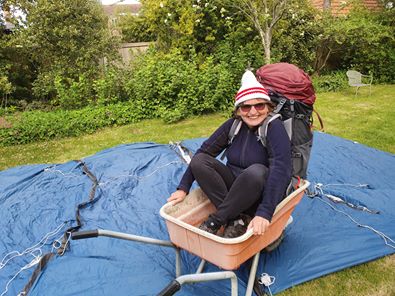 It's not just a few social media addicts participating. We've had many new users join us and have had quite a few submissions by email – even good old-fashioned letter! We've been giving informal Facebook lessons behind the scenes to quite a few. We've heard from past Challengers who we haven't heard from for years, including Jenny Roberts who recounted her experience of the first Challenge in 1980. TGO magazine's Chris Townsend was also on that first crossing and has added many memories and wonderful photos to the virtual Challenge as wells as a blog post on the Beginning of the Challenge.
There are a quite a few Challengers with a propensity to burst into song – among them Andy Howell who has written a TGO Challenge song and Andrew Walker has turned it into the "TGO blues", which you can find it here.
For anyone who thinks they are too old for social media Waldin Robey, veteran on 11 crossings, contacted us via Messenger to tell us VE day was his 91st birthday. Sue Foss had sent us a picture of Challenge T-shirts being used as street party bunting so it was quickly repurposed as a virtual Birthday card!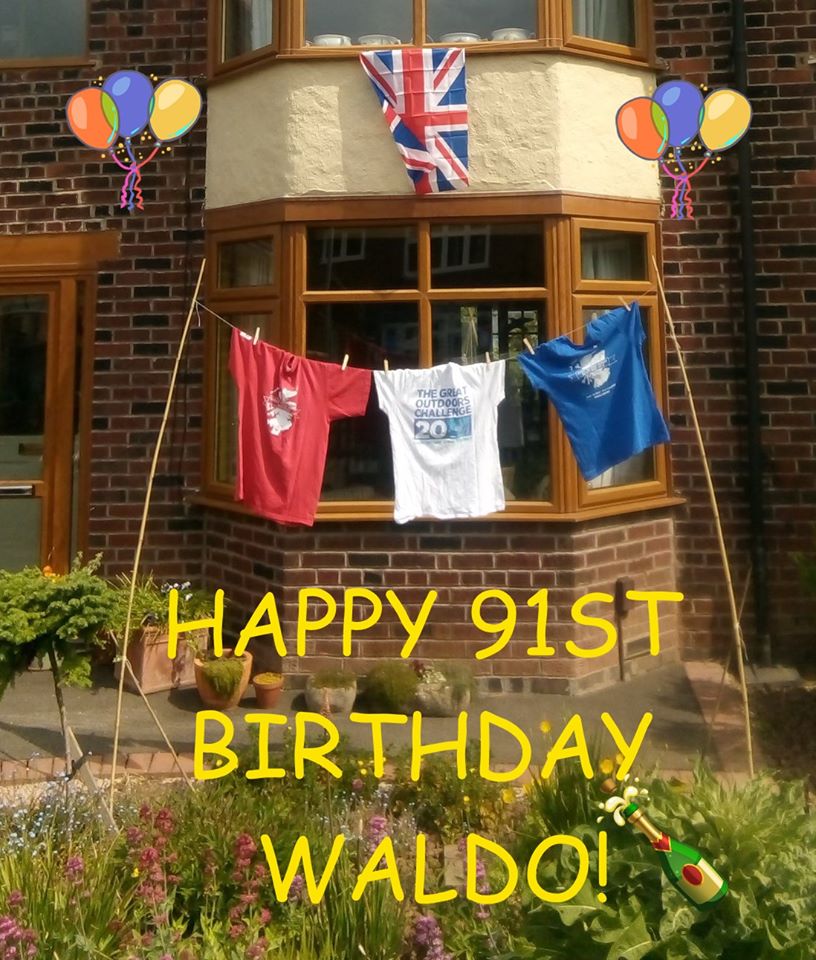 We also heard from another nonagenarian. David Brown posted a video of Jim Taylor taken on his 20th and final crossing in 2014. It is worth listening not just for his thoughts on his wartime experiences but also for his glorious Angus accent. It is astonishing to think he was 91 on this crossing and, though he sadly died a year later, he still holds the record for our oldest Challenger and we're not sure it will ever be beaten.
On another sad note, we lost another of our Challenge characters. Steve Wagstaff, known as Waggy, died just before we set off for the West Coast. He was a wonderful, gentle man full of wit and kindness and an excellent musician. We will be remembering him with a toast at  8:30pm on Thursday – when we should all have been celebrating at the Park Hotel in Montrose.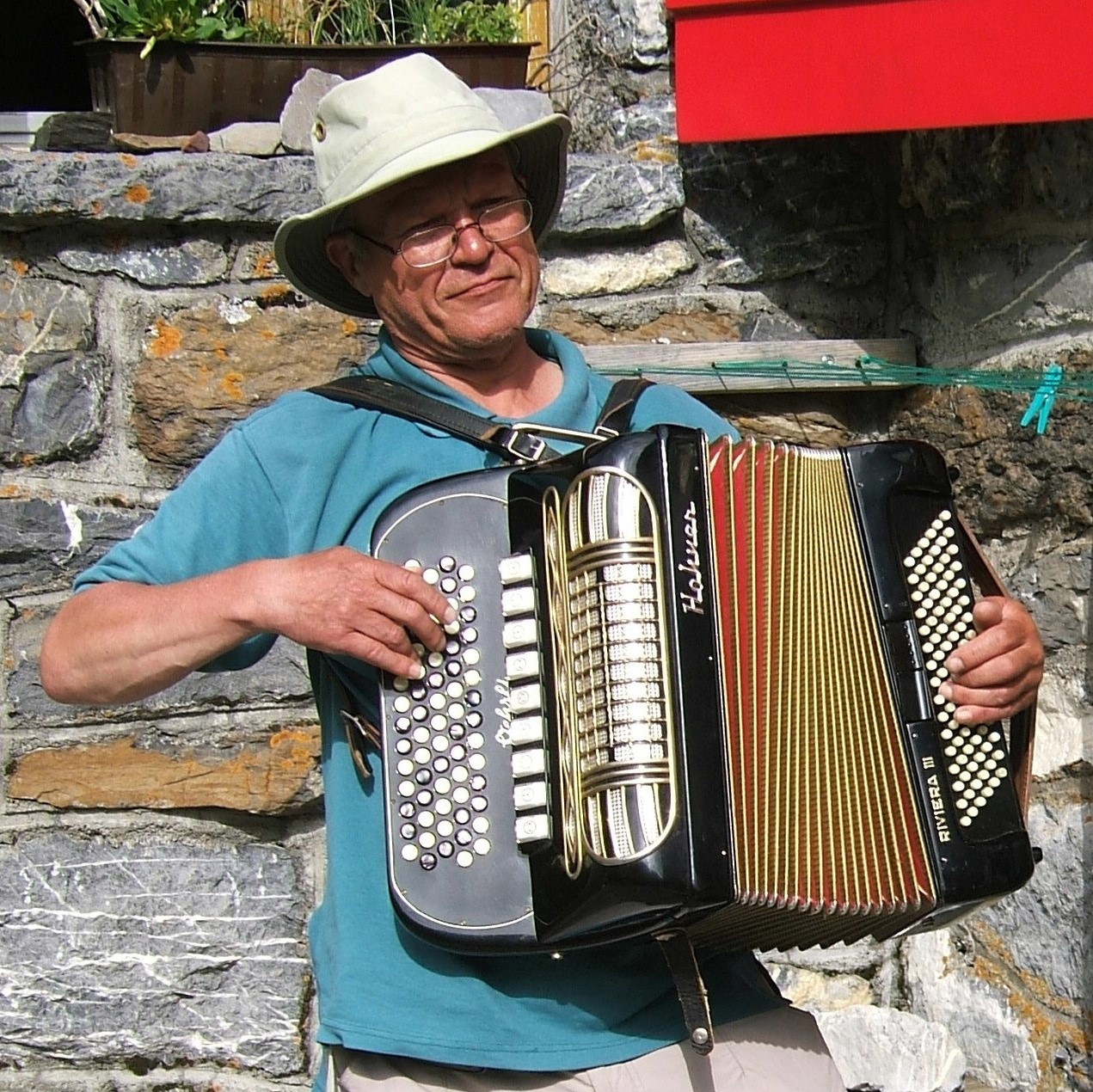 It has been brilliant reading tales of past Challenges (we are left wondering if it was obligatory to wear uncomfortably tight shorts in the 80s and 90s . . . . ) but we have very much enjoyed the contributions from our more recent Challengers including those who would have been walking across Scotland for the first time this year. They may not have past memories but many have said they have gained a lot of inspiration and some have made our feet itch to be out in the hills with some wonderful photos including this from Patrick Multhamp.
Not surprisingly, this has been entered in our #virtualTGOC photo competition, details of which can be found here. Our sponsors Ultralight Outdoor Gear and Kelsey Media have put up some great prizes. It's not too late to enter – just add your photo to the daily Facebook post or email it to newtonmorehostel@gmail.com
Of course, you can't have a Challenge, even a virtual one, without Challenge Control and Gayle and Mick in the southern division have been doing such a good job that the Northern division has been rendered redundant!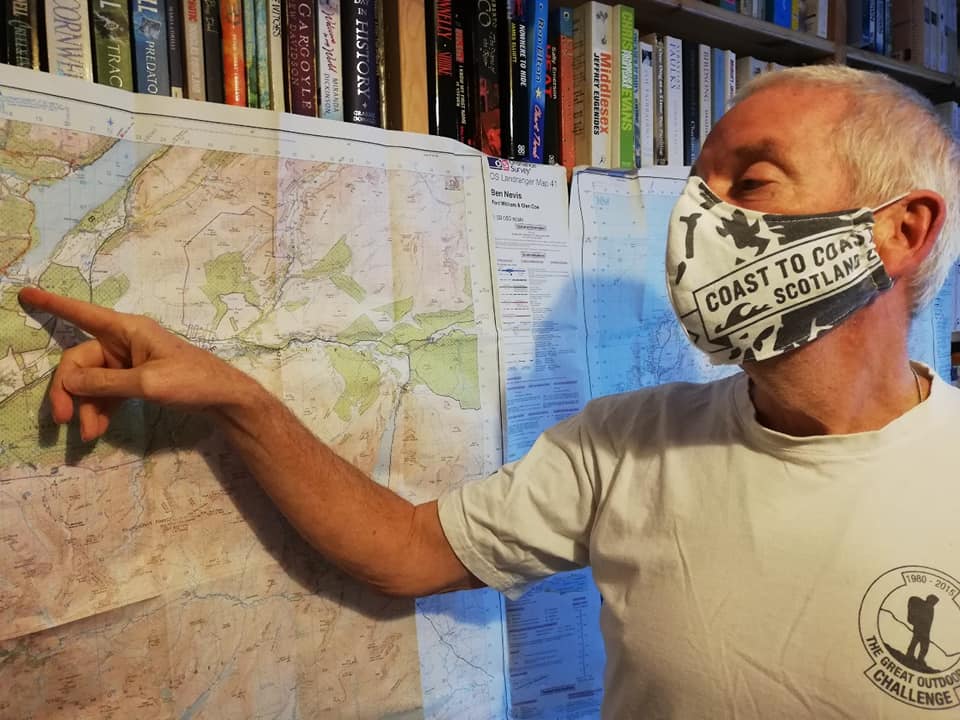 Week 1 of the virtualTGOC has been memorable, inspiring and at times more than a bit bonkers – but in such a good way. We're almost looking forward to another week of lockdown as we see what week 2 will bring!
If you haven't dipped a toe into the virtual Challenge yet please come and join us.
Make indoor time better with The Great Outdoors
During the lockdown, we're continuing to work (from home!) to make a magazine that will help you keep your outdoor spirit alive. Even though you can't go physically go to the hills and mountains, we aim to take you there with our words and images, and perhaps conjure some of the feelings they inspire. 
To show our readers our gratitude for their support at this time, current subscribers have had their subscriptions upgraded to include free access to the digital edition of the magazine.
To give you some great reading material for these indoor days, we're also offering new readers:
Stay home, stay safe, and see you on the hills when the day comes!