From spectacular scrambles to high and mighty rambles, the October issue of The Great Outdoors is an ode to ridge walking in all its fabulous forms.
It's hard to say what we love most about ridge walking. The exposure, scrambling and summit-bagging potential all add to the thrill – but perhaps the real appeal is staying high all day, getting lost in the horizon-to-horizon views as the summits roll by. Our October issue is packed with praise for Britain's brilliant ridges, from a run-down of the country's best ridge walks to Dougie Cunningham's spectacular photo essay on the Mamores and more.
Also in this issue:
Carey Davies camps out on the summit of Helvellyn, taking in a couple of knife-edge rises on the way.
David Lintern explores the heart of the Highlands and takes on a few fine ridge lines on a Ben Alder backpacking trip.
Emily Woodhouse attempts a record-breaking round of summits in Spain's Sierra Nevada. 
PLUS: TGO Challengers recount their experiences, mountaineers give their insight into the climate crisis, Lucy Thraves writes a powerful piece on the experience of walking solo as a woman, David Lintern and Lucy Wallace review mid-layers, nine thrillingly varied mapped walking routes… and plenty more.
How to get a copy
Order a single copy of this issue and get it delivered with free postage.
Take out an annual subscription and take advantage of our new subscriber offer (£15 for your first 6 issues).
Download the digital version to your tablet or smartphone and start reading straight away.
Take advantage of our special lockdown offer (3 issues along with the accompanying digital editions for just £9.99 plus free postage, with no ongoing commitment to subscribe.)
Buy it in shops across the UK.
Read more: a look inside the issue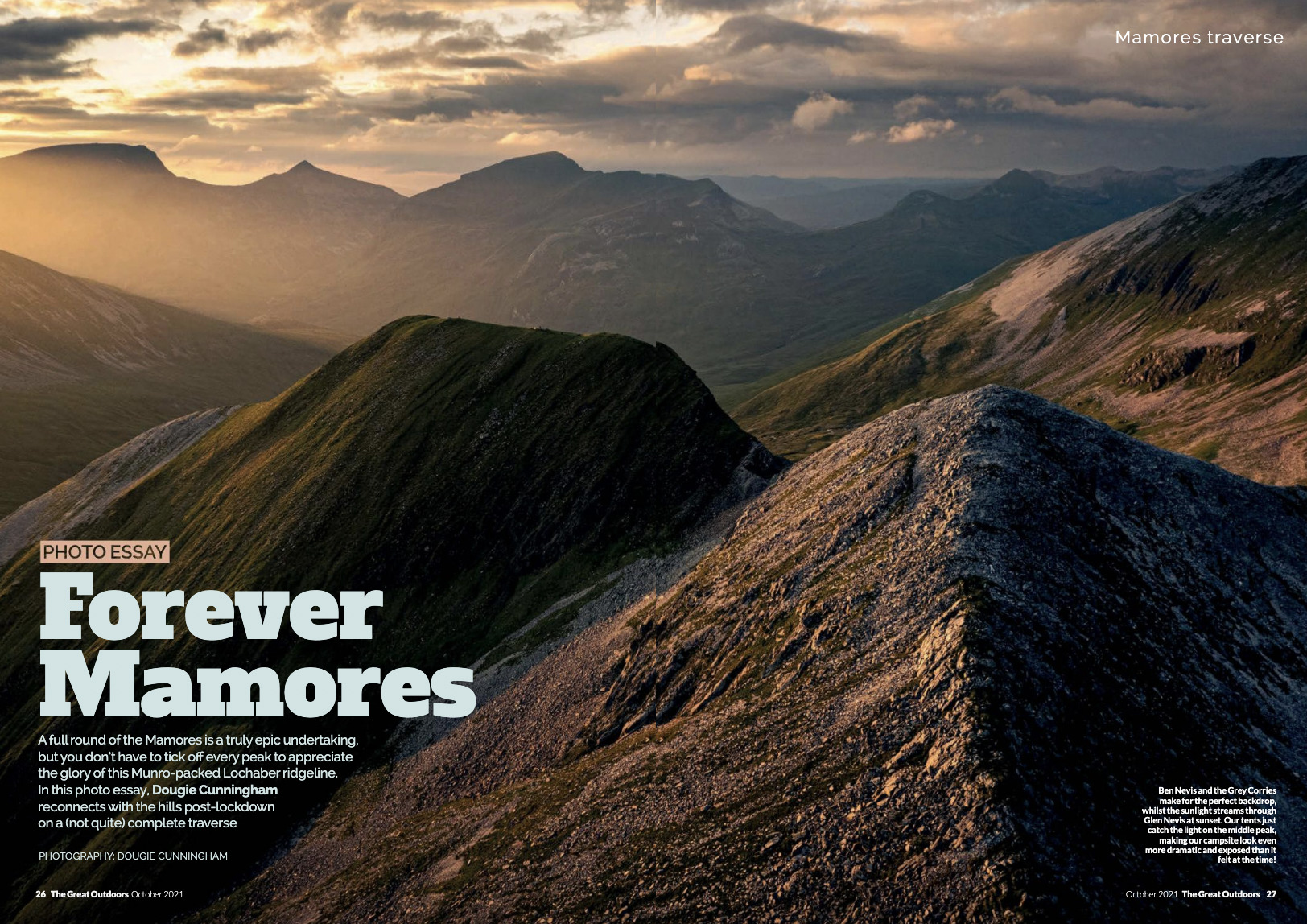 Forever Mamores: A full round of the Mamores is a truly epic undertaking, but you don't have to tick off every peak to appreciate the glory of this Munro-pocked Lochaber ridgeline. In this photo essay, Dougie Cunningham reconnects with the hills post-lockdown on a (not quite) complete traverse.
"Crossing the bealach, we start climbing Binnein Mor. The approach to the summit from the north is an auspicious start to one of the mainland's classic ridges: angular boulders line the knife-edge arete, with the terrain dropping beautifully to both sides. The view is spectacular in every direction. As we walk, covering new ground for us but surrounded by old haunts, it feels like the ascent has made good on its promise. This is the terrain you daydream about long after a trip, and which tempts you back out to endure your next sweaty, cleg-infested ascent."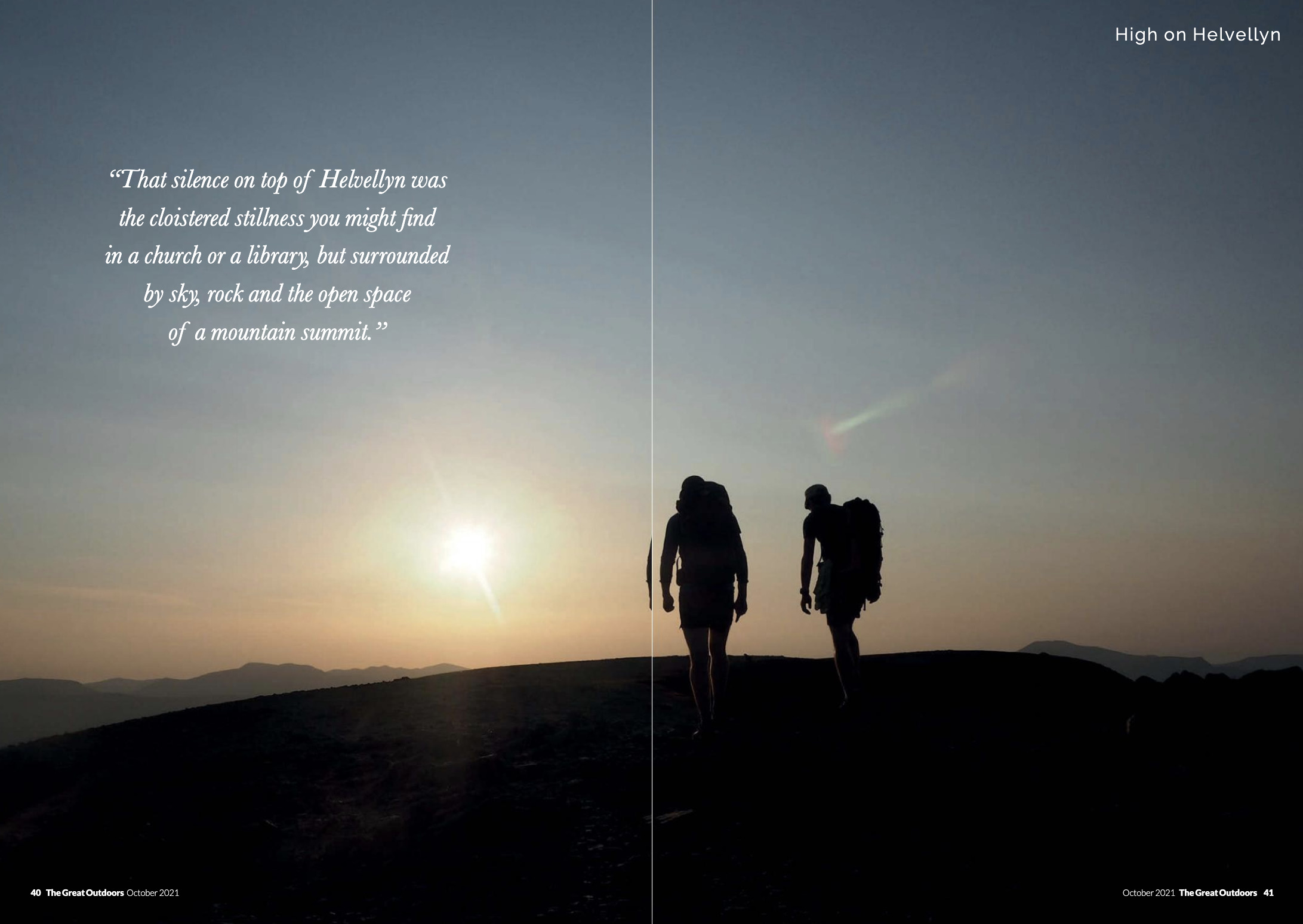 Hot as Helvellyn: With a heatwave gripping Britain, Carey Davies heads to the Lake District to wild camp on England's third-highest summit – with a couple of famous scrambles thrown in for good measure…
"If you like to get fine mountainous places to yourself, there are only two ways to do it with Striding Edge. One is to set off very early in the morning (my less favourite option). The other is to be there very late on, ideally on a day when weather conditions prevent any sensible person from acting on the same idea. The latter was our tactic today, and there was a satisfaction in making our way along this magnificent rocky spine, famed for its popularity, without so much as a lone fell runner in sight."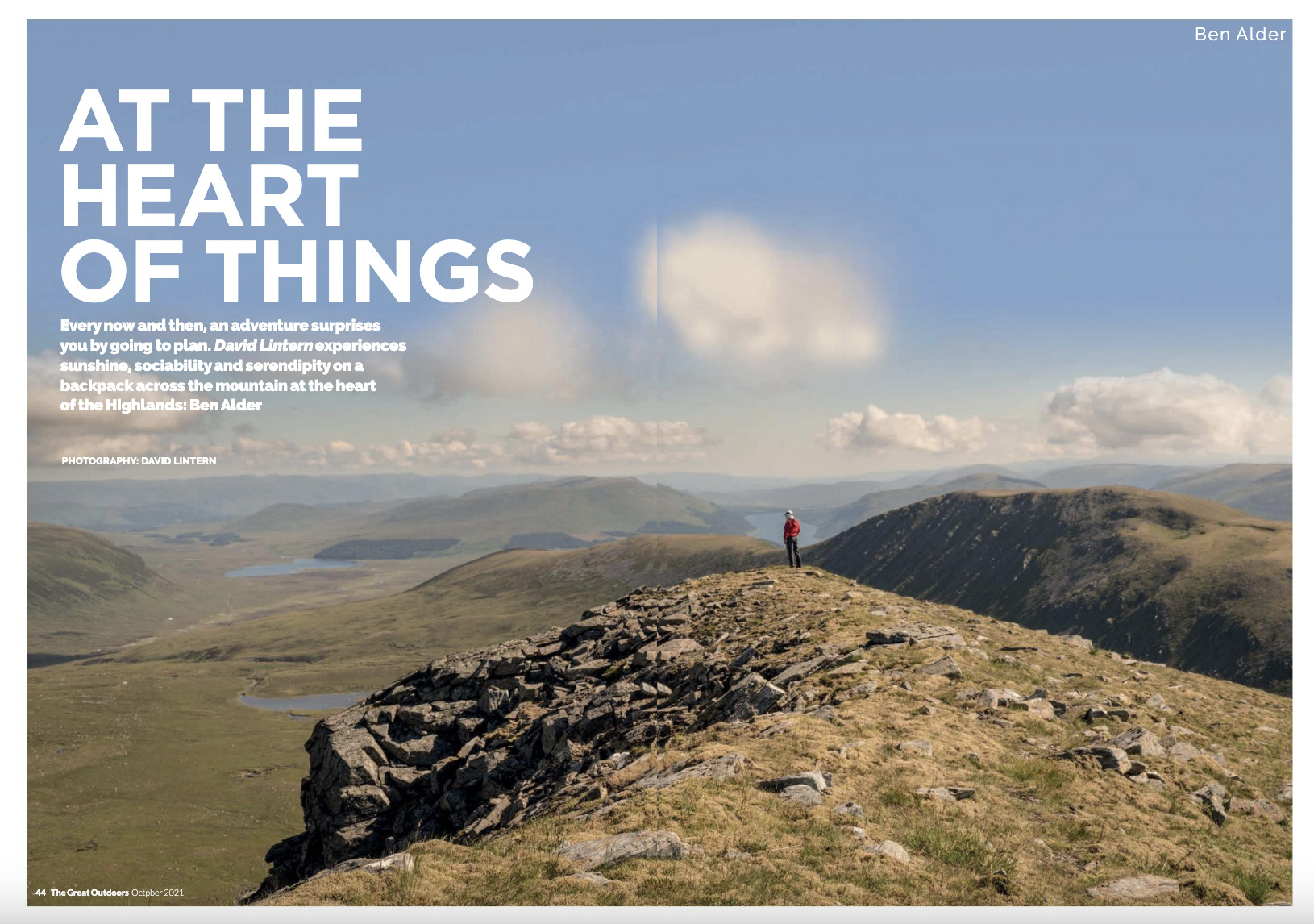 At the heart of things: Every now and then, an adventure surprises you by going to plan. David Lintern experiences sunshine, sociability and serendipity on a backpack across the mountain at the heart of the Highlands: Ben Alder
"I could just make out the very top of Schiehallion, peeking out over the ridges, far way out at the other end of Rannoch Moor. We were both a little apprehensive about the climb ahead –  but it soon fell nicely into place at our feet, leading up to a spring-fed meadow. Tucked away from a brisk south-westerly wind and with views back onto the Lancet Edge and Ben Alder's extensive plateau, we were soon pitched up for the evening."
The trail less travelled: Emily Woodhouse heads for the sun-scorched peaks and razorback ridges of Spain's Sierra Nevada with a personal goal: to turn a hiking holiday into a world record-breaking adventure
"Soon I settled into a rhythm of two summits a day: one early morning, one mid-afternoon. The days were overwhelmingly hot and dry and still. The sunsets were red, the mornings golden. The mountains were almost empty until I reached the more accessible peaks like Mulhacen and Veleta. The solitude was beautiful. One evening, I spent the hour before dark listening to the scree slowly falling off Mulhacen in the silence."
Order a single copy of this issue and get it delivered with free postage.