Mountaineering legend Sir Chris Bonington is one of the latest heroes to be immortalised on the Lake District's new currency, the Lake District Pound.
The 84-year-old adventurer, who lives near Caldbeck, in Cumbria, appears on the currency alongside three other legends of the Lakes: Peter Rabbit author Beatrix Potter, National Trust founder Canon Hardwicke Rawnsley, and educational pioneer Charlotte Mason.
The four characters feature across the Lake District Pound's new LD£1, LD£5, LD£10 and LD£20 designs for 2019, which include the unique work of local portrait artist Rebecca Gill as part of the compositions.
The Lake District Pound is a community currency designed to help locals and visitors enjoy Cumbrian culture, support local businesses and help look after the area's landscapes and communities.
Launched on May 1, the Lake District Pound is a complementary currency, which can be used interchangeably alongside Sterling, but only spent at independent, local businesses. The aim is to drive more footfall to unique retailers, shops, cafes, attractions and other businesses in the area.
Ken Royall, founder and director of the Lakes Currency Project, said: "It's been an amazing year for the project and we're so happy that tens of thousands of LD£ are now in circulation.
"It's great to be able to reveal the next set of designs, which will be valid through to January 2020. We can't wait to carry on pushing the project forward next year, growing the number of businesses and places you can use the Lake District Pound and supporting more and more of our local businesses.
"People can still use their 2018 LD£, which are valid until the end of January. If people want to swap their 2018 LD£ for 2019 LD£ between now and then, then they can do it at any of the participating businesses or exchange points across the region."
Since launch around LD£140,000 has gone into circulation with more than 350 businesses accepting the currency.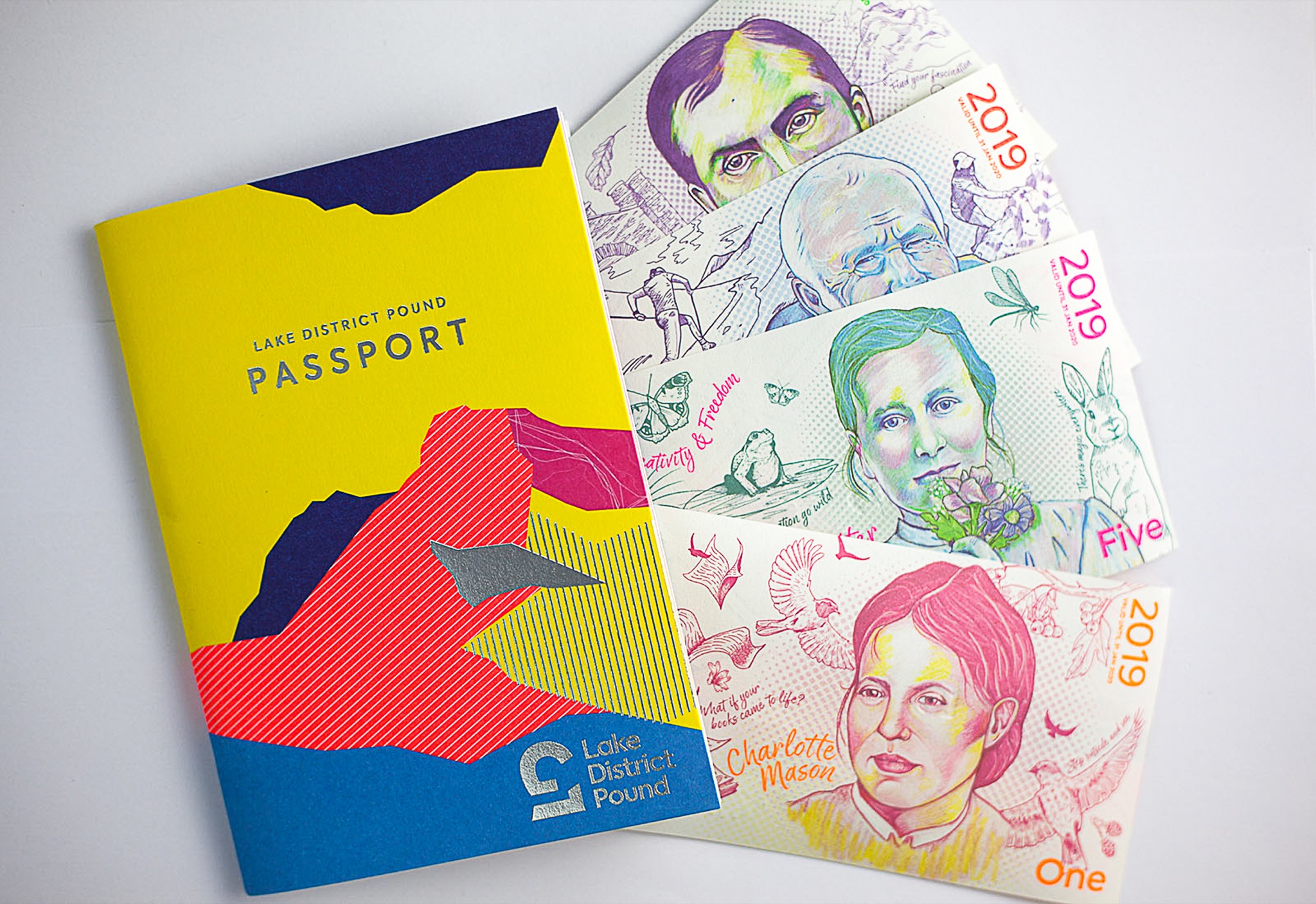 Exciting new designs every year
Lakes Currency Project creative director, Sophie Crewdson said: "With exciting new designs every year, the Lake District Pound is an amazing creative platform not only to celebrate the endless inspiring people and stories associated with the Lake District and Cumbria, but also to showcase the creative talent that exists in our region.
"In 2018, Holly Acland's wonderful portrait elements and watercolours helped to give our first set of currency a really magical appeal. For 2019, in this new set of notes, we wanted to delight people with a new and exciting style, and so chose to work with up-and-coming local artist Rebecca Gill, whose bold and colourful portrait elements give an amazing vibrancy to the notes and the characters featured on them. Rebecca worked closely with myself and our Kendal-based designer, Debbie Vayanos to bring together all the many exciting elements and design features that you'll discover in your 2019 LD£!
"How do we come up with the designs? From the start of the project, we knew we would never be able to sum up everything people love about the Lake District in one set of notes. So each year we'll continue to interpret our four 'LD£ design themes' in new ways, featuring different characters, stories and artistic styles.
"Our vision is for each year's set of designs to tell different stories, while also creating unique and collectable art as our ideas evolve and as we work with different artists over the years. At the same time, we make sure our notes are easy to recognise. You'll notice that each denomination has its own colour scheme, especially recognisable on the landscape sides – where bold colours and security features combine to create really fun designs. This consistency year-on-year ensures that everyone who uses the currency can find it easy to quickly recognise each note. Of course, each year's currency is also clearly marked with its year of validity. We can't wait for you to get your hands on our 2019 designs!"