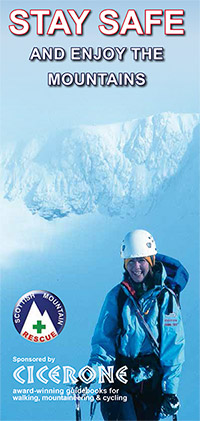 The Scottish Mountain Rescue Teams have joined with walking guide publisher, Cicerone Press to launch a new safety leaflet aiming to reduce casualties on the mountains
---
The 'Stay Safe and enjoy the Mountains' leaflet offers information on making the correct choices before heading into the hills and what to do in the case of an incident. In 2014 there were 533 separate incidents of which 273 were attributable to mountaineering activities.
In Scotland there are 24 volunteer Mountain Rescue teams, 2 Search and Rescue Dog Associations (SARDA) with over 1000 volunteers, plus an additional 3 Police teams, 1 RAF team and Scottish Cave Rescue.
Lesley Williams, from Cicerone said, "We hope this will help people enjoy the mountains in a safe and responsible way, taking the right precautions."
The leaflet will be distributed in Scottish Mountaineer and various outdoor retailers across Scotland.
For further information visit: