From gourmet mountain grub in the Lake District to far-flung backpacking in the north of Scotland, our August issue is packed with adventurous inspiration – and it has a smart new look. Take a peek at the contents here.
With summer in full swing, you might find yourself looking to approach familiar or busy hills in a new way. In one or our two lead features, Vivienne Crow uses public transport to complete a spectacular, crowd-dodging linear walk across Helvellyn, while Carey Davies samples some gourmet mountain grub courtesy of 'Fell Foodie' Harrison Ward in our August issue.
Main image: Harrison Ward cooking up a storm. Photo: Daniel Toal
The August issue also comes with a special beginner's guide to mountain navigation, featuring 14 pages of expert advice on how to find your way in the wilds, along with advice on the best hiking apps and GPS watches, and some practical guidance on how to use digital navigation safely. 
You might also notice that this issue looks a bit different. We've refreshed the design of our cover and introduced a new-look logo. Find out more about why we've brought in these changes and the thinking behind them.
Also in this inspirational issue:
Alex Roddie goes hut-to-hut trekking on a high route through the Tyrolean Alps 
Stefan Durkacz backpacks through the wild, enigmatic hills around Foinaven in Scotland's far north-west
Harrison Ward gives us recipes for three of his top recipes to cook in the hills, from Swiss fondue to Hungarian goulash
Pete Mcfarlane and Fiona Russell review the best three-season sleeping bags
PLUS: why we need to defend wild camping, hike our route of the month Cadair Berwyn, check out our review of summer eyewear, 5 aquatic-themed Wild Walks across the UK with perfect swim spots, and much more…
How to get a copy
Order a single copy of this issue and get it delivered with free postage.
Take out an annual subscription and take advantage of our new subscriber offer (£15 for your first 6 issues).
Download the digital version to your tablet or smartphone and start reading straight away.
Take advantage of our special subscription offer (3 issues along with the accompanying digital editions for just £9.99 plus free postage, with no ongoing commitment to subscribe.)
Buy it in shops across the UK.
Read more: a look inside the August issue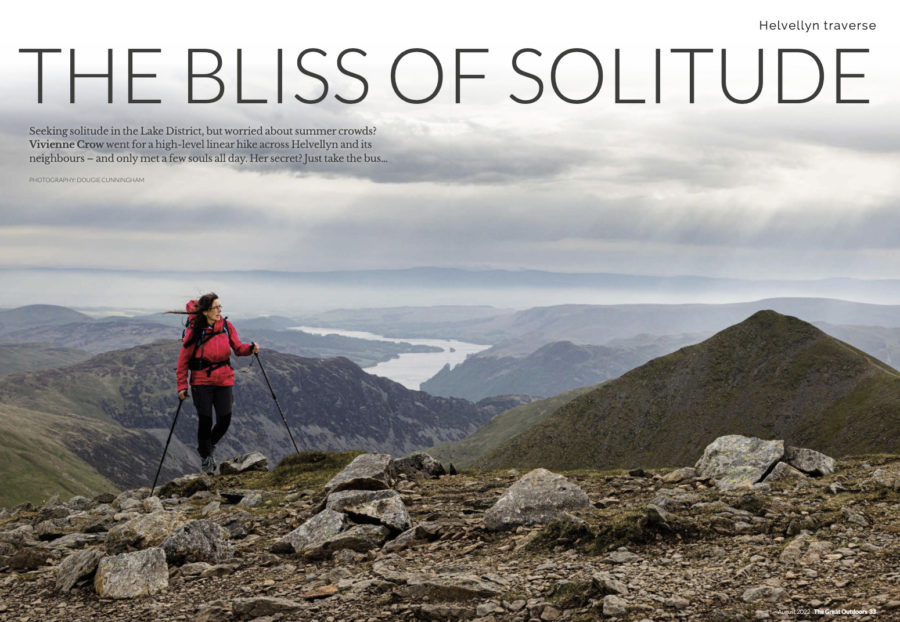 The bliss of solitude: Seeking solitude in the Lake District but worried about summer crowds? Vivienne Crowe went for a high-level linear hike across Helvellyn and its neighbours – and only met a few souls the whole day. Her secret? Just take the bus…
"What these northern outliers of Helvellyn lack in drama, they more than make up for in terms of sheer staying power. If you want sustained, high-level walking – and amongst hillwalkers, who doesn't? – this is one of the longest examples in the Lakes. From Clough Head in the north to Dollywaggon Pike, the ridge runs for 12 kilometres without dropping below 620 metres, hovering around the 750 metre mark for much of the time and topping out, on Helvellyn itself, at 950 metres. Even better, this airy crest can be enjoyed as a linear journey thanks to the 555 bus, which mirrors its snaking line through the valley to the west."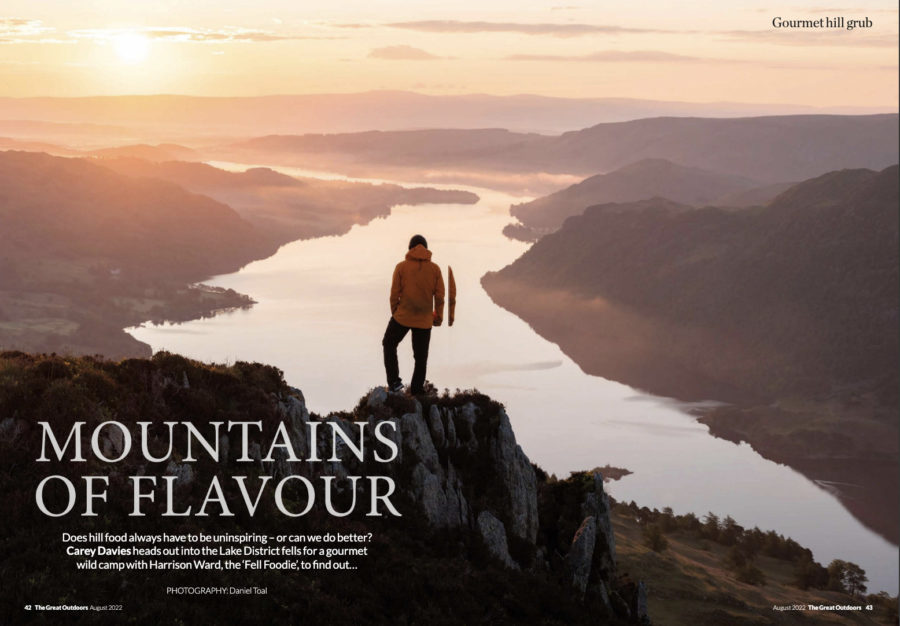 Mountains of flavour: does hill food always have to be uninspiring – or can we do better? Carey Davies heads out into the Lake District fells for a gourmet wild camp with Harrison Ward, the 'Fell Foodie', to find out…
"The evening looks to be an overcast one, but the Swiss-inspired fondue is soon ready, and any disappointment at the weather is quickly banished. The Emmental and Gruyere melt together into a gloriously indulgent ooze, offset by a hint of acidity from the lemon and a dash of white wine. We use baguette slices as spoons, dipping it into the cheesy gloop, and I look out over Ullswater feeling very spoiled indeed. Turns out that fondue goes just as well with the green hills of Lakeland as the white slopes of the Alps."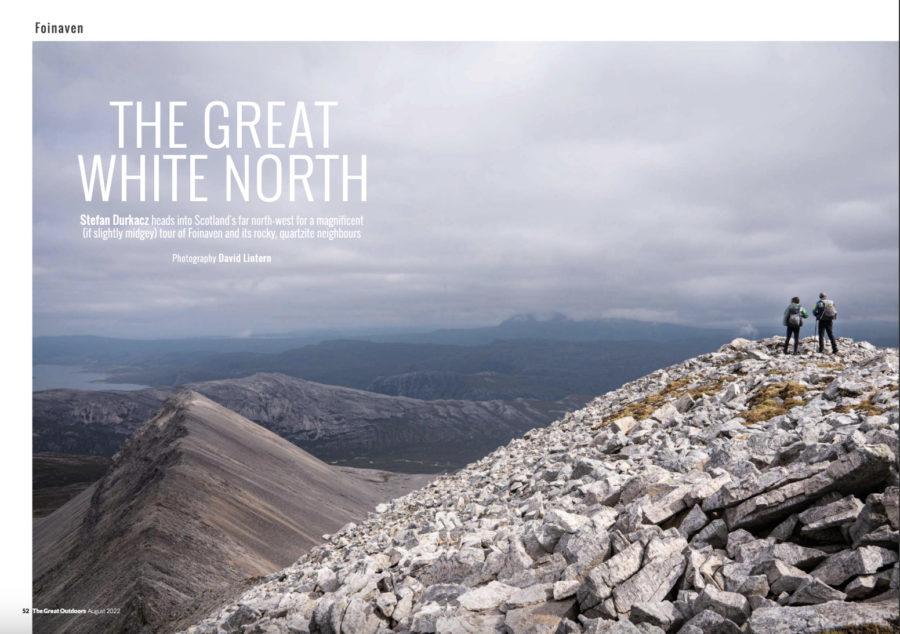 The great white north: Stefan Durkacz heads into Scotland's far north west for a magnificent (if slightly midget) tour of Foinaven and its rocky, quartzite neighbours
"Foinaven has a vast footprint. The long north-south ridge overlooks wide, talus-filled corries to the east, divided by subsidiary spurs. Great curtains of ghostly grey-white Cambrian quartzite scree cover the slopes, giving the mountain the air of an enormous, disintegrating skeleton, the remains of some mythical leviathan – beauty and brutality petrified in mid-collision."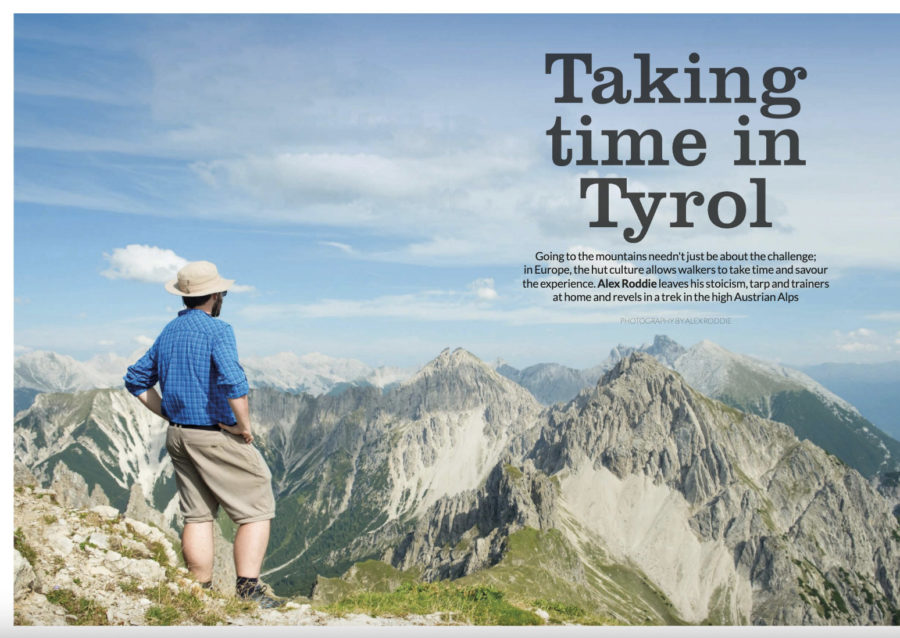 Taking time in Tyrol: going to the mountains needn't just be about the challenge; in Europe, the hut culture allows walkers to take time and savour the experience. Alex Roddie leaves his stoicism, tarp and trainers at home and revels in a trek in the high Austrian Alps.
"If ever there were a day to go slow and appreciate the marvellous details of nature, this was it. Rain, cloud, a cold bite to the air, and the first tinge of autumn colours in the forest – colours all the more vivid in the rain. I relished the coppery edges of birch and beech, in the first of the fern fronds turning away from summer greens, in the subtle tipping over of feel from summer to summer-autumn that can't be directly quantified. And in solitude again. But solitude seasoned by the richness of the company I had just left behind."
Order a single copy of this issue and get it delivered with free postage.