Patagonia: "The President stole your land"
Last week, a broad coalition of Native American, conservation, and historic preservation organisations, outdoor industry, scientists, and outdoor enthusiasts sued the Trump Administration to strike down what has been called an 'extreme overreach of authority' in revoking the Bears Ears National Monument.
The plaintiffs – Patagonia Works, Utah Diné Bikéyah, Friends of Cedar Mesa, Archaeology Southwest, Conservation Lands Foundation, Access Fund, the Society for Vertebrate Paleontology, and the National Trust for Historic Preservation – filed the complaint in federal court in Washington, D.C.
Since 1906, 16 presidents have used the Antiquities Act to designate 157 national monuments to preserve America's unique and treasured places from destruction. President Trump's proclamation is the first time any president has attempted to abolish a monument established by a previous president, and has been called the 'largest elimination of protected areas in American history'. By revoking national monument status for 85 per cent of the area protected by the Bears Ears National Monument, President Trump has removed legal protection for many well-known and widely revered historic, scientific, and cultural areas.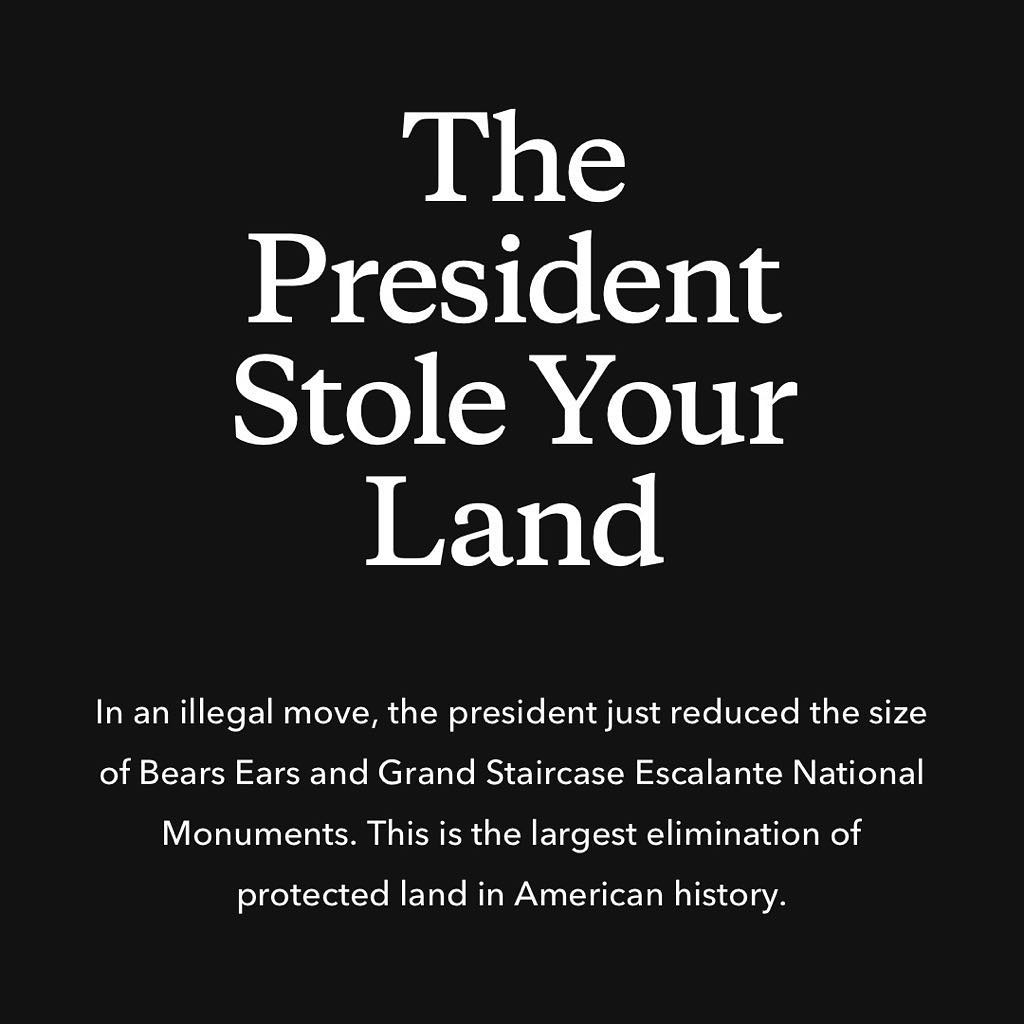 Patagonia say: "The President made the decision without visiting Bears Ears or meeting with tribal leaders. Despite his claim that his decision represents the will of the people, the decision only advances the interests of a few, at the expense of many. The Administration received over 3 million public comments this summer, and over 98% of those comments favored keeping the Bears Ears National Monument intact."
There have been accusations by The Washington Post that a uranium firm launched a lobbying campaign to reduce the size of Bears Ears National Monument – despite the fact that Interior Secretary Ryan Zinke denied any such link. Donald Trump has also nearly halved the Grand Staircase-Escalante National Monument in southern Utah (which has significant coal deposits).
The Bears Ears National Monument was established by President Obama in 2016 and contains a wide variety of mesa and rock architecture landscapes, not to mention many prehistoric ruins. The Indian Creek is a popular rock-climbing area. In 2015 Patagonia published Defined by the Line, a short film highlighting the region and why climber Josh Ewing is so passionate about protecting it.
Patagonia has a long history of fighting to protect public lands. For almost 30 years they have been involved in campaigning for protection, and have played a part in the establishment of several national monuments, including Bears Ears National Monument in Utah and Basin and Range and Gold Butte National Monuments in Nevada.
Rose Marcario, President and CEO of Patagonia, said: "Americans have overwhelmingly spoken out against the Trump Administration's unprecedented attempt to shut down our national monuments. The Administration's unlawful actions betray our shared responsibility to protect iconic places for future generations and represent the largest elimination of protected land in American history. We've fought to protect these places since we were founded and now we'll continue that fight in the courts."
Header image: © Krista Hardin / Shutterstock