There are a few places in Scotland's mountains where patches of snow rarely melt from one year to the next. As the final traces of last season's white stuff looked close to vanishing, Ed Byrne joined expert Iain Cameron for a trip to Braeriach to visit two of them
The full version of this feature, with plenty more photos, will be printed in the November 2017 issue of The Great Outdoors. Due to the fact that all snow in Scotland has now melted – see the update at the bottom of the page for more details – we decided to publish this piece early.
---
There's something very endearing about people who show dedication to their hobbies. I find that the more obscure the pastime, the more endearing the devotee. Someone obsessed with Star Wars won't interest me as much as someone obsessed with Farscape. Anyone can be a Beatles fan, but try applying that level of fanaticism to say, Lloyd Cole and the Commotions. Stuff your stamp collection, I want to meet someone who collects 19th-century opium pipes.  That's why I was fascinated to learn that there are a growing number of people in Britain who are very keen on monitoring the most persistent patches of snow in Scotland. That sounds like a hobby!
One such devotee is Iain Cameron. While modesty prevents him from referring to himself as an authority on the subject, he has become the go-to guy if you want to know about the state of Scotland's most tenacious snow patches. Today, he has volunteered to take me, by the most direct route possible, to the closest thing Scotland has to permafrost, at the bottom of a corrie on Braeriach, in the Cairngorms.
On yer bike!
We meet at the car park at Whitewell and I take my hired mountain bike off the roof of my little jeep. There then begins a six-mile bike ride that I don't mind describing as 'gruelling'. For people who enjoy bike riding, there's little that would trouble you. For people whose bikes lie rusting in a shed (that's me) it's a lung-burning, leg-exhausting trial. At first, Iain attempts some small talk about the various places we have both lived over our 40-some years of life. Eventually the chat subsides as I start audibly panting and we silently agree to leave the talking until we get to our first destination.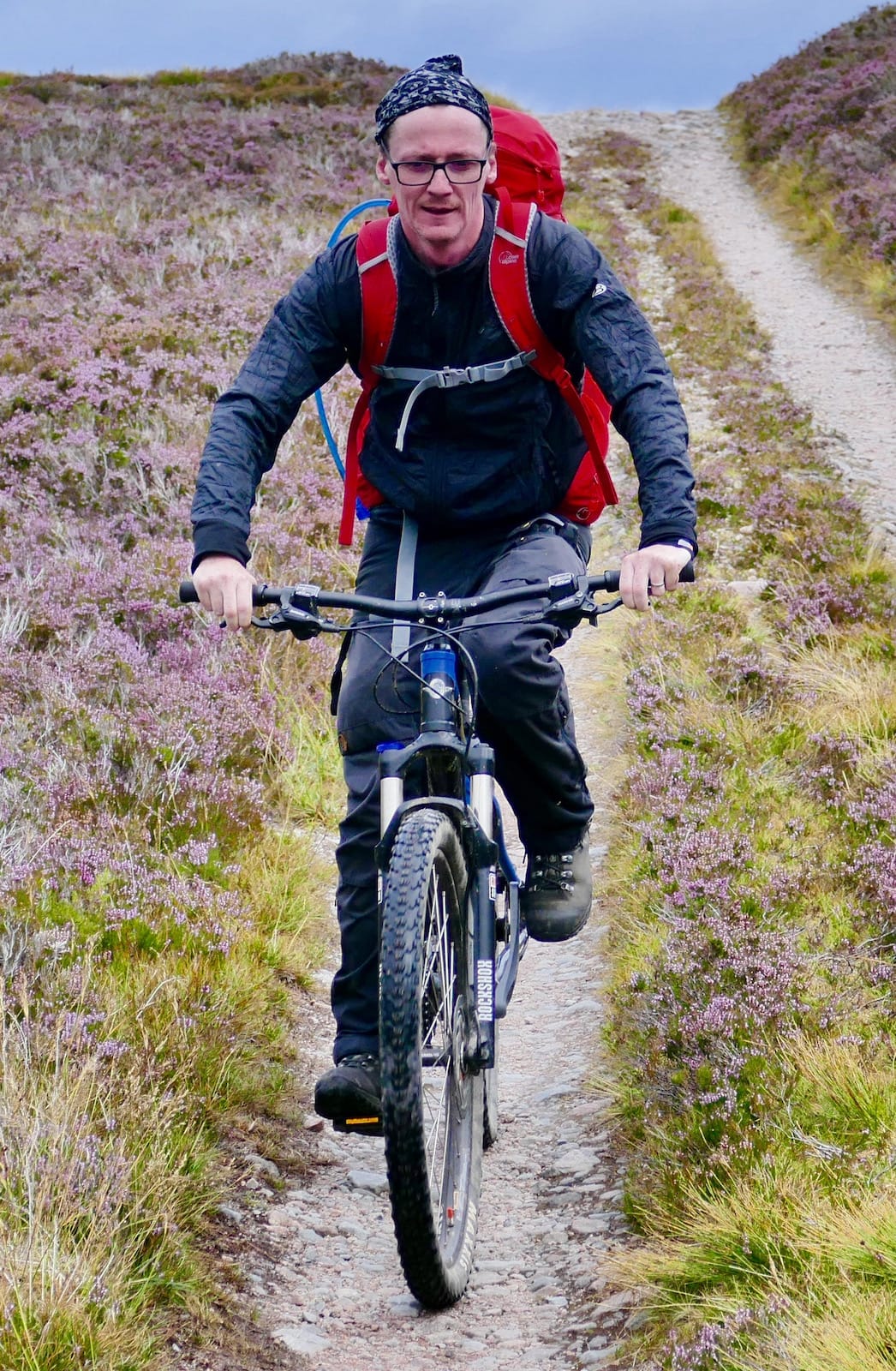 Six miles of bike riding later (well, five-and-a-half of riding and a fair amount of get-off-and-pushing) we come to the point where we ditch the bikes and start walking uphill. I'm glad to be back doing what I'm more used to, but as we're taking the most direct route possible, we're not following any kind of path. Instead we head straight up a steep, rocky, heather-covered slope. Ten minutes into this, I feel comfortable enough to say, "You know what, Iain? I'm starting to go off you."
As we endure a climb that I don't mind describing as 'joyless', I chat to Iain about what first piqued his interest in the endurance of snow patches in the mountains. He tells me how, as a child, he spent some time living within sight of Ben Lomond and was fascinated from an early age with the way certain areas of snow would persist so far into summer and sometimes survive all year round. He then goes on to tell me how, when he first started to research the subject later in life, he discovered there was a thriving community of people who shared the same interest. Social media has, of course, allowed this community to grow and exchange information – so we can all monitor those last outposts of snow from the comfort of our own armchairs. Right now, that sounds like a very attractive option.
On reaching the broad shoulder of Braeriach, the going gets easier. After taking a short detour to visit the moss-bound source of the River Dee, we come to the top of a steep gully. Iain points down and says, "There they are." To call them unremarkable would be doing a disservice to Digestive biscuits. But then you consider that it's now September and there is only one other patch of snow in the whole of Scotland, and suddenly they seem a bit more special. "How do we get to them?" I ask, noting that we don't have any ropes with us. "We just climb down here and then across and up again," says Iain, matter-of-factly. "The snow patches aren't that far away. They're deceptively close."
As we climb down into the isolated corrie, I think about the last time I was on Braeriach. I came here a few years ago on assignment for The Great Outdoors and spent the day out walking with members of Cairngorm Mountain Rescue Team. I remember them pointing out corries, just like this one, that people had accidentally wandered into due to poor visibility. As we descend this one deliberately, I wonder what Willie and the rest of his team would think of me for knowingly exiting the mountain summit via a route people usually only took due to misfortune.
Alien spacecraft in the corrie
After a descent and traverse that I don't mind describing as 'unnerving', we come to our snow patches, which far from being deceptively close, turn out to be just as far away as they looked from the summit plateau. The lower and smaller of the two patches is virtually black, filled with soot-like dust from the constantly crumbling corrie above. An investigative poke reveals that 'snow' might be a misnomer. It's more like ice. Constant pressure and freeze/thaw cycles make the patch more like a mini glacier than something you would roll into a ball and chuck at a passer-by.
We then climb up to the larger of the patches, which is much whiter. The heat of the rocks it sits on has caused the rear of it to melt away, giving it a look more akin to a downed alien spacecraft. Despite the effort to get here, there's something quite satisfying about leaning against the most persistent patch of snow in Scotland, a patch that has only melted five times in the last 100 years. You find yourself studying the terrain, noticing how protected you are from the sun, how our altitude keeps the temperature down, how the corrie above us channels the snow into a concentrated formation. Iain points out all the factors that contribute to the durability of the snow, while I nod sagely. I then resolve to stop thinking about these things, as I don't have room in my life for another hobby, even one as satisfyingly niche as 'Snow Patch Assessing'.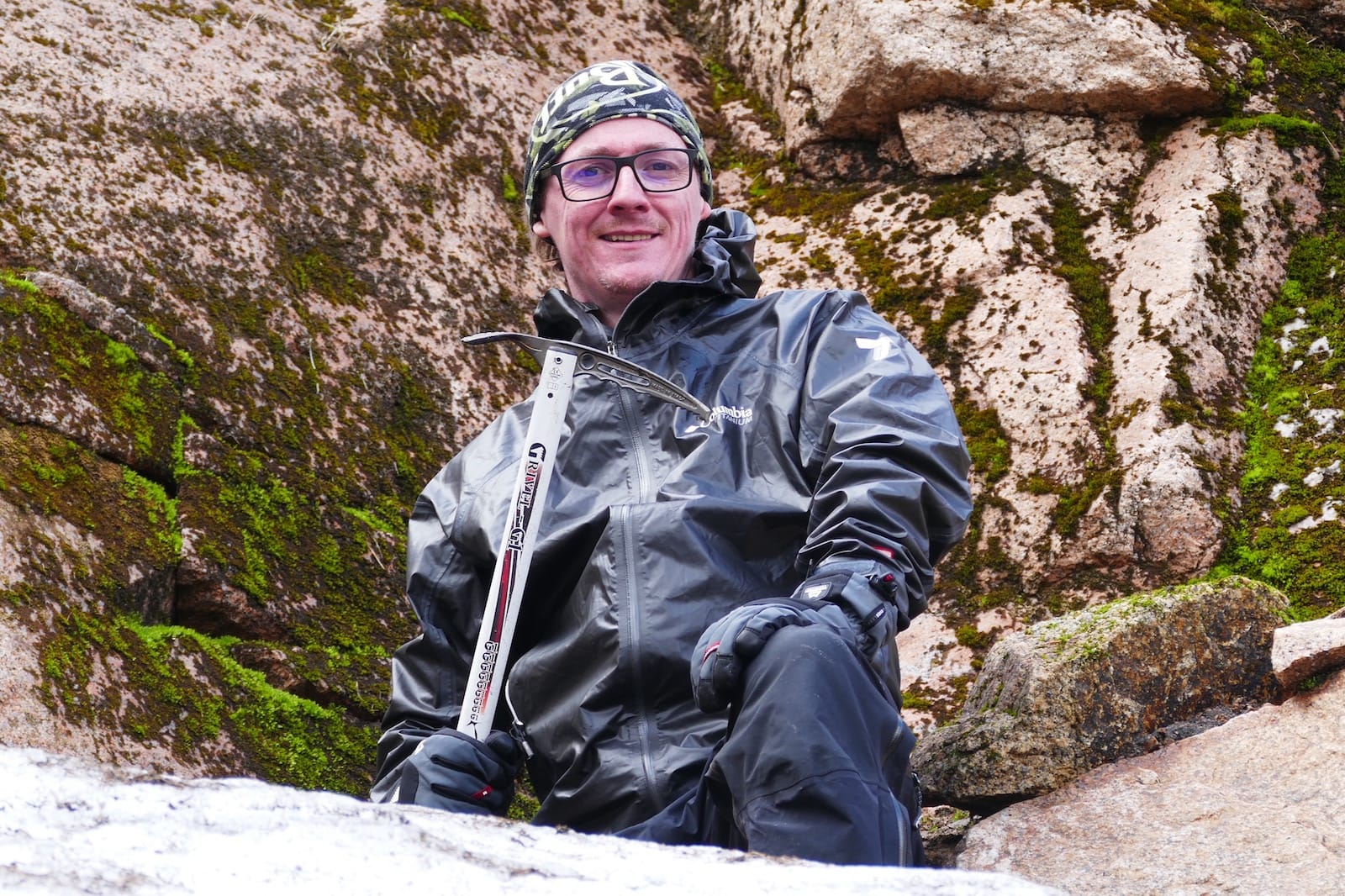 Still feeling adventurous, we decide not to retrace our route of descent and instead climb straight up Garbh Choire Mor via a scramble that I don't mind describing as 'risky', before taking another steep route down Braeriach that I don't mind describing as 'a pain in the arse', and back to our bikes. The mainly downhill ride back to the car park is actually a lot of fun, and even though it was probably the most challenging day on the hills I've endured without bagging a single Munro, it was worth it for the window into what must be the most esoteric pursuit the Highlands can offer.
Many thanks to Bothy Bikes, Aviemore, for Ed's bike hire.
---
An update from Iain Cameron – September 30
After Ed Byrne wrote this feature for us, Iain Cameron headed once again up to Braeriach to check on the semi-permanent snows, and found only a tiny fragment left. He made this report on Twitter: "And so that is that for 2017, folks. Garbh Choire Mor's Sphinx was small enough to carry today. Scotland's last snow will be gone tomorrow." The Aonach Beag patch is thought to have melted a couple of days earlier. 2017 is the first time Scotland has been entirely snow-free since 2006 – but as this piece goes to press there are rumours of new dustings of snow on the hills, so the snow-free spell won't last long!
All images © Iain Cameron. Check out Iain's Flickr page for more images.