Happy holidays from The Great Outdoors! Sign up to our newsletter and get a free digital copy of our December winter skills issue of the magazine to download right to your device.
Follow this link to sign up for The Great Outdoors' newsletter and receive a free digital issue of the UK's original mountain magazine. We promise to only send you informative news, trusted gear reviews, and entertaining views – and more – from the outdoor community through our newsletter. We hope our winter skills December issue will help you explore more this winter.
Words: Francesca Donovan | Cover image: Ed Smith
What you can expect from The Great Outdoors' winter skills issue:
Cosy nights in bothies, bluebird days on snow-laden ridges, the crunch of crampons biting into ice – winter is the most evocative of the seasons for hill walkers. It's also the most intimidating – but with a few extra skills, anyone can unlock the glories of snowy adventure. That's why our December issue contains a special 17-page winter skills guide: from planning epic routes to using crampons and ice axes, it's packed with advice and know-how for the winter-curious, and backed up with expert advice from our friends at Glenmore Lodge, Scotland's national outdoor training centre.
Elsewhere in the free downloadable issue, there's plenty of motivation to get skilled up.
Be inspired by an incredible line-up of winter adventures including:
Superlative snowy mountain days hand-picked by our contributors
David Lintern's ultimate winter link-up of Carn Deag Meadhonach and the Carn Mor Dearg Arete
Bumbagging – ultra-lightweight backpacking – on England's highest peak with Norman Hadley
350 miles of solitude on Armenia's Transcaucasian Trail with Anna Richards
PLUS: Carrauntoohil in profile, packing for winter, Q&A with avalanche forecaster Mark Diggins, headtorches and winter eyewear tested, 5 amazing Wild Walks and lots more.
Read more: a peek inside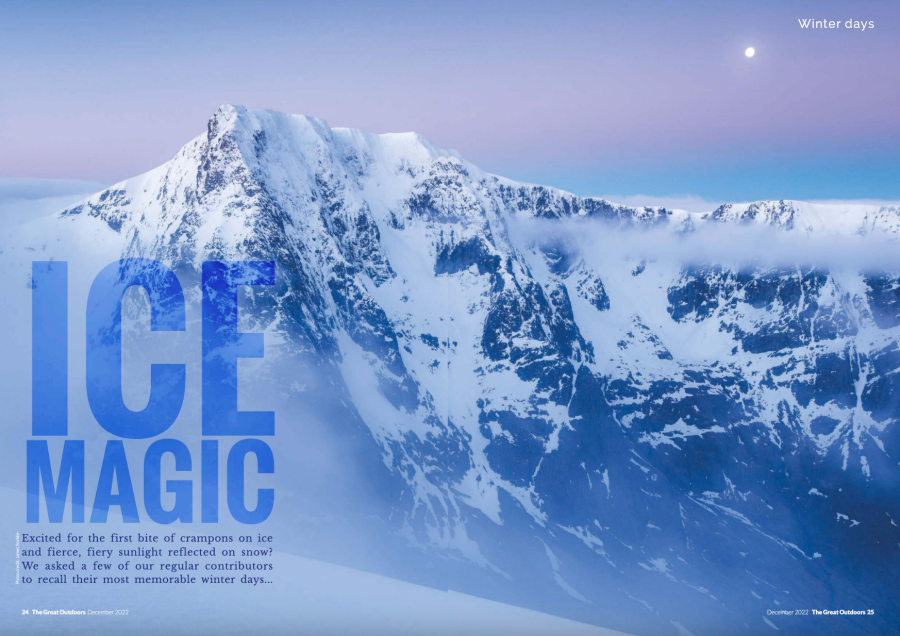 Ice magic: Excited for the first bite of crampons on ice and fierce, fiery sunlight reflected on snow? We asked a few of our regular contributors to recall their most memorable winter adventure days…
"An easy but invigorating kilometre found us on Mynydd Perfedd, where we sensed a change: the wind had dropped and pale tints of blue began to colour the sky. At Bwlch y Marchlyn we witnessed scattered rifts in the cloud, revealing distant peaks or plunging views into the sunless depths of the pass. I sent Jamie ahead in anticipation of photo opportunities as anticipation rose then fell with the opening and closing of every cloud window. Suddenly my wandering friend was unveiled, perched on an outcrop as if in a painting by Caspar David Friedrich. I whooped with delight as Jamie thrust his fist into the air."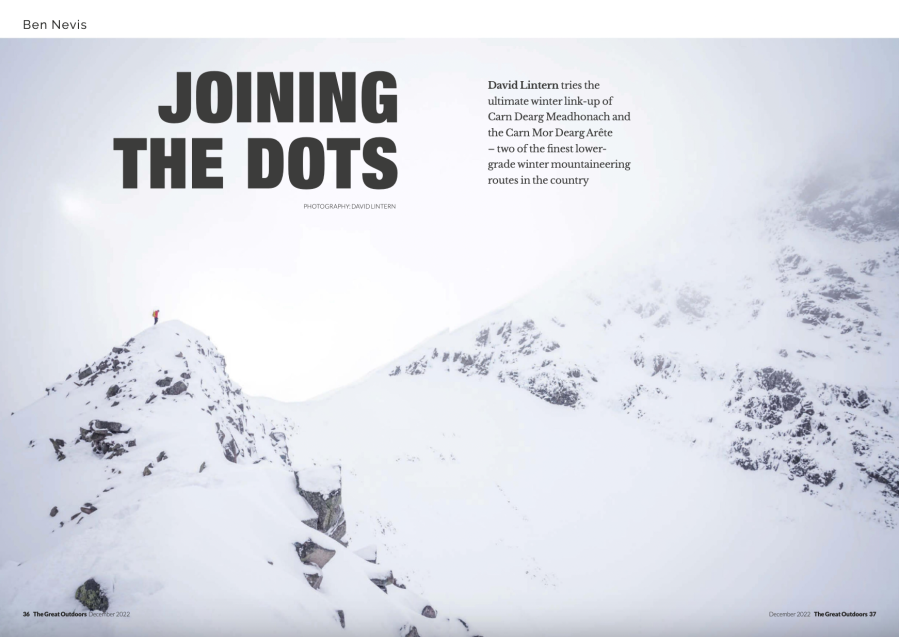 Joining the dots: David Lintern tries the ultimate winter link-up of Carn Dearg Meadhonach and the Carn Mor Dearg Arete – two of the finest lower-grade winter mountaineering routes in the country.
"There was that prickly mix of intimidation and excitement that marks out winter travel from the rest of the year. It's a moreish cocktail, and its pursuit is addictive – part of what Richardson is getting at with that brilliant title of his. Fickle, fast-changing conditions, both above and under foot, means there are more variables outside of our control. We are climbing into the unknown – sort of; unknown for us under snow, at any rate. And climbing onto the country's highest ground, no less."
Cool runnings: Norman Hadley is a pioneer of 'bumbagging': fast, uber-lightweight backpacking – without a backpack. But does this idiosyncratic endeavour work in winter? A midwinter camp on England's highest peak would be the test…
"I loaded up my bag at the head of Langdale and girded my loins for the long pull up The Band. I have a complicated relationship with The Band. I love it but it can sometimes go on a bit, like a Seventies drum solo. Today, however, I found myself dropping into a steady, sustainable groove, lungs and legs stoically pumping, the valley pastures falling away beneath me. Sunlight crisped the edges of Pike o' Blisco and Crinkle Crags, casting deep shade over my route. The challenge was on: to outpace the shadow line and reach the crest before the last remnants of day faded."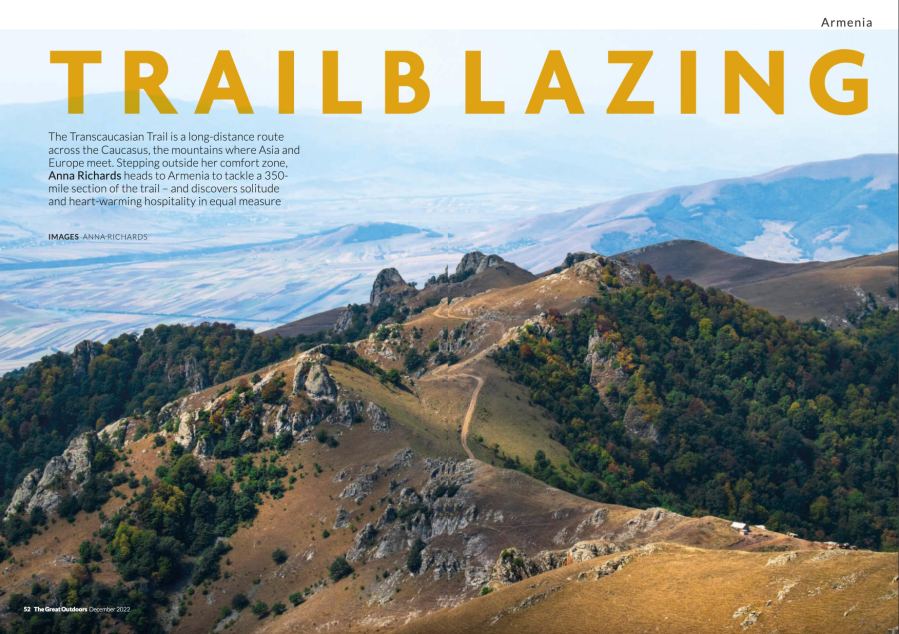 Trailblazing: The Transcaucasian Trail is a long-distance route across the Caucasus, the mountains where Asia and Europe meet. Stepping outside her comfort zone, Anna Richards heads to Armenia to tackle a 350-mile section of the trail – and discovers solitude and heart-warming hospitality in equal measure.
"After largely climbing the first few days, the trail began to yo-yo, plunging deeply into the belly of gorges before rising steeply again the other side, and I began to pass settlements, poster-paint rows of wooden beehives, Soviet-era Ladas taking day-trippers to picnic sites, and wizened men chain-smoking by village water fountains who couldn't have looked at this small, grubby woman who had appeared in their midst with greater surprise if I'd sprouted tentacles. I sought shade between the cool walls of millennia-old monasteries, which, whilst almost derelict inside, were often perfectly preserved on the exterior."