Plan the perfect autumn pub walks, learn how to take knockout mountain photographs, discover a classic winter sun hiking destination, find out what it's like to walk up a volcano… and more! All in the November issue of The Great Outdoors.
Pubs are an integral part of British mountain culture. The best mountain boozers aren't just there to offer succour and snacks after a long day on the hill – they're a place to relive past adventures, plan future glories and follow in the boot-steps of historic explorers. For the November issue of The Great Outdoors, we asked our peak- and pint-loving contributors to name their very favourite autumn pub walks from around Britain. Elsewhere in the issue, there's mountains of inspiration from around the world, including:
James Roddie gets immersed in the landscapes and community spirit of Knoydart
James Forrest tackles Blencathra's trio of classic scrambles
Stefan Durkacz walks the Highlands' 'Way of Waggon Wheels'
Vivienne Crow gets some winter sun in the mountains of Spain's Costa Blanca
Bella Falk explores the volcanic landscapes of Guatemala
PLUS: How to plan a route and take better pictures, synthetic insulated jackets reviewed, 'what should walkers make of wind farms?', 5 wild walks and much more…
How to get a copy
Order a single copy of this issue and get it delivered with free postage.
Take out an annual subscription and take advantage of our new subscriber offer (£15 for your first 6 issues).
Download the digital version to your tablet or smartphone and start reading straight away.
Take advantage of our special lockdown offer (3 issues along with the accompanying digital editions for just £9.99 plus free postage, with no ongoing commitment to subscribe.)
Buy it in shops across the UK.
Read more: a look inside the issue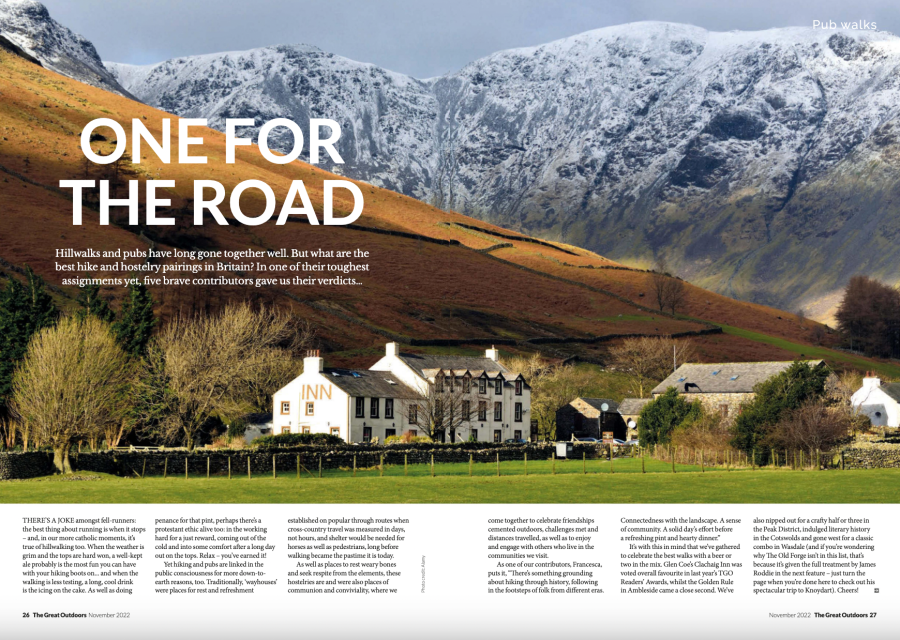 One for the road: Hillwalks and pubs have long gone well together. But what are the best hike and hostelry pairings in Britain? In one of their toughest assignments yet, five brave contributors gave us their verdicts…
"Traditionally, 'wayhouses' were places for rest and refreshment established on popular through routes when cross-country travel was measured in days, not hours, and shelter would be needed for horses as well as pedestrians, long before walking became the pastime it is today. As well as places to rest weary bones and seek respite from the elements, these hostelries are and were also places of communion and conviviality."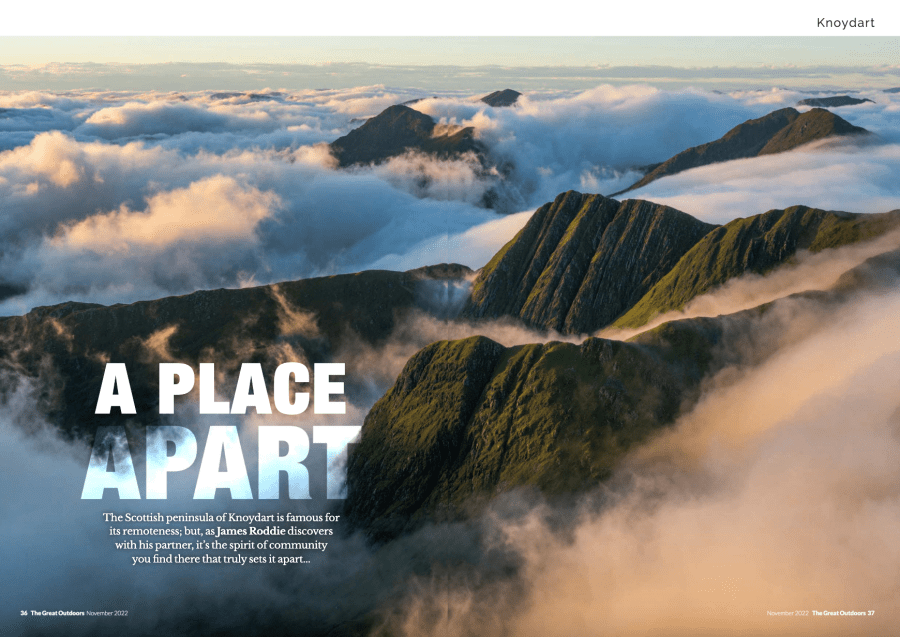 A place apart: The Scottish peninsula of Knoydart is famous for its remoteness, but, as James Roddie discovers with his partner, it's the spirit of community you find there that truly sets it apart…
"We found somewhere to sit and toasted our successful ascent of Ladhar Bheinn. On the next table, an Italian couple who had been on the boat from Mallaig with us looked contented, and they gave us a wave of recognition. Nicole and I chatted about our two days on the hill, and a pint had rarely tasted so good. It had been years since we had last been here, and we were glad to be back. Well-used communal instruments and old photos of the village adorned the walls, and a pool table filled one corner of the room. This was not a place designed to conform to the shortbread-tin image of the Highlands – nothing felt skin-deep here."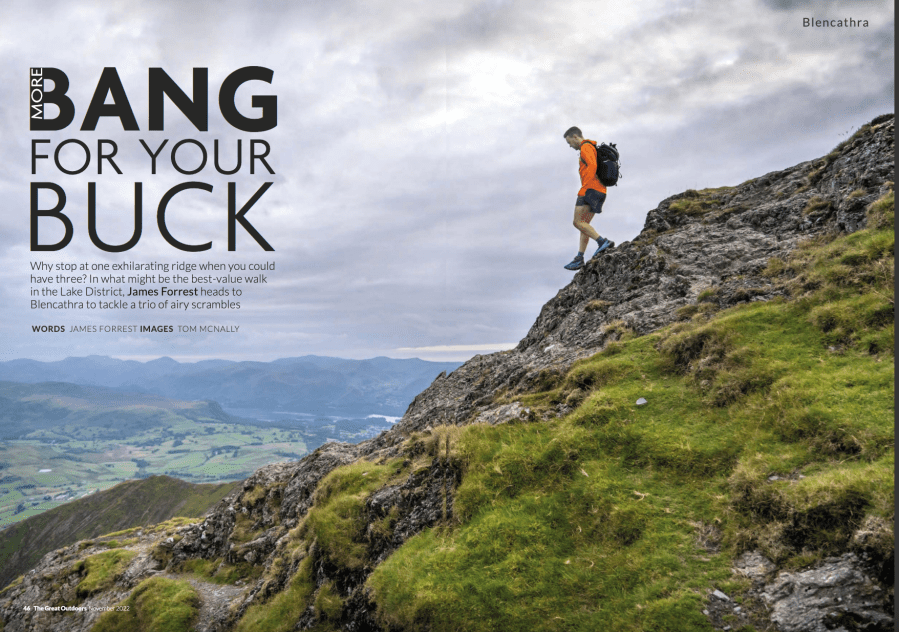 Bang for your buck: Why stop at one exhilarating ridge when you could have three? In what might be the best-value walk in the Lake District, James Forrest heads to Blencathra to tackle a trio of airy scrambles.
"I know there is still a lot to relish on this walk. Over the next few hours I'll stand on Blencathra's 868m summit, take a photo of my feet next to the iconic summit ring marker, descend the craggy labyrinth of Hall's Fell ridge with its pillars of rock and narrowing profile, and finally reach the White Horse Inn in Scales for some well-deserved post-hike sustenance. But my mountain instincts tell me this moment on Sharp Edge is one to savour, so I pause atop a rocky obelisk to drink it all in."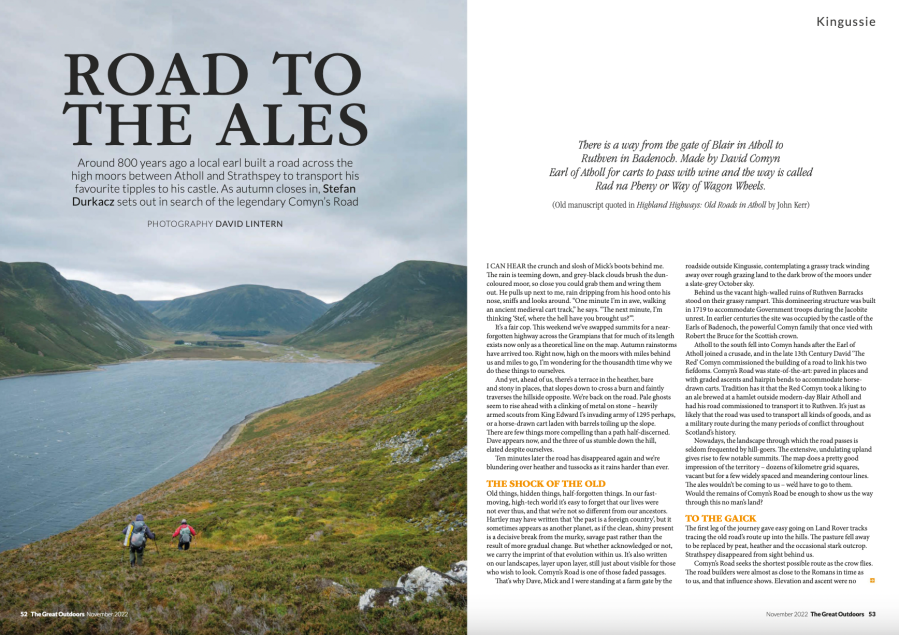 Road to the ales: Around 800 years ago a local earl built a road across the high moors between Atholl and Strathspey to transport his favourite tipples to his castle. As autumn closes in, Stefan Durkacz sets out in search of the legendary Comyn's Road.
"The white-flecked waters of Loch an t-Seilich were below us now, but where was our road? Intuiting the route, we picked our way down a steep rake and, suddenly, there it was – a clear groove scored straight and steady across the hill to meet the inflow at the south end of the loch. It was the first of those exhilarating moments of revelation that made all the trackless toil worthwhile. Subsidence had narrowed the roadway to a single track, but there were still marker stones and remains of an embankment wall here and there."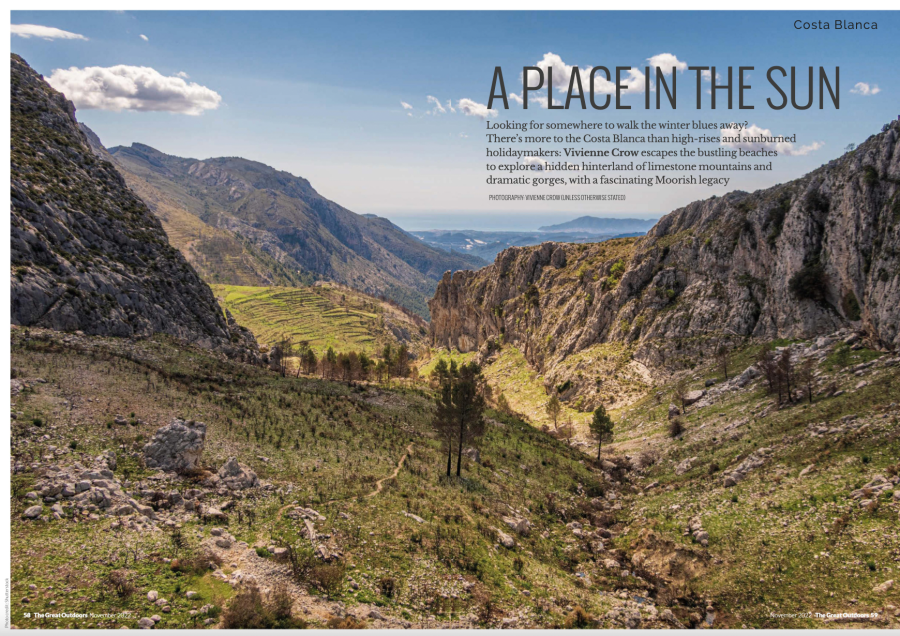 A place in the sun: Looking for somewhere to walk the winter blues away? There's more to the Costa Blanca than high-rises and sunburned holidaymakers. Vivienne Crow escapes the bustling beaches to explore a hidden hinterland of limestone mountains and dramatic gorges, with a fascinating Moorish legacy.
"Our final stop on this all-too-short tour of Costa Blanca's mountains is Benimaurell. While Tarbena and Castell de Castells occupy hillside locations, this tiny village straddles a ridge with views of the Med. To get there, we cross silent gorges and walk through forests where disturbed soil and uprooted plants indicate this is wild boar country. After descending into the Xalo valley, famous for its wines, we climb again, this time on an old path flanked by fan palms, western Europe's only native palm. It's a hot ascent in the late afternoon sun, and we're glad of the springs that line these ancient routes, still reliable even after a relatively dry winter. We're greeted on the Penon ridge by a welcome breeze and the sight of the sea sparkling in the distance."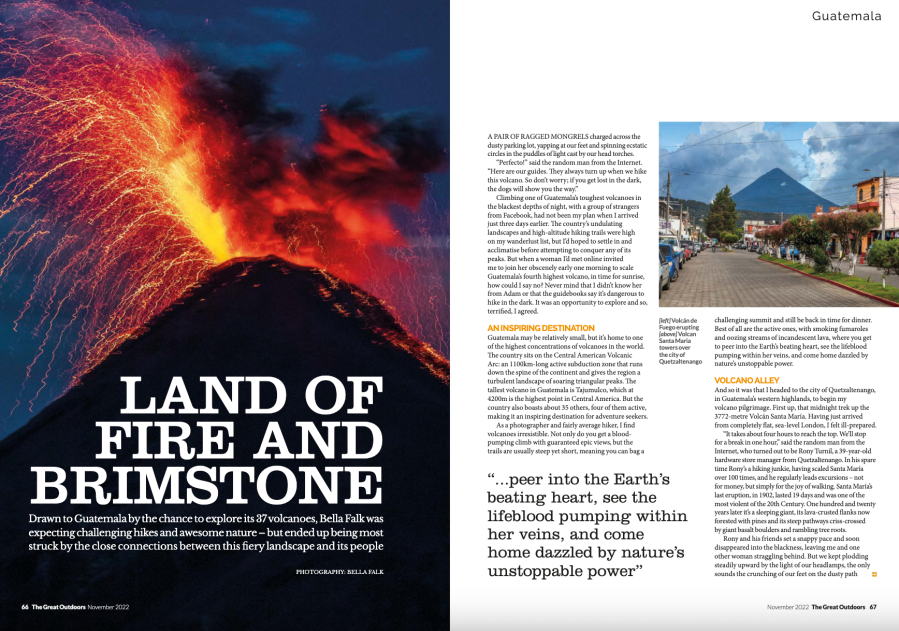 Land of fire and brimstone: Drawn to Guatemala by the chance to explore its 37 volcanoes, Bella Falk was expecting challenging hikes and awesome nature – but ended up being most struck by the close connection between this fiery landscape and its people.
"Gradually, the carbon black of the sky gave way to ballpoint indigo, and then shades of rose and amber, and we reached the summit just fifteen minutes before a new day curled its gilded fingertips over the horizon. As the morning warmed, I stood triumphantly on top of my first Guatemalan volcano and admired the jagged evidence of the country's explosive past spread out below us."
Order a single copy of this issue and get it delivered with free postage.
Header image credit: James Roddie