The Central Beacons MRT base has been disabled after a 'devastating' fire causing up to £500,000 worth of damage
On Saturday night, fire crews were called to the fire at Central Beacons Mountain Rescue Team's base, in Dowlais. The blaze destroyed their control vehicle and 'severely affected' both 4×4 response vehicles.
Huw Jones, the Deputy Team Leader, said:
"Shortly after 8.30pm on Saturday evening we were alerted by South Wales Fire and Rescue Service regarding smoke emitting from our base. We assisted fire officers with gaining access into our building where a fire was discovered and we are indebted to the bravery and professionalism from the guys at Green Watch, Merthyr Tydfil Fire Station.
"We will continue to provide as good a Search & Rescue service as we can through this very difficult and challenging period and we're very grateful for the support of our neighbouring rescue teams in helping us with this.
"We're also grateful for all your offers of help from across the communities, although our first step has to be to await the results from our insurance assessors and only once that's known will we be able to plan our fundraising strategy for replacement vehicles and equipment."
Huw Jones added that the fire seemed to have started in the rear right-hand corner of the building used to store equipment and vehicles – all of which would be out of service until they can survey the extent of the damage, which is thought to add up to at least £250,000 but could total as much as £500,000.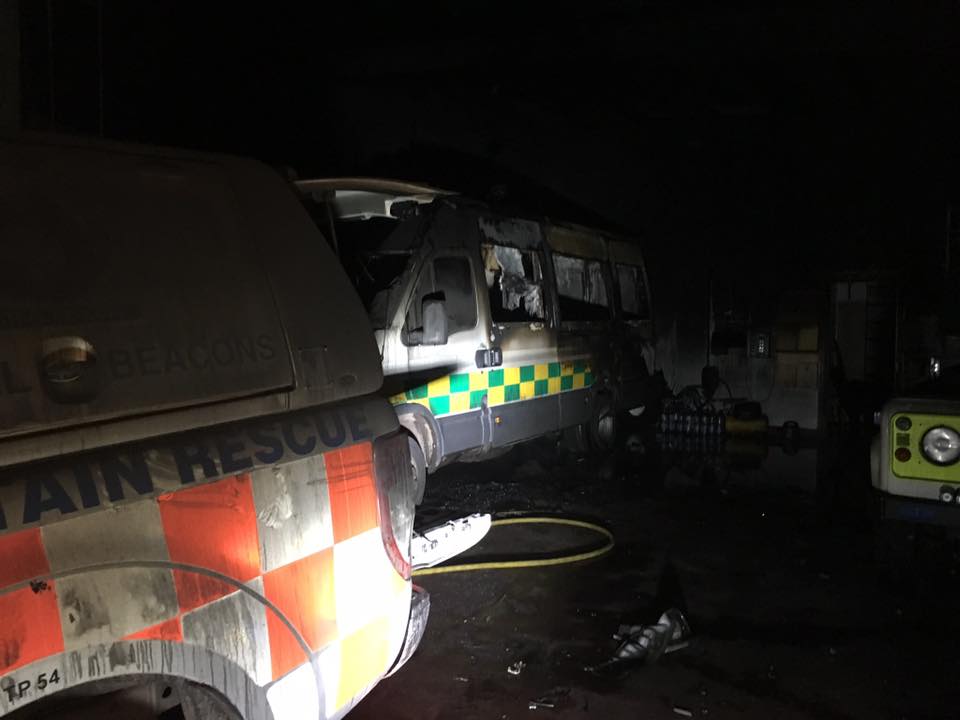 How you can help
All Mountain Rescue teams rely on donations, but Central Beacons is now in desperate need of funds to keep going – especially in the busy run-up to the Christmas period. The team has set up a JustGiving page where you can donate to help them get back up to full speed. At the time of writing, they've already received almost £15,000 in donations, but much more is needed. If you can help them, please give generously.
https://www.justgiving.com/campaigns/charity/centralbeaconsmrt/firedamage
Images: Central Beacons MRT