Our guide to crampons: busting the jargon, a close look at features, and six crampons reviewed.
By Judy Armstrong
This gear guide was first published in the February 2018 issue of The Great Outdoors.
If that Arctic air struts its stuff, it's best to be prepared. Get 'em ready: warm undies, your grandfather's biggest woollen waistcoat, and a decent pair of crampons.
Contents
---
Grivel claim to have produced the world's first modern crampons in 1909. The original blacksmith wouldn't recognise today's versions, which have moved on in relatively recent years from wire bail toe and heel attachments – or miles of strapping (always a nightmare with cold fingers) on flexible versions – to the modern joy of thermoplastic toe and heel cradles.
These cradles, linked by a strap, are now the most common system on walkers' crampons. It is far easier and quicker to put on and take off than crampons with a full strap system, is unlikely to come undone and, most importantly, clamps the crampon securely to the boot.
The most important points when choosing crampons are to make sure they are compatible with the boots you are going to attach them to, and that they are suitable for their intended use. This is especially important at the smaller and bigger ends of the boot scale, and with curved central bars. The curve must be compatible with your sole unit (most likely to be a modern mountaineering boot with a narrow waist), otherwise the crampons will be offset and unstable in use. Length is also relevant: although the central bar will have plenty of adjustment, check that it fits your boot for flex, shape and length.
Jargon buster
There is a lot of terminology associated with crampons. As a simplistic breakdown:
Crampons are graded
C1: flexible, designed to fit walking boots, heel and toe units linked by flexible metal bar, 10–12 points, fastens with toe/heel cradles and straps)
C2: 12-point (10 vertical, 2 horizontal) mountaineering crampon, heel/toe units linked by flexible metal bar, toe/heel cradles or toe cradle/heel clip
C3: rigid, technical for steep ice
Boots are graded
B0: 3-season leather/fabric walking boot
B1: 4-season hillwalking boots with semi-stiffened sole and supportive upper
B2: stiffer, higher, with heel welt/ledge for heel clip bindings
B3: totally rigid leather/plastic/synthetic boots
For winter hillwalking, glacier travel, low-grade snow gullies and ski touring, we're looking at C1 and B0 or B1. A good outdoor store can give you advice on whether yours are compatible. The flexible central bar on the C1 crampons allows some articulation and the movement it provides will make the crampons suitable for a wider range of boot sole stiffnesses. It also makes the frames less vulnerable to metal fatigue, which is important if you are walking a lot while wearing them.
Features
1. Anti-ball plates
These plastic or rubberised plates that attach to the underneath of the toe and heel platforms are an important addition for safety reasons, to prevent, or at least reduce, snow balling up under your boots. Many crampons include them as standard.
2. Points
Walking crampons have 10 points, sometimes 12. Small boots (size 38 and below) can usually only cope with 10 points as there isn't room to fit 12 once the central bar has been shortened to correctly locate the toe and heel units.
3. Harness
The most versatile for walkers is the cradle system, with thermoplastic toe and heel cradles (or cages) linked by a webbing strap. Stiff four-season boots can also take a toe cradle with a heel clip, linked by a strap.
4. Maintenance
A crampon is a complicated beast. Inspection of the moving parts, fabric strapping, nuts, bolts and rivets, binding system and the metal frame and points should be done on a regular basis (ideally at home, not on the mountain).
5. Material
Aluminium crampons are lightweight and easy to wear but the points blunt easily. Steel (chromed or painted; despite some manufacturers' blurbs you cannot anodise steel) crampons are robust and heavier and the points are more amenable to walking on rock / hard surfaces.
---
Crampon review
BEST BUY: An excellent pair of aluminium crampons.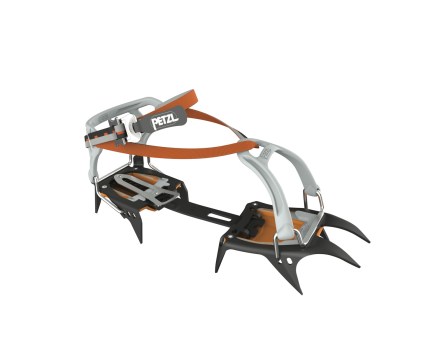 RECOMMENDED: An updated version of a very good steel walking crampon.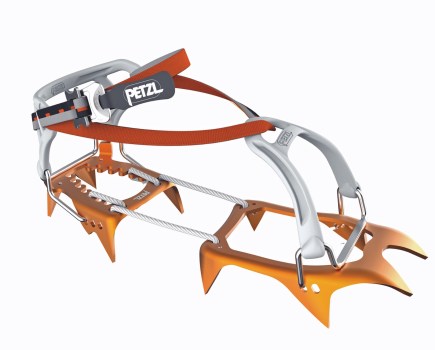 Innovative and ultralight aluminium crampons.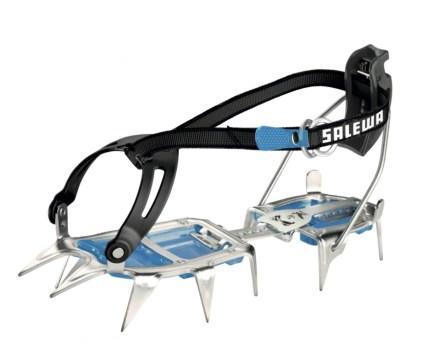 RECOMMENDED: Steel mountaineering crampons offering good fit and plenty of adjustment.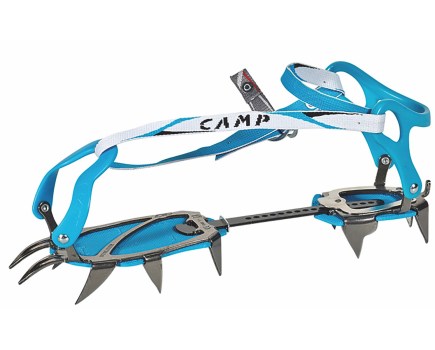 RECOMMENDED: Glove-friendly steel mountaineering crampons ideal for larger boots.
RECOMMENDED: Lightweight spikes for less serious terrain.
Header image © yanik88 / Shutterstock