Documentary maker Terry Abraham has revealed that his next project will focus on mountaineer Alan Hinkes
---
In 2017 the life of Alan Hinkes, the first and only British mountaineer to climb all of the world's fourteen 8000-metre mountains, will be brought to the big screen and documented by Terry Abraham.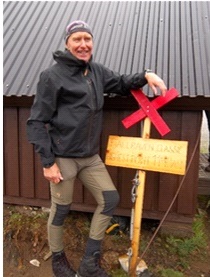 The film will chart Alan's life-long love affair with the hills and mountains, both in the UK and further afield. It will explore his childhood in Yorkshire through to his journey to the top of the world, climbing all of the 'Big 14'. Expect some interesting tales from his ascent of Everest with the larger-than-life comedian, Brian Blessed.
For this next project, Terry Abraham – a regular contributor to The Great Outdoors Magazine – will be building on the critically acclaimed success of his 'Blencathra' and 'Scafell Pike' BBC documentaries.
Production of the film, which will be sponsored by Fjallraven, has already started and the premiere will take place on October 24 2017 at the Rheged Centre in the Lake District. Tickets for the premier will go on sale in a couple of weeks.
Watch the video below for a teaser for the film.