From wild family camping ideas to a multi-generation bikepacking trip, our June issue is an ode to adventuring with kids (and there's plenty of inspiration for wild campers, backpackers and geology buffs too).
When it comes to exploring the outdoors, kids needn't put a spoke in your wheel. Some adventures are best enjoyed as a family – and the June issue of The Great Outdoors is here to show you how. Plan a summer of outdoor fun with Hanna Lindon's run-down of the best wild family holidays that Britain and Ireland have to offer. Then join David Lintern for a kid-focused bikepacking trip on the Deeside Way, read about the skills you'll need to hike with kids, and discover the delights of Slovenia's Julian Alps with Roger Butler's family.
If you prefer to travel solo, our June issue also features: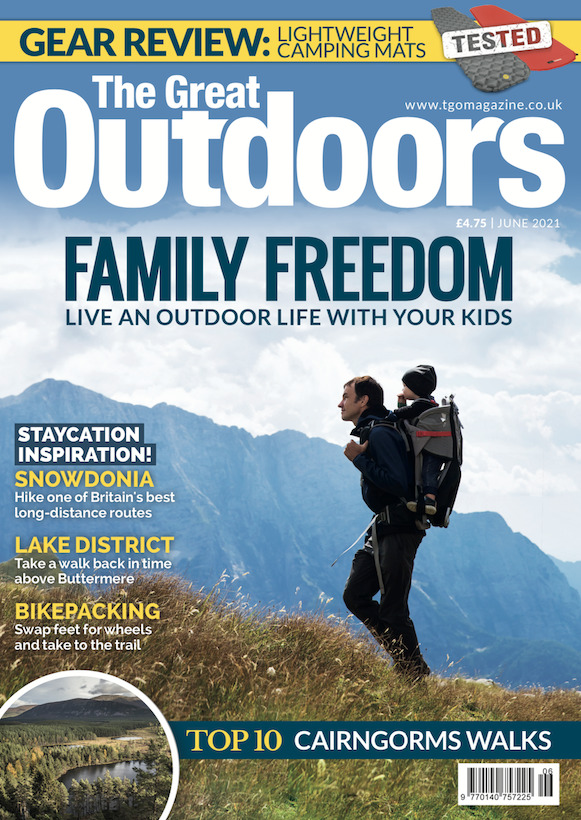 A geology-themed hike up Haystacks with Ronald Turnbull
Rebecca Coles' wild camping adventures on the Snowdonia Slate Trail
Jim Perrin's ode to Ben Alder
Interviews with extreme Wainwright sleeper Russell Moorhouse and Muslim walking group founder Amira Patel
PLUS: top 10 walks in the Cairngorms, 5 wild walking routes across the country, the latest gear news, sleeping mats reviewed – and lots more.
How to get a copy
Order a single copy of this issue and get it delivered with free postage.
Take out an annual subscription and take advantage of our new subscriber offer (£15 for your first 6 issues).
Download the digital version to your tablet or smartphone and start reading straight away.
Take advantage of our special lockdown offer (3 issues along with the accompanying digital editions for just £9.99 plus free postage, with no ongoing commitment to subscribe.)
Buy it in shops across the UK (subject to lockdown opening).
Read more: a peek inside the issue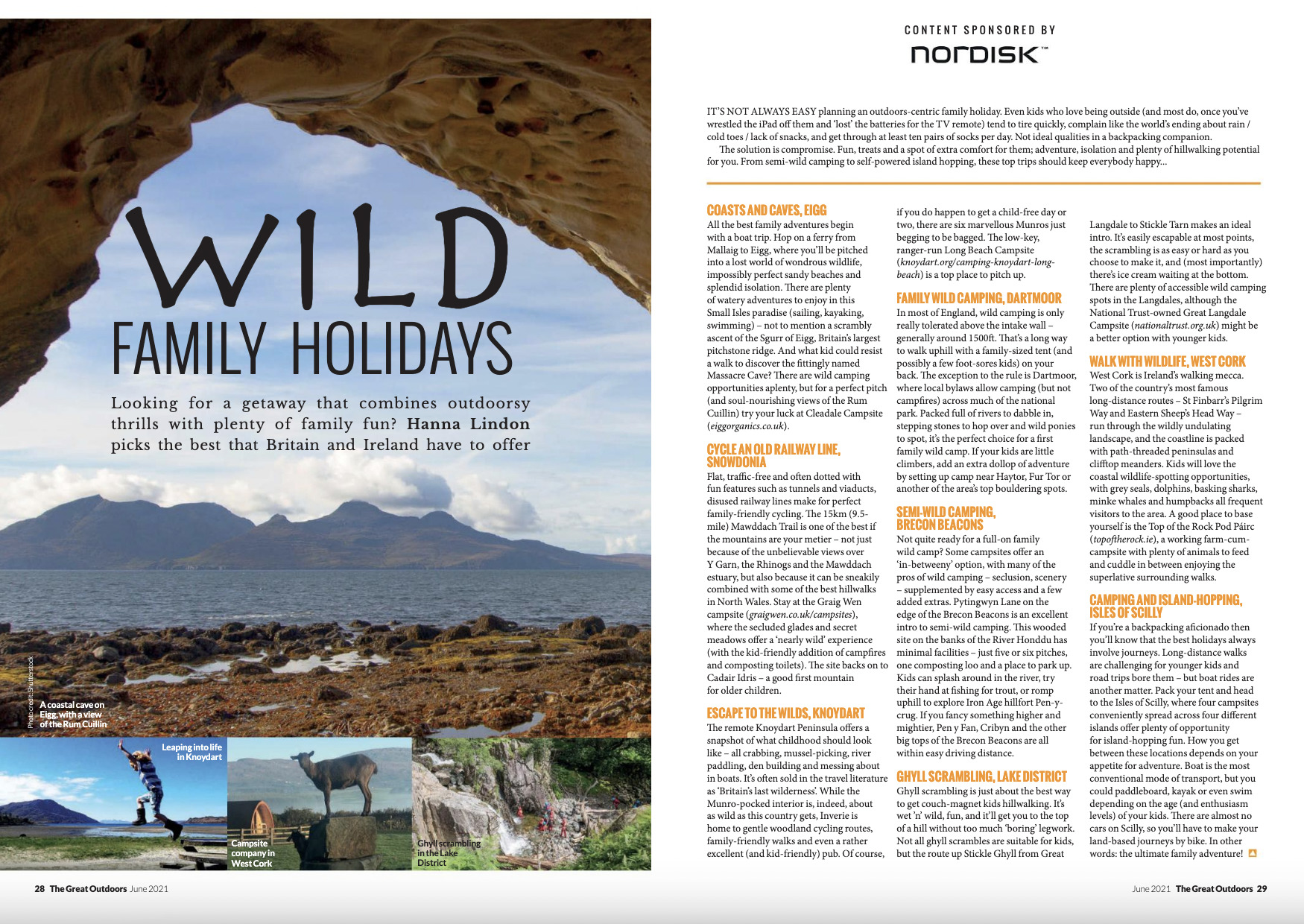 Wild family holidays: looking for a getaway that combines outdoorsy thrills with plenty of family fun? Hanna Lindon picks the best Britain and Ireland have to offer.
"If you're a backpacking aficionado then you'll know that the best holidays always involve journeys. Long-distance walks are challenging for younger kids and road trips bore them – but boat rides are another matter. Pack your tent and head to the Isles of Scilly, where four campsites conveniently spread across four different islands offer plenty of opportunity for island-hopping fun."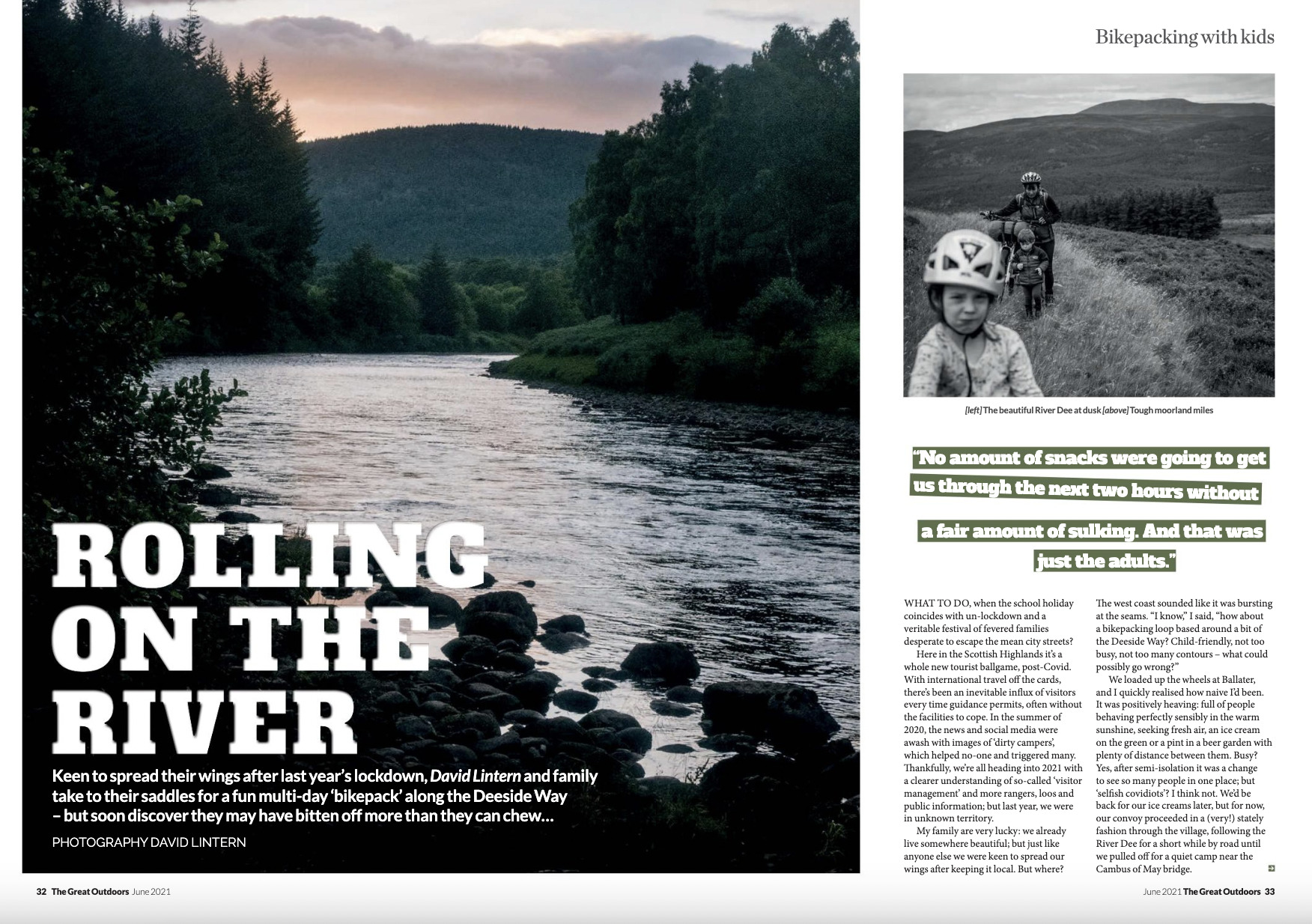 Rolling on the river: keen to spread their wings after last year's lockdown, David Lintern and family take to their saddles for a fun multi-day 'bikepack' along the Deeside Way – but soon discover they may have bitten off more than they can chew…
"My family are very lucky: we already live somewhere beautiful; but just like anyone else we were keen to spread our wings after keeping it local. But where? The west coast sounded like it was bursting at the seams. "I know", I said, "how about a bikepacking loop based around a bit of the Deeside Way? Child-friendly, not too many contours – what could possibly go wrong?"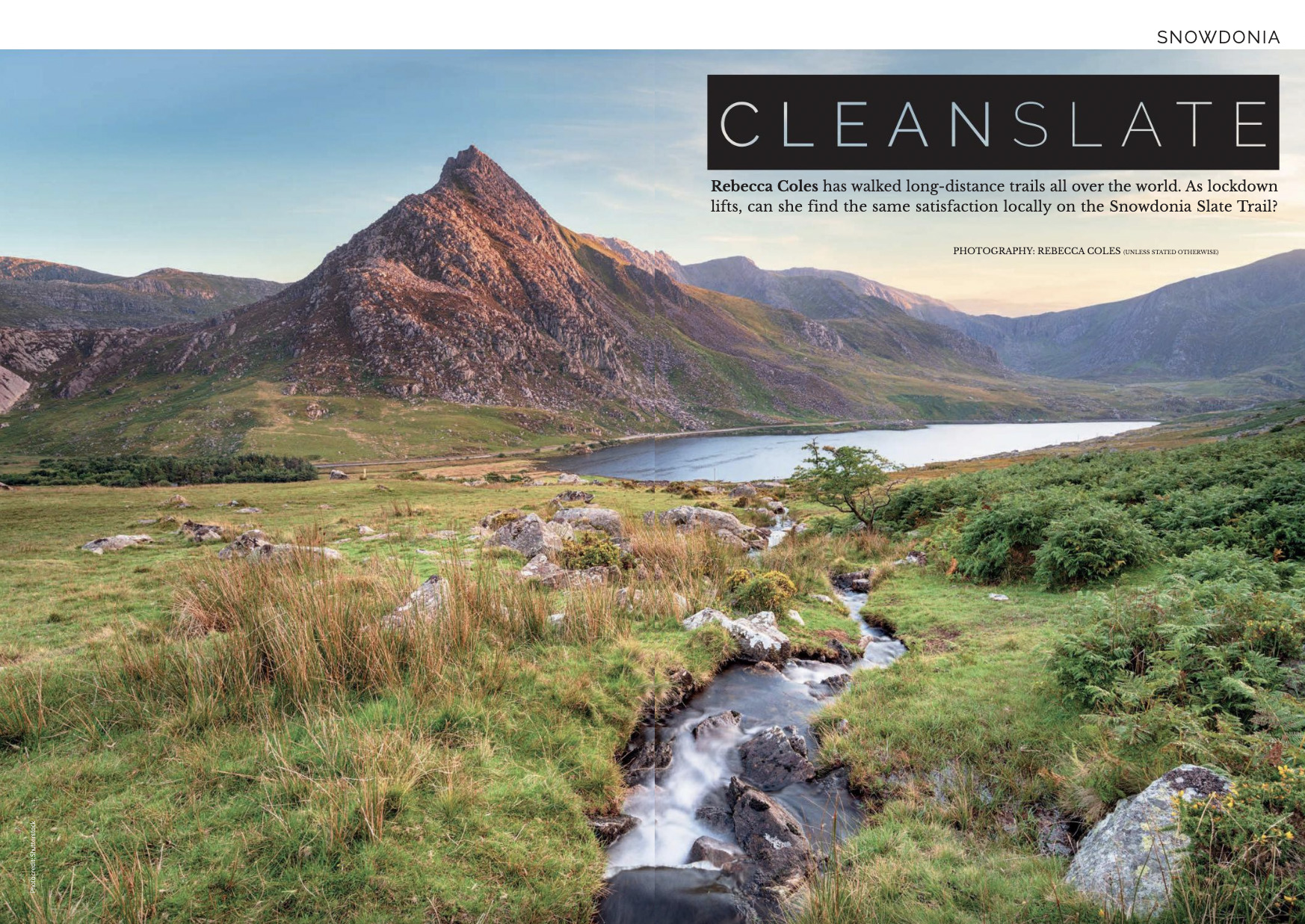 Clean slate: Rebecca Coles has walked long-distance trails all over the world. As lockdown lifts, can she find the same satisfaction locally on the Snowdonia Slate Trail?
"Before walking this trail, it had never occurred to me that the journey from Croesor to Beddgelert could be both enjoyable and possible. Travelling by car fragments the landscape but also the geographical opportunities. Never have I felt this more acutely that on this journey. It was like joining isolated dots which had sat neglected for too long."
A 450 million-year walk: volcanic eruptions, glaciation, continental collision – Buttermere has been moulded through millions of years by powerful geological forces. Ronald Turnbull travels through time on a geology-themed tramp up Haystacks.
"At an ancient gatepost I fork off on a much fainter path across Warnscale Beck. And, as the ground steepens, suddenly I'm transported three or four kilometres underwater to the bottom of an ocean trench. It's completely dark, and I'm standing in black muddy sludge. As summers and winters pass in the distant sunshine high above, little layers of fresh sludge trickle slowly down off the edge of the continental shelf."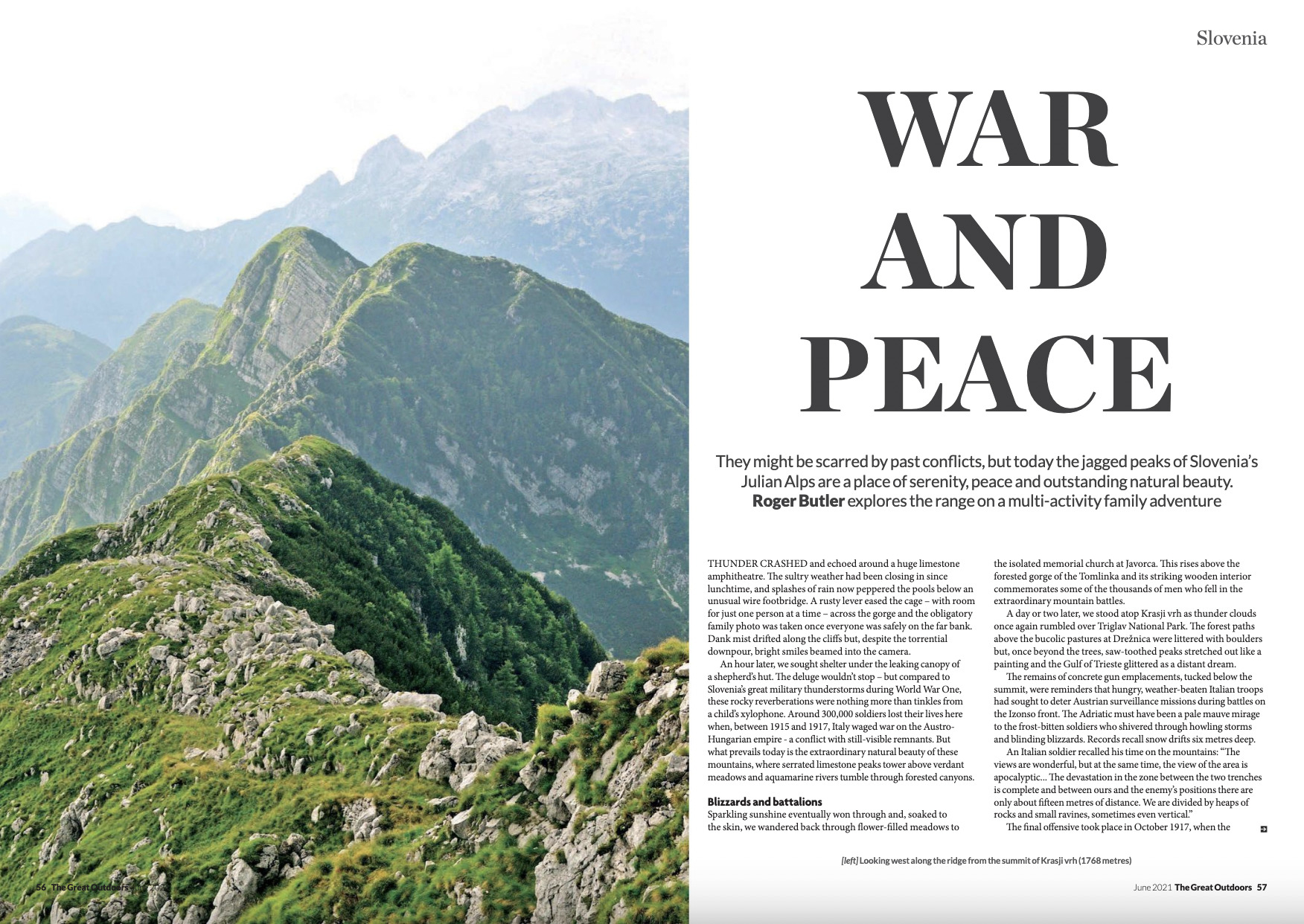 War and peace: they might be scarred by past conflicts, but the jagged peaks of Slovenia's Julian Alps are a place of serenity, peace and outstanding natural beauty. Roger Butler explores the range on a multi-activity family adventure.
"Distant thunder was building up again. Menacing black clouds were gathering over Triglav – Slovenia's highest peak at 2863 metres – but up here, it was all sunshine and laughter. Immediately to the north, a huge fang rose like a badly-scarred tooth and the ridge continued with a series of blunt molars that would have required some serious scrambling. Looking west, across the valley of the Triglav Lakes, great sweeps of limestone terminated in flat-topped concentric circles. They could have been fortified ancient citadels or mysterious flying saucers."
Order a single copy of this issue and get it delivered with free postage.