Let's take a walk on the quiet side to uncover the UK's most underrated hiking routes and crowd-free walks, from Snowdonia to Lakeland and the Highlands.
A sense of space can help us find our place amid the constant distractions of the 'attention economy' era. So, the April issue of The Great Outdoors honours underrated hiking destinations. James Forrest reveals 6 of the quietest mountain ranges in England, Wales and Scotland for peaceful crowd-free walks on your doorstep. We also conduct an experiment to see if you can walk in Lakeland without passing another hiker, and head to the quiet corners of Snowdonia's Carneddau.
Cover image: Carey Davies seeks space in lesser-walked fells above Wasdale | Credit: Ben Cannon
Elsewhere in the issue:
Ryan Simpson celebrates the Mourne mountains with a photo series that must be seen to be believed
Katy Ellis embraces the East Anglian coastline and finds it surprisingly wild
Jilly Sherlock recounts a challenging ski tour through the Swedish Arctic in Sarek
Andrew Galloway follows Roman footsteps into the Carneddau range, Eryri (Snowdonia)
PLUS: 21 pages of walking routes that explore overlooked places; the Twelve Bens of Connemara in profile; the fight for access on Dartmoor and beyond; how your mapping apps really work; 10 pages of expert gear reviews including three-season boots and the best daypacks; advice on how to use personal locator beacons; and a selection of the best mountain events this month.
Read more: escape the crowds in Britain and beyond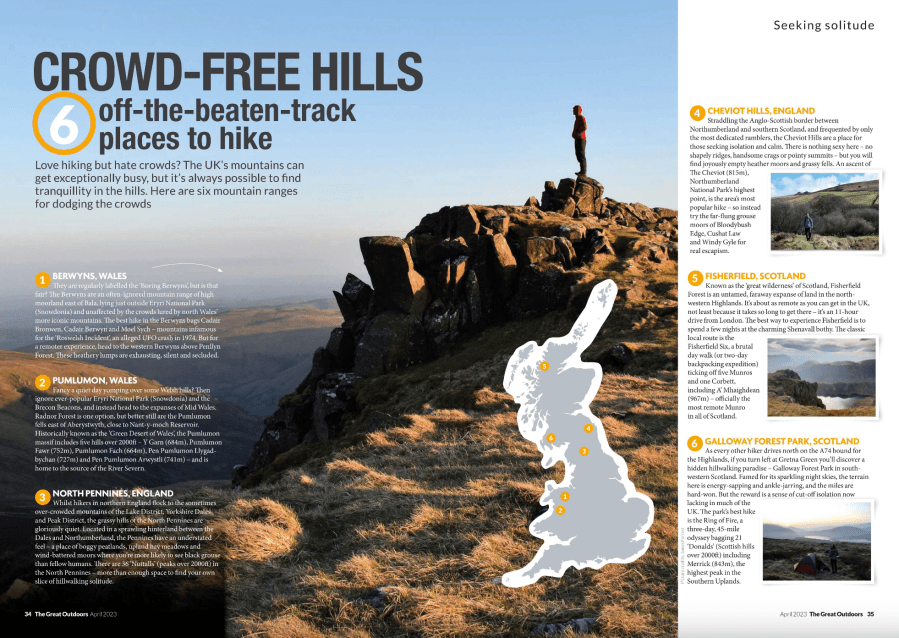 Crowd-free hills: Love hiking but hate crowds? The UK's mountains can get busy but it's always possible to find tranquility in the hills.
"Known as the 'great wilderness' of Scotland, Fisherfield Forest is an expanse of wild land in the north-western Highlands. The best way to experience Fisherfield is to spend a few nights at the charming Shenavall bothy. The classic local route is the Fisherfield Six, a brutal day walk (or two-day backpacking expedition) ticking off five Munros and one Corbett, including A'Mhaighdean (967m) – officially the most remote Munro in all of Scotland…"
Alone in Lakeland: Can you go for a walk in the Lake District's heartland and not pass another walker? Carey Davies heads to Wasdale to find out…
"I don't really buy into the idea that the Lake District has been 'ruined' or 'overrun'. Besides the strong whiff of misanthropy, it doesn't strike me as true. Pressure is concentrated in particular places, where it can certainly be severe; but outside those honeypots and hotspots, it's still possible to find ample solitude. But is it still possible, I wondered, to go for a walk in the Lakes and not encounter a single other human soul? With the aim of finding out, myself and photographer Ben (for the purposes of this feature, he didn't count as another person – which probably sounds ruder than it's meant to) found ourselves in Wasdale, on a beautiful winter day…"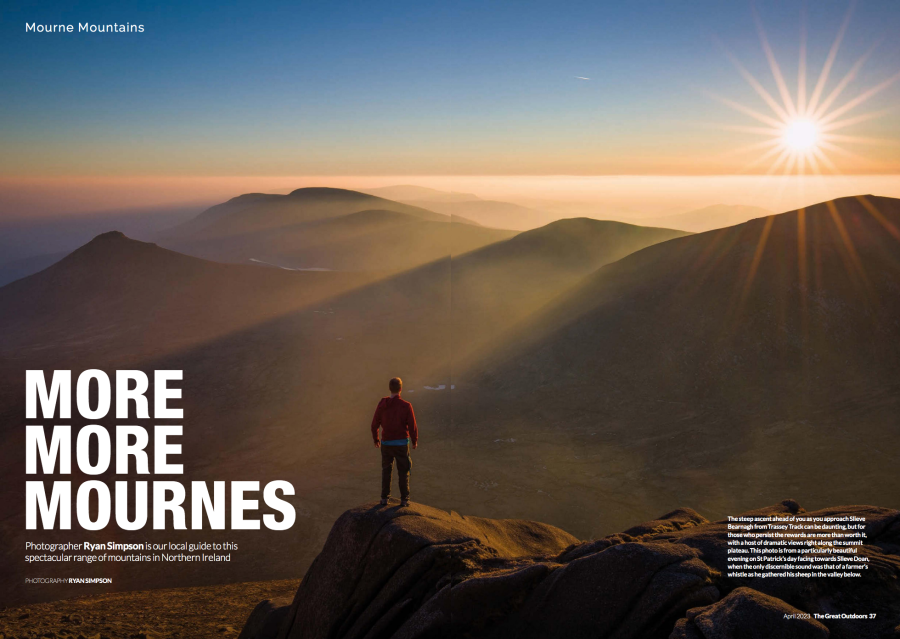 More, More Mournes: Photographer Ryan Simpson is our local guide to this spectacular range of mountains in Northern Ireland.
"Tucked away in a corner of County Down are the Mournes – a range of small mountains which rise directly out of the Irish sea. This area is characterised by its rolling hills which gently disappear over the horizon towards the Republic of Ireland. For the first-time visitor, a long day of walking offers the promise of covering a satisfying amount of ground. You'll retire to the pub or the fireside (or both!) with a wry smile and a great sense of accomplishment…"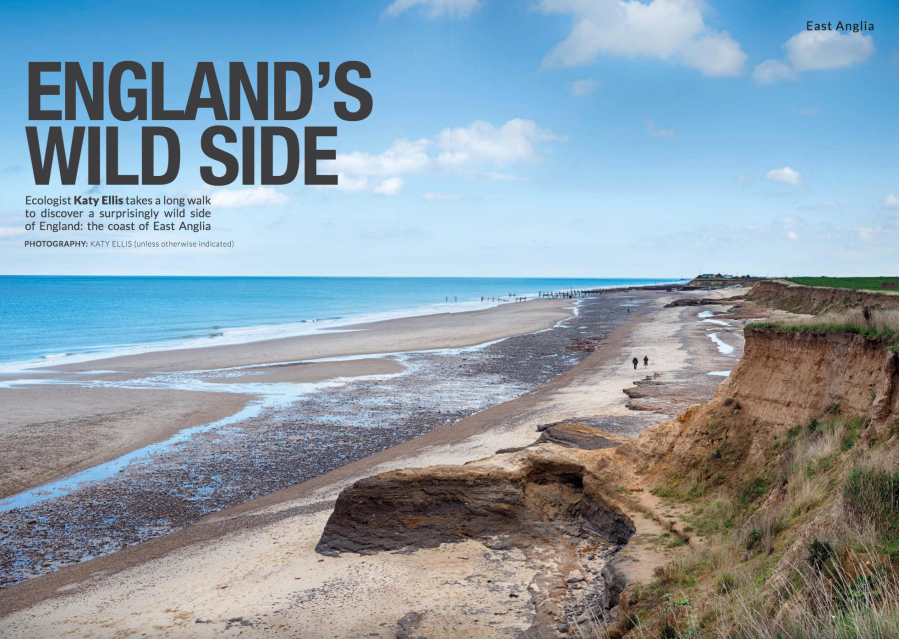 England's Wild Side: Ecologist Katy Ellis takes a long walk to discover a surprisingly wild side of England on the coast of East Anglia.
"Vast, open expanses of azure skies lay above me and I would walk for hours without seeing a soul – not what I was expecting for somewhere so close to London. On my first day, I wrote in my journal: The feeling of isolation is quite profound, scary at times, threatening to overwhelm me. But how rare is it that we are fully alone, not relying on the words and presence of others, in person or through music, podcasts or films, to fill the silent gaps between our own trails of thought?"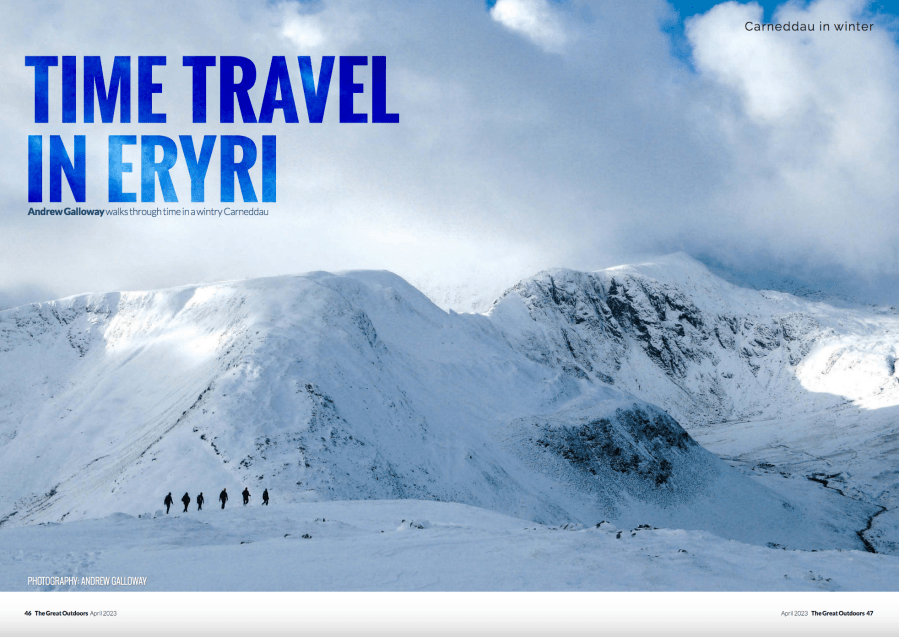 Time Travel in Eryri: Andrew Galloway walks back in time following the footsteps of the Romans in a wintry Carneddau.
"Difficulties began on the summit of Carnedd Penyborth-goch as a thick bank of dark-grey cloud swept in on an icy north-easterly wind, shrouding the summits before me.  In poor visibility and stinging precipitation, the climb to Foel Fras seemed interminable. Several times I checked my GPS location for fear I had become disoriented. This was the reality of the largest expanse of contiguous land above three thousand feet in England and Wales, in winter, with precious few distinguishing features…"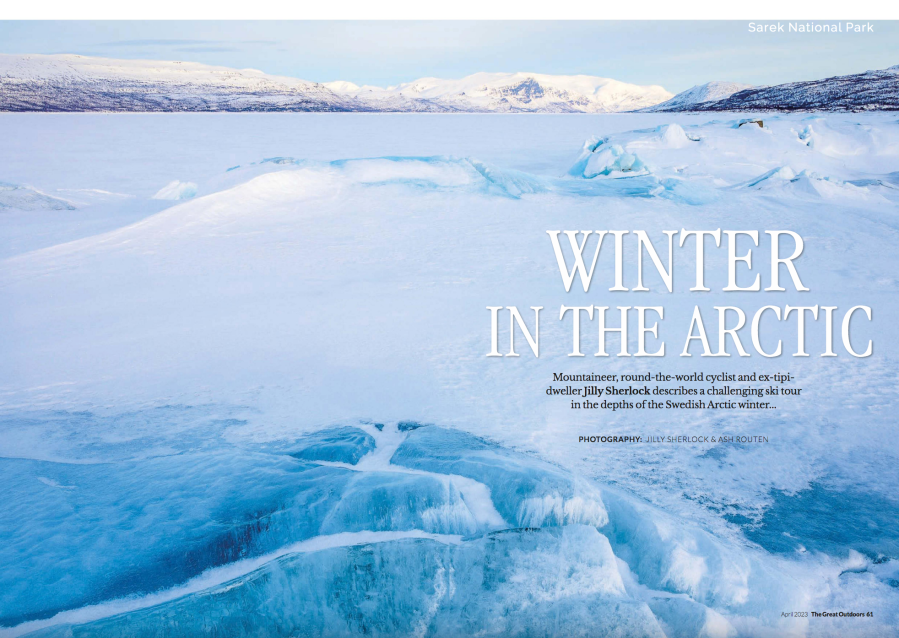 Winter in the Arctic: Mountaineer, round-the-world cyclist, and ex-tipi-dweller Jilly Sherlock recounts a challenging ski tour in the depths of Swedish Arctic winter.
"We study the contours of the map, straining to transfer each line onto the blank, white canvas in front of us. Neither up nor down, gully nor mound, sky nor land can be determined. There is only white… and the occasional etching of a rocky outcrop, a faintly pencilled boulder, a scribble of dwarfed birch, a smudge of shadow. Every aspect an artist's abandoned sketch."
Order a single copy of this special crowd-free walks issue and get it delivered with free postage.