James Clark goes trekking in the Zillertal Alps with high-altitude mountaineer Peter Habeler
Zillertal is one of the top outdoor adventure playgrounds in the world. The adrenaline rush is the reason climbers return to this Austrian region time and time again, but for some, like Peter Habeler, Zillertal is home.
Peter Habeler has climbed five 8,000m peaks during his mountaineering career. In 1974 he climbed the North Face of the Eiger in ten hours with Reinhold Messner. It was the start of a great relationship, and in 1978 the pair became the first to ascend Everest (8,848m) without supplemental oxygen. Further first-class summits followed such as Nanga Parbat (8,126m) in Kashmir, and Cho Oyu (8,188m) and Kangchenjunga (8,586m) in Nepal.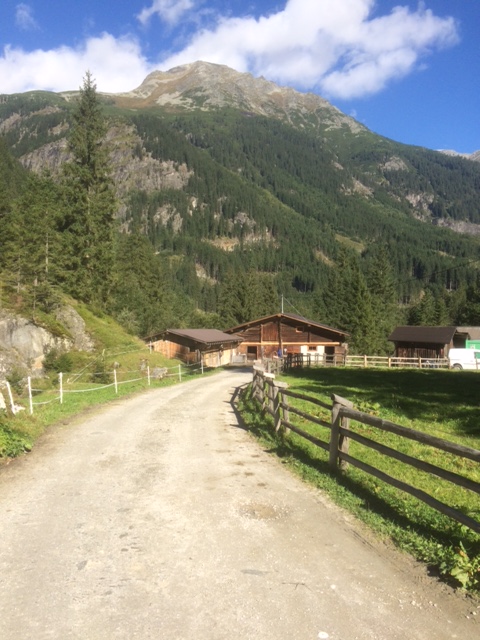 We met with our guide Florian Warum outside the Gasthof Breitlahner alpine inn to begin our hike to the Berliner Hütte (2,042m), regarded as the most beautiful mountain hut in the Eastern Alps, where we would spend the night and have dinner with Peter Habeler himself. With excitement and trepidation we put one foot in front of the other and started to climb trail no. 523, past the Klausen and Schwemmalm alpine pasture huts with bell-ringing cows, until we reached the Grawand Hütte where we attempted to warm up with strong coffee. From there we continued hiking through alpine pastures and meadows. As the terrain began to change we took the steep single track up to Alpenrosen Hütte where the weather changed drastically and the wind battered us. On to the Berliner Hütte. It was a great relief to make it to the hut; although some of us wanted to continue, we all felt accomplished. Within an hour of reaching our destination it began to snow.
The Berliner Hütte is the oldest and best-known alpine hut in the Zillertal Alps. It was opened in 1879 and to this day it retains most of its original material and style. Situated at 2,042m in the heart of the Zillertal Alps Nature Park, it can only be reached on foot. It is surrounded by the peaks and glaciers of Zemmgrund, offering panoramic views of both the Hornkees and Waxeggkees glaciers that were until 1850 one ice stream.
Peter joined our group that evening for dinner and it soon became clear that his greatest passion is walking within the mountains of Zillertal.
"Hiking is coming back into fashion," he said with a smile. "Getting out and about here brings me immense pleasure. I've been coming to the Berliner Hütte since I was about 11 years old. Sitting here, eating and enjoying the atmosphere are the best feelings in the world. Everyone feels good because you can't reach here without first tackling a challenge. It's a communal experience and in my opinion it's unbeatable."
Not only is Peter gifted in the outdoors, he's able to speak, smile and captivate his audience without trying too hard. He went from one tale to another and the night was filled with laughter.
When asked about his relationship with hikers from the United Kingdom he was complimentary: "I enjoy hiking with the British; they are always prepared for the weather, are sensible enough to pack light and always want to do more than the intended trip. They have a habit of taking lots of photographs which they send to me that I use in lectures around the world."
In the early 1970s Peter met Reinhold Messner, with whom he would make history a few years later. "When we first met it became immediately clear that Reinhold had skills," he said. The pair completed their number-one objective by being the first two people to climb Everest without oxygen. They had successfully achieved what others had considered impossible. It was a mix of emotions at the top: "We hugged, cried and laughed all at the same time."
During the descent from Everest Peter twisted his right ankle. "I would never have been able to do this without Reinhold Messner. I could rely on him 100 per cent, as I did with many of the other great climbers and hikers that I've met. Many of them I met here at the Berliner Hütte. I spent my young life hanging out here with great mountain guides and the mountain rescue service, they taught me a lot."

Peter was keen to mention Austrian sport climber and mountaineer David Lama, whom he first met when the boy was five on one of Habeler's children's courses. "Even back then I recognised his talent," Peter explained. The two are firm friends. 21 years after first meeting, in May 2017, they climbed the North Face of the Eiger in celebration of Habeler's 75th birthday.
The Zillertal Mountains captivated Habeler at a young age. Now, he returns here to prepare for his next expeditions. It is here that he became an assistant mountain guide at the age of 16, and nearly 60 years later he continues taking groups on outings in the mountains – which is what he did with us the next morning. After breakfast he expertly got us back through the snow, without falling to our deaths, to the Gasthof Breitlahner alpine inn below.
Peter Habeler may be known for his cutting-edge ascents in the world's biggest mountains, but it's to the Zillertal that he always returns.
By James Clark