Daniel Neilson scales Austria's highest peak, Grossglockner, a spectacular mountain in the Hohe Tauern National Park
In our Spring 2018 issue, celebrating 40 years of The Great Outdoors, we've invited four former editors (Roger Smith, Peter Evans, Cameron McNeish and John Manning) to write a bit about what their time at the magazine meant to them. But those features don't tell the whole story of TGO's editorial team.
Daniel Neilson was Acting Editor of The Great Outdoors in 2013 and 2015, and remains closely involved with the magazine. There wasn't space in the latest issue for Daniel's editor's story, so instead he has selected this feature – one that perfectly sums up why The Great Outdoors is special, and what serving this magazine means for him.
---
By Daniel Neilson. This feature was first published in the May 2013 issue of The Great Outdoors.
A couple of weeks before leaving for Austria, the tourist board representative emails me a flyer about Grossglockner, the country's highest mountain. Among various facts and figures ("Grossglockner is 3,770m high", "Grossglockner is the 'centrepiece' of the Hohe Tauern National Park", "Grossglockner is the highest mountain of the Alps east of the Brenner Pass"), it also states: "Grossglockner is repeatedly underestimated by mountain hikers." The flyer also has a photograph of Alpinists on a jagged ridge jutting more than 800 metres above a glacier. "That must be the hard route," I thought, having previously expressed my intention to follow the 'normal route' to the summit. I was wrong.
The night before I left I Googled Grossglockner and found a beautiful video. I showed it to my mother and grandmother. Big mistake. The peak of Grossglockner and its secondary summit Kleinglockner are along an exposed ridge shockingly revealed in a stunning aerial shot. My hands became clammy, and I felt a rush of excitement. I closed the browser, lied that there was a road halfway up, and jumped out of the door. This would be my first Alpine climbing experience and I was a little apprehensive…
Day 1 EasyJet to Innsbruck, Innsbruck to Kals
During which the author meets the motley climbing group
As the aircraft broke through gaps in the cloud, still several hundred metres in the air, we were already far below the clag-bound peaks. "27 Celsius up yesterday," my cheerful driver said, on the two-hour drive to Kals. "Today snow up high." I'd come to Austria in mid-September for the last of the summer walking; it's a good job I'd brought my crampons.
It was pouring with rain in Kals am Grossglockner, East Tirol, in the Austrian Tirol, our base for the expedition. I wandered round. It appeared empty; the ski town they forgot to close down. But that evening I met the rest of my expedition group. Tirol tourist board representative Patricia, a Kals lass called Eva who was heading for her sixth summit; Carolina, a newspaper journalist and Frank, a photographer from Holland; Girog, a droll radio journalist from Germany, Klaus a smiley writer from the German equivalent of The Great Outdoors called Active; and a Czech reporter whose dress style could be best described as psychedelic Alpine chic. But as we chatted over beer in the hotel restaurant, we were already teasing each other – a good sign. It was a cheerful, vivacious group. But once the reps had gone to bed, there was hushed talk of the 'Book', a list in Kals' church of those who had died climbing the mountain. This I would investigate tomorrow. No time to get some sleep.
Day 2 Kals to Erzherzog-Johann-Hut
During which the author realises the challenge ahead
Despite a heavy dump of snow overnight, a good weather window had opened and we were moving this morning. We were to climb to the first hut, summit early the next day and return to Kals at night. We would be back in time for the biggest date in Kals' calendar, St Rupert's Feast Day on September 24, an almighty party. But it meant we didn't get a chance to see 'the book'.

We left early in a taxi seven kilometres up to the Lucknerhaus, a large restaurant at 1,920m, and the start of our trek. The weather was crisp and clear and the precipitation from the previous day had dusted mountain tops with a few inches of snow. We stumbled out of the taxi to a view that silenced even this group. We finally saw Grossglockner, three kilometres away and two kilometres higher than us. The scale of the snow-clad mountain left me with a thrilled, anxious knot in my stomach.
Grossglockner is a beautiful mountain; pyramid shaped, with a little nick in the top that distinguishes Grossglockner, the Great Bell, and Kleinglockner, the Little Bell. In Austria it holds a magnetic attraction beyond the sum of its mass. It is part of the fabric of mountain life in Austria – much as the highest mountain is in many countries. Its life, as projected on it by humans, is locked in with myth and exaggeration, hearsay and superstition, as blurred and as jagged as its north face. Before the mid-1700s, the mountains were considered fearful places, harbouring demons and evil spirits, and then around the mid 18th century, inextricably tied with the Enlightenment, people began to look up to the peaks with curiosity and scientific wonder, and also with religious interest; mountains are places of salvation and miracle, the summit slog a metaphor (and a jolly good place to put a cross).
In 1800, before the 'Golden Age' of Alpinism, it was a priest, Father Horasch of Döllach, led by local brothers Sepp and Martin Klotz, who first summited Grossglockner with three others. Looking on was a party of 62 including 47 guides, scientists, clergymen and cooks. It was the party's second attempt funded by (deep breath) Prince-Bishop Count Franz Salm-Reifferscheid, a personal friend of the Pope, and nature lover. During the first expedition in 1799 they reached Kleinglockner but had to turn back after the bearers refused to continue over the col in poor weather (the first known such strike).
Huge crevasses are continuously opening and closing – each day a different route is taken by the guides. Some of the crevasses appear to drop tens of metres, perhaps more
Our more modest party started the three-hour hike up to the Stüdlhütte with the white peak of Grossglockner almost constantly in our view. We spent a couple of hours zig-zagging up an easy path and entering the Hohe Tauern National Park. Marmots nibbled the grass through the rapidly melting snow. We stopped for a coffee at the Lucknerhütte (2,241m) and got the first hut stamp in our book.
The second hut, the Stüdlhütte (2,802), was not what I was expecting. It is a thoroughly modern two-storey building, powered by solar panels. A tray of weissbier was waiting for us. The views on this clear day now extended to the Dolomites – I'd never seen the Alps so clearly. I got a lump in my throat.

Those who have experience of Alpine trekking will know that the huts here are nothing of the like. Case in point: we sat down to a five-course meal (carpaccio, ham soup, sea bass fillet with homemade ravioli – the rest we put on hold for the day after our adventure). The hut's owner even blends his own fine wine. This is hiking. We then met our guides Peter and Martin – a rugged, quiet and trustworthy duo. One of the guide leaflets offers three options to climb Grossglockner: "1. Be ready to risk life and limb; 2. Forget about climbing the Glockner; 3. Trust a mountain and ski guide." I couldn't agree more. This, as I was to discover, is a serious undertaking. I didn't know this as I topped the glasses up and welcomed our guides.
We strapped on crampons, tied ourselves together and began to cross the Ködnitzkees glacier. Huge crevasses are continuously opening and closing – each day a different route is taken by the guides. Some of the crevasses appear to drop tens of metres, perhaps more. By late afternoon, much of the snow on Grossglockner had melted and the true scale, and mountainous beauty, of the beast became apparent. It was a thrilling and gut-wrenching sight – the power of mountains affects me physically. On we trod across the ice, occasionally glimpsing the dark blue depths of the glacier.
We arrived at a rocky face that would eventually lead us to the Erzherzog-Johann Hut, built on the Adlersruhe, Eagle's Rest, a seemingly precarious outcrop below the summit. A hut was first built here in the late 1800s, but this newer building is larger and fit for purpose. It's a serious scramble up to the hut, exposed in parts. A handrail helps for most of the hour-long climb. Reaching the hut felt an achievement in itself. Having not seen many people for the last couple of hours, I was astonished as I entered the hut. It was buzzing with young climbers, drinking, playing cards and checking ropes.
We were led to our room – sleeping was on a long bed side-by-side. I laid out my sleeping bag and bought some earplugs. Once we'd settled in, I wandered to the seating outside the hut as the sun was setting. It was, undoubtedly, the most stunning mountain view I had ever seen. I could see a panorama across the Alps from Dachstein in the east to the Dolomites south in Italy. Ever-present, however, was the black spire of Grossglockner, dominating the view and dominating my anxious thoughts. I fell into a restless sleep, dreaming about falling.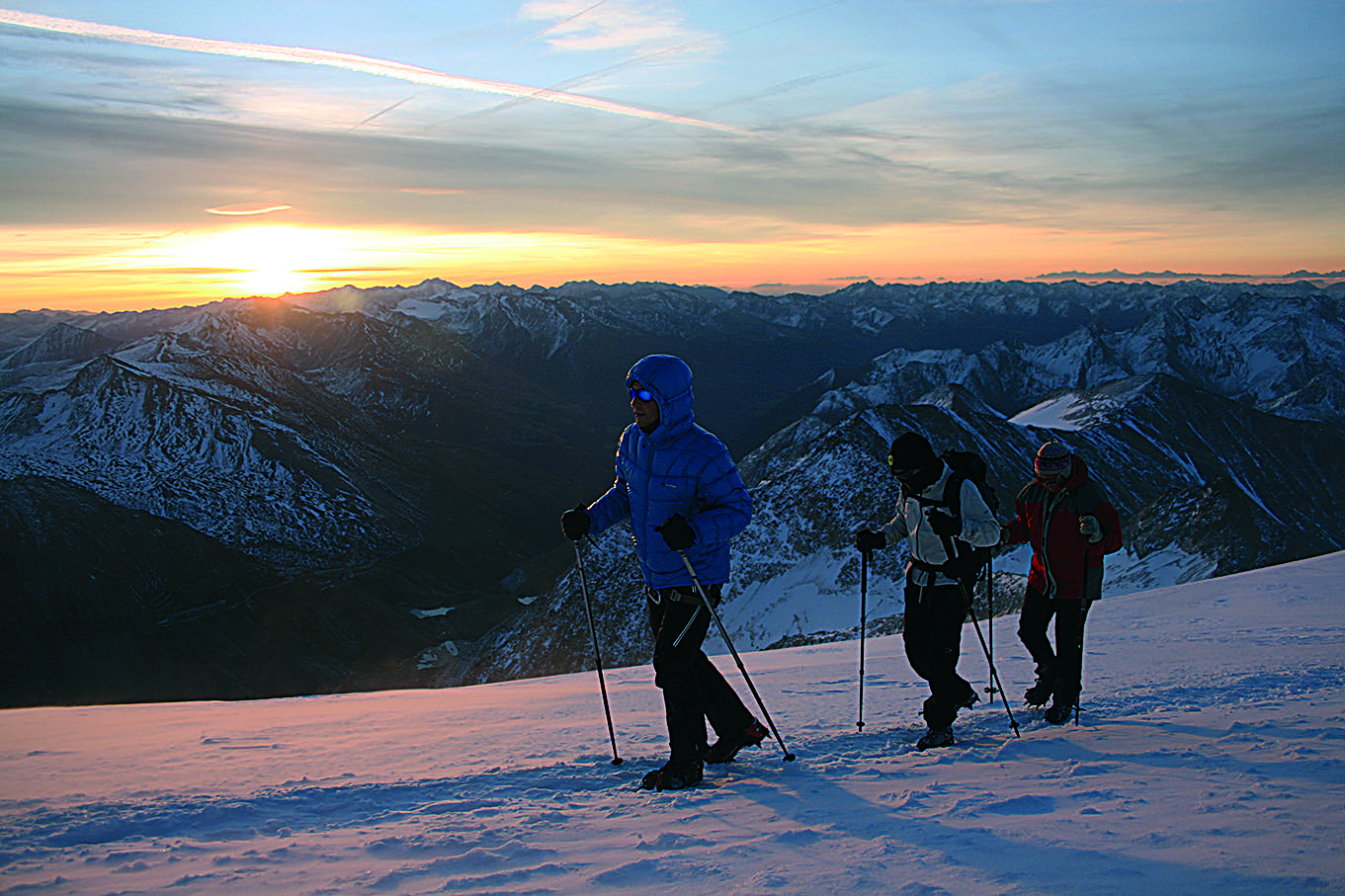 Day 3 Erzherzog-Johann-Hut to Grossglockner's summit
During which the author confronts his anxieties for the ascent of his life
It was -15°C when we set off at 5am and the wind was billowing snow around us in 40mph gusts. Sunglasses, face coverings, down jackets, crampons, roped up. We crossed a wide, barren plateau towards the north face of Grossglockner. Across the pink sunlit snow, I saw the trail of earlier parties snaking like ants up an improbably steep ridge and my stomach lurched, yet the views of the sunrise over the Alps to the north were life-affirming. We crunched in silence, zig-zagging higher and higher. We climbed a ridge skiing out from the north face and I spotted a clear weak line we would ascend. My nerves were just about holding as the drop below me became steep. Groups several hundred metres almost directly below us looked tiny. I looked up. I concentrated on my next move. I was sweating, I was silent.
Of the 'knife-edge' ridges I'd walked, this seemed the sharpest. Yet, something stirred in my mind that still hasn't left some five months later. In parts I was worried, but also I've never felt so alert, so alive
The style of walking is that groups are roped together, through a harness, moving in unison. Leading was Peter, the guide, behind him Eva, a local Kals lady, me (clinging on) and behind me Girog, a solid German radio journalist who kept asking me how I was, on tape (I've listened back since – I thought I sounded confident. I didn't.). The theory was, if one of us falls, the others hold him up. In my heightened state of awareness I turned this on its head. If one of us falls, we all go. Still, Peter seemed confident with us and we were moving well.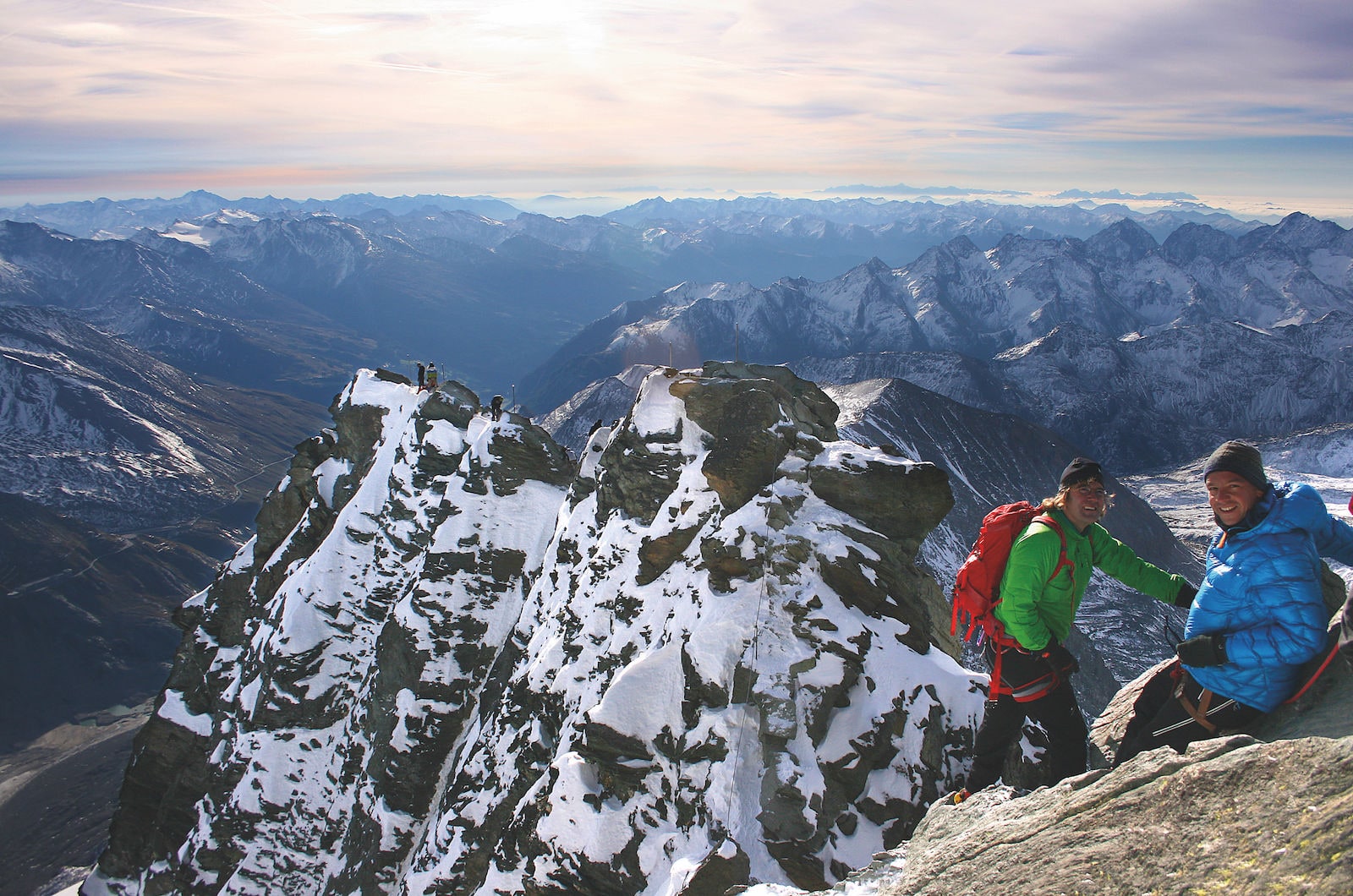 The path ran out, and we started the climb properly, ascending the south-east ridge, known as Glocknerleitl, which we would follow west to the summit. Grossglockner has the greatest topographic isolation of all the Alpine mountains after Mont Blanc. What this means is that it's a hell of a long way down. Inches to my left and to my right was a drop of 800 metres. Of the 'knife-edge' ridges I'd walked, this seemed the sharpest. Yet, something stirred in my mind that still hasn't left some five months later. In parts I was worried, but also I've never felt so alert, so alive. Debate continues whether Kleinglockner is a separate summit or a subpeak – I'll take the former. From the 'Little Bell', we descended gingerly to the highest col in Austria, Obere Glocknerscharte at 3,766m and the most exposed part of the route. Inches from my foot to the north, a 600m couloir drops at a 55° angle to the Glocknerkees glacier. It was a cruel drop, but after the steepest climbing, the ridge widened out a little and we pushed the final 33 metres to the summit cross.
In 1824, Austrian Peter Carl Thurwieser, one of the first true Alpinists, summited Grossglockner. According to Ed Douglas's marvellous book Mountaineers: Great Tales of Bravery and Conquest, Thurwieser and a colleague unpacked an array of pseudo-scientific instruments and promptly let off some fireworks and rockets… for scientific reasons of course. Thurwieser said: "The inhabitants of neighbouring mountains believed to see blazing dragons, and they prophesised the most evil results from this supernatural appearance". I certainly didn't feel like letting off fireworks (I'd have had to let go for a start), but I briefly indulged my mind in the possibilities of evil results – it's the descending where the accidents happen – before looking up. I was at 3,798m, the highest point in the eastern Alps, on a clear day. From the cross at the summit, it's reported you can see up to 140 miles. Writing this I yearn to be back by the cross.
We climbed down backwards to the col, where the finest views of the ridge were laid before us. Other teams were hiking over it – "I've done that", I thought. This was the ridge on the YouTube clip that seemed so dramatic. And as we started to descend, I felt a weight lifted – it was my confidence growing. I reflected that anxiety is relative. Already I was less nervous. By the time we hit snow again on the plateau, I was elated. More than any other mountain experience. This kind of walking, I was beginning to understand, was more about scaling the mountains within. I was in a celebratory mood. It was 10am and I had a beer – along with about 70 others who had also summited that morning. (After the first summit the chronicler wrote: "Champagne, Tokay and Malaga flowed as if they were pressed from the nearby glacier.")
From the hut we scrambled back down to the glacier in chatty moods.
"So", I asked Eva, "does this make me a mountaineer." "Hmm. In Austria we have a saying that the first swallow does not make spring." I sighed. "In Britain we have the same saying."
Day 4 Kals am Grossglockner
In which the author dances and is merry
Lederhosen are not always worn ironically. As we walked into the village of Kals, we heard the brass band playing. The entire village had come out wearing their finest traditional clothing for the most important day in their calendar: St Rupert's Feast Day. I took photos as the procession of serious faces, fantastic beards and floppy hats went to the church for a service. We headed into the village museum, full of mountaineering paraphernalia and stuff found in the mountains around here: Roman coins, 2,000-year-old charms, and antlers, ritually burnt 5,000 years ago.
We returned to the beerhall. A local composer, Martin Gratz, was leading the Kals band through a new work inspired by the mountain. The party lasted all day and all night. We were fortunate to be here for this event. It was not only a religious celebration, but of the mountain that appears on every poster, logo and lapel badge. The lives of the Kals people are inextricably entwined with that of the mountain. It is a constant presence. It is not to be conquered, but to be respected, admired, even worshipped in some primal sense. In the evening, Eva shows me a picture of her daughter with her school group on the summit of Grossglockner. She was eight years old.
---
Essential information
How to do it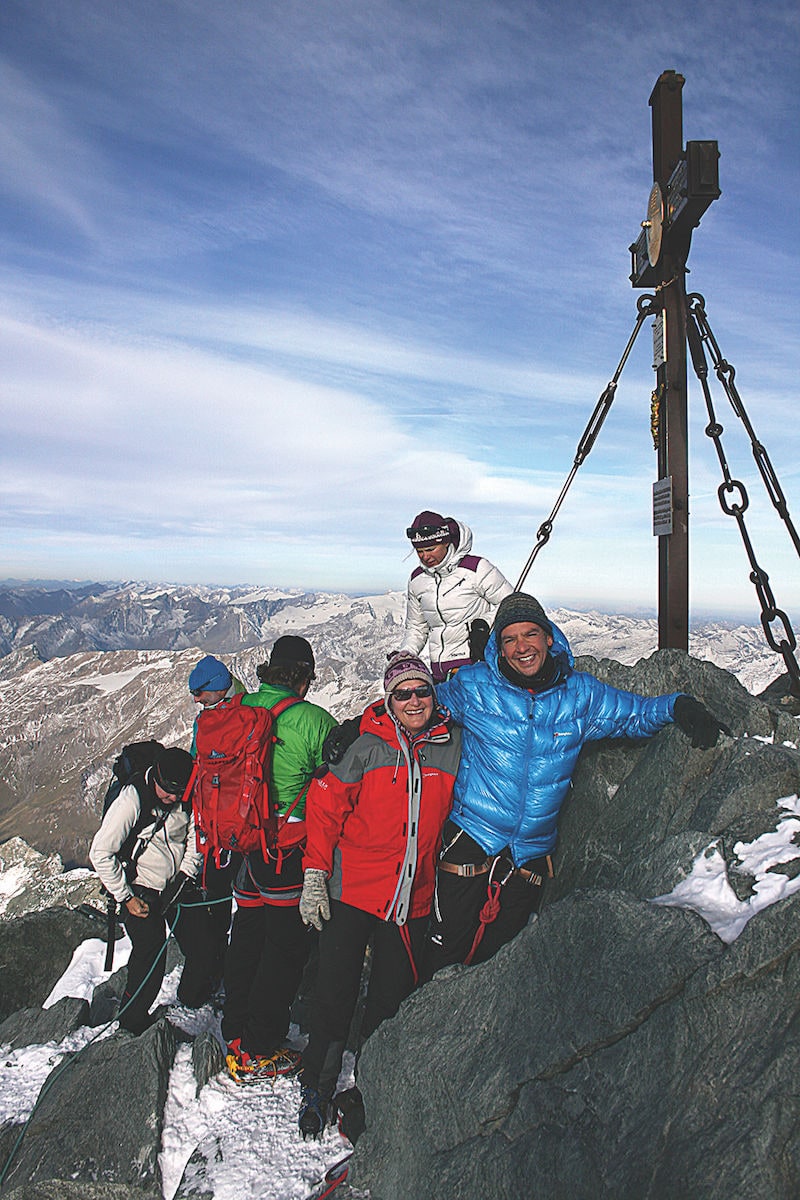 It is a two-day trip and it's recommended you go between the middle of June until the middle of October at the latest. We strongly advise going with a guide (Bergfuehrer). During July and August book at least a week in advance. All guides have long expertise on this mountain. It is the safest way up. To book contact through bergfuehrer-kals.at or +43 (0)664 4161289.
Following the Normal Route, the way I did it, you start at Lucknerhaus (bus or taxi from Kals) and walk to Stüdlhütte to meet the guide at 1pm. They will then guide you across the glacier and to Erzherzog-Johann-hut and spend the night there. The next morning is two hours to the summit. They will take you back down to Stüdlhütte. It suggests a good physical condition and not being scared of heights.
Prices (checked April 2018)
1 person €465 (per person)
2 persons €265 (per person)
3 persons €205 (per person)
Prices do not include accommodation, however, guides will organise the Erzherzog-Johann-hut. It does include crampon, harness and helmet hire. And you get a certificate at the end!
Other accommodation can be found at: osttirol.com. Sporthotel Scol. Prices in summer start from €53 per room per night, for more information visit scol-sporthotel.com.
Getting there
Direct summer flights are available twice weekly with easyJet.com from Gatwick to Innsbruck airport. During winter daily direct flights are available with easyJet from Gatwick and twice weekly from Liverpool and Bristol to Innsbruck. British Airways (ba.com) fly five times a week from Gatwick to Innsbruck.
Resort transfers are available from transfer.tirol.at and Kals is located about 2½ hours from Innsbruck airport.
For more information on the Austrian Tirol see visittirol.co.uk or for more information on Osttirol see osttirol.com.
What to take
Stiff hiking boots, 25-30 litre rucksack, walking trousers, waterproof trousers, softshell/fleece, down/insulated jacket, waterproof shell, hat and gloves (1 warm pair, 1 thin pair with good grip), walking poles, sunglasses, sunscreen (at least factor 30), light sleeping bag for hut, headlamp, snacks, drinking bottle, headache medicine if needed.