After his kids were inspired by images they  saw on Instagram, Andrew Watson needed no excuse to take a family holiday to the Norwegian fjords. Was 'that' rock as scary as it looked? 
Social media has had a hard time of late, but without the help of its convoluted algorithms we wouldn't have ended up standing on a boulder nearly 1000m above a fjord in Norway. It was the awe-inspiring posts of stunning fjords and terrifying boulder antics splashed across social media that had swung it for the kids. "That looks epic! Can we go?" is music to the ears of any adventuring parent; so thanks, Instagram. With the younger crew thus inspired, we decided the six-hour drive from our base in Tromøy would be worth it.
Wanting an early start to avoid the crowds, we decided to make the most of Norway's 'right to roam' laws and headed off to wild camp close to Øygardstøl (the start of the hike).
So, there we were at 2am, pitching a borrowed tent in the glow of our rental car headlights: a great way to start an adventure! We woke to a crystal-clear Norwegian morning, packed the tent, then drove the final hour along the FV500, a tiny (summer- only) road that weaves its way from Sirdal to Lysebotn. As we passed icy blue lakes and grey rock peaks, the early morning sun glistened off the last remaining patches of brilliant white snow; it was a scenically stunning way to start the day.
When we arrived at the car park, a well-built Norwegian was asking some bemused backpackers "Who does this look like?" as he pointed at a poster of a nude man posing on the famous Kjerag boulder. Turns out it was him, a multi-talented car park attendant, model, bodybuilder and (off season) Miami wedding planner. We had a chat about the conditions, and as the café (stunning location) was still closed he kindly offered us some much-appreciated coffee. A super-friendly guy, a great advocate for the area and a new Facebook friend, he almost made the hefty 200 kroner (about £20) car parking fee bearable.
The hike is clearly marked and starts at 500m altitude so it's cameras at the ready, with epic views from the first few steps. With dramatic cliffs and a backdrop of snow-capped mountain ranges split by the Lysefjord, a great 42km gouge running back towards Stavanger, it's jaw-dropping. The first section is one of the steeper climbs, and it's a good indicator of what's to come. With a combined 800m of elevation over the 11km return trip, there are three steep sections to tackle with formed steps and chains for hauling yourself up the more precipitous rock slopes. You're rewarded at the top of each climb with stunning vistas of the fjord, and, for the courageous, plenty of cliff-edge photo opportunities.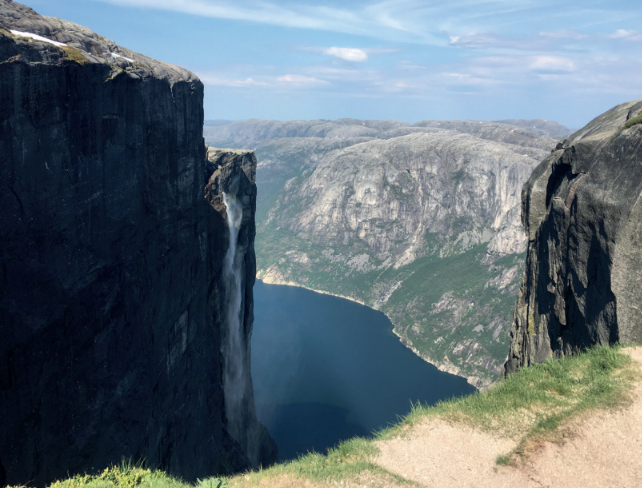 The valleys between the climbs bubbled with ice-cold snowmelt streams, the crystal-clear water glistening across the rocks before spectacularly plunging hundreds of metres to the fjord below. It's listed as a 5-10-hour 'demanding hike even for experienced hikers'. Our children (Oscar 14 and Tabitha 12), who are reasonably fit and experienced, weren't fazed by the terrain or distance, and the ever-present drop to the fjord was both a mesmerising magnet and talking point: "How long do you think it would take to fall to the bottom?" Apparently it would be a 21.68-second fall for 75kg me (there's an app for it!). If you're a nervous parent this might prove to be a stressful day out.
Once we'd tackled the climbs, the path levelled out to a plateau of grey rock randomly strewn with boulders left over from a bygone glacial age. We jokingly tried to push one then settled for adding a few pebbles to the 2m-high cairn that marked the path to the famous boulder.
Surprisingly there haven't been any recorded fatalities mounting the Bolten (boulder), and knowing this made it an even tougher call to deny Tabitha her Instagram moment. The wind was buffeting round alarmingly, and responsible parenting kicked in. To make things worse Oscar was already on the boulder, T-shirt flapping in the wind, yelling at us to hurry up and get the photo. You approach from the cliff side, cross 5m of rock ledge with minimal handholds while staring down a 980m drop. You then step out onto the boulder. Unsurprisingly at this point many were on their hands and knees – it's not for everyone! The normal spot to take the 'Kjerag' photo was still covered in a bank of melting snow, so getting photos was a precarious undertaking. It's busy in high season, so best to set out early or bring the camping kit and turn it into a multi-day adventure.
The hike is part of the Lysefjorden six-day circuit that includes the other local Instagram favourite, Pulpit Rock (Preikestolen). The natural platform by the boulder was a great spot to sit back and soak it all in. With the crazy vertical drops, gravity-defying rock outcrops and cascading waterfalls creating shimmering rainbows it felt surreal, like a computer-generated scene from The Lord of the Rings.
Another iPhone camera ca-tchik bought us back to reality and we decided to ditch the crowds and find a quiet lunch spot. Some 35 minutes later, after a few fun but hairy mini ravine crossings, we were sitting sheltered and enjoying the sun metres away from a 1000m drop. With a view stretching down the fjord towards Pulpit Rock, we'd found our perfect lunch spot. Sandwiches tend to be an anti-climax for us, so even on short hikes we carry a cooker or Jetboil – and today's menu was hot dogs. Heat in the Jetboil; add bun, sauce and Sprøstekt Løk (crispy fried onions): no mess, happy kids. We were enjoying our digestives and hot chocolate dessert in peace; the closest human object we could make out was a tiny speck of a boat making its way up the fjord below.
The thud thud thud of a helicopterflying up the fjord broke the silence. The children waved enthusiastically, then we all panicked as the chopper banked steeply and came back to drop a paramedic nearby. Thankfully he wasn't there for us; he was stationed to stop base jumpers leaping to a messy collision with the helicopters carrying out a rescue below.
Unbeknown to us, our lunch spot is probably the most famous base-jumping location in the world, with over 50,000 jumps logged, and the venue for the annual Heliboogie festival. Every year, 250-plus crazy souls gather to base jump and wing fly, with a heli ferry service to take them back up so they can do it all again. As we'd forgotten our parachutes we decided on a more traditional route back.
We had spotted the highest point in the area behind us at 1132m, and decided it was worth a detour. It gave us a true 360-degree panorama of the area, opening up the views back towards the mountains that stretched literally as far as you could see. A few mountain birds scurried across the rock faces in front of us as we descended to join the main track back.
There is a partial loop that takes you inland from the boulder to join the first valley, but we were all feeling the effects of a full-on fun day out and decided to head straight for the car park.
Praise for Norway
Having tackled some amazing hikes as a family both in the UK and abroad, Norway ranks as one of our favourite destinations. It has a great hiking infrastructure, and getting there is relatively cheap. English is spoken nearly everywhere, camping is well catered for, and we've always felt welcome and safe. Yes, you might have to stock up on duty-free alcohol on the way in and not eat out every night, but if you shop smart it isn't too expensive.
With a landscape that includes raging rivers, waterfalls, mountains, stunning coastlines, dramatic fjords and Instagrammable spots it has everything you could wish for.
This article is featured in the September 2019 issue of The Great Outdoors magazine, sponsored by Fjällräven, as part of our 'Scandinavia Outdoors' supplement, a free 32-page guide to Europe's wild north. Click here to find out more about the issue, order your copy, or become a subscriber.