Chris Townsend is a world-leading authority on outdoor gear. In his weekly column, he assesses new innovations and tests exclusive early samples of new kit. This week he reviews a multi-person stove set from Primus
A fuel-efficient heat exchanger stove set for 2-3 people
Primus's remote-cartridge heat exchanger stove sets have been around for many years now and I've used them regularly for winter camping. They're especially good for snow melting. For the PrimeTech Primus completely redesigned the system to make it lighter, more compact and easier to use whilst still retaining the low fuel consumption and high power output.
The key change Primus has made is to integrate the burner with the windscreen so it can be set up very quickly and is lighter, neater and lower profile than the old version. Two 1.3 litre pots come with the set, one with a heat exchanger on the base and a ceramic non-stick coating, and one hard anodised aluminium. There's a transparent strainer lid, a locking pot grip, a Piezo lighter, and an insulated storage bag that doubles as a pot cosy. This all weighs 883 grams. However the weight can be reduced to 644 grams by leaving behind the second pot (147 grams), the Piezo lighter (37 grams), and the storage bag (55 grams). Even so this is not a unit I'd choose for solo backpacking outside of winter. For two it would be ideal. When snow melting is required the weight would be worth it for one person.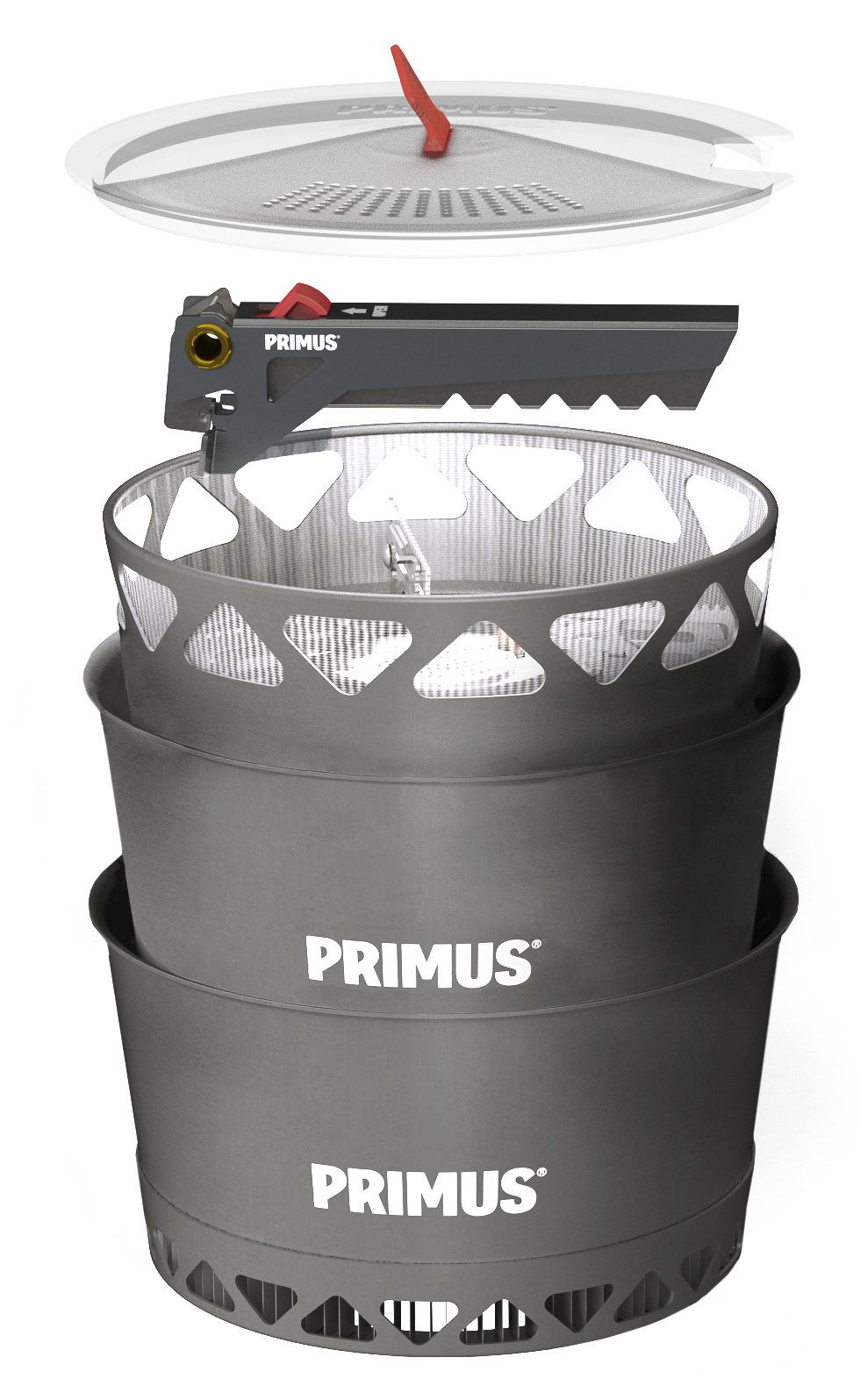 The PrimeTech set can be ready to use in seconds as no parts need to be assembled. Just attach the hose to the cartridge and light. As is always the case for me the Piezo lighter didn't always work. I'd never rely on one. A fire steel is far more reliable as are most butane lighters. Otherwise the unit worked faultlessly. One pleasant surprise is that the burner is quiet even on full power. It can be turned down for simmering too. The burner spreads the flame well across the base of the pot and the latter are easy to use, being wide and low. The strainer lid is good too and the pot grip locks solidly onto the rim of the pot. As the unit is low to the ground stability is excellent. To prevent scorching of vegetation a piece of foil can be used under the burner. The burner has legs that can be raised to support a wider pot or frying pan.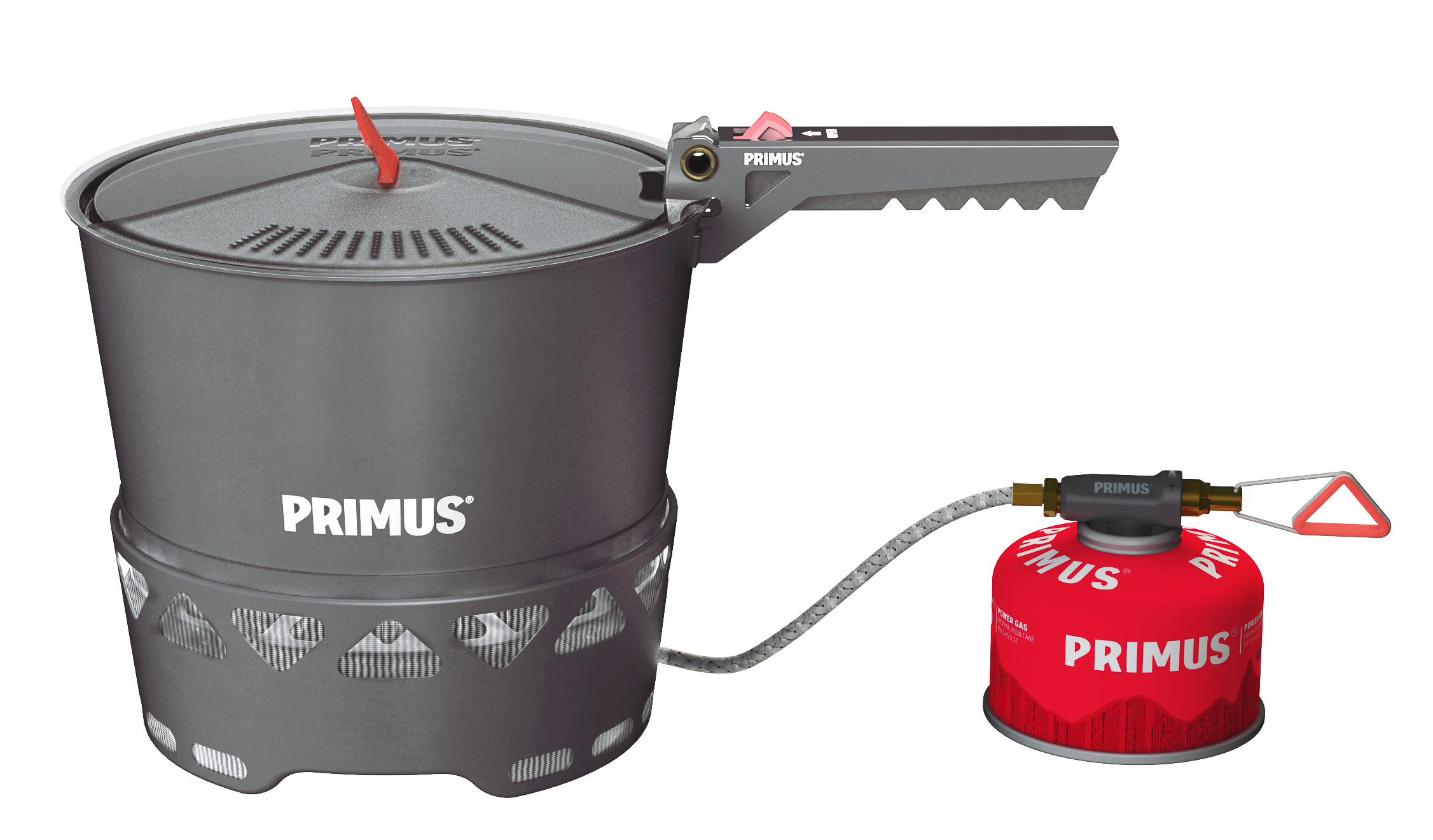 Boil times are very fast – around two minutes for half a litre (dependent of course on water and air temperature plus wind speed) – and the stove burns consistently until the cartridge is almost empty. I haven't used it in sub-zero temperatures – I will next winter – but there is a preheat tube so the cartridge can be inverted so it becomes a liquid feed stove. It would be nice to see some legs to support the cartridge when this is done and a control lever that was easier to use in that position. Gas usage is around 6 grams per 500ml of water boiled, which is about average for a heat exchanger unit and lower than standard stoves which tend to run at 8-10 grams per 500ml. This only matters on long trips of course.
The quality of the PrimeTech is excellent and it should last well. For two-three people I think it's an ideal set-up.