Ed's been getting into canoeing, and a trip to Scotland provides the perfect opportunity to paddle some rapids
---
Photography: Ed Smith
Like many hikers my age, my wilderness adventuring has been somewhat curtailed by the pressures of family life. When you have a five-year-old and a four-year-old it's a lot harder to drop everything and pop off to the Cairngorms for a week. I could do it if I really wanted to, but I might find on my return that the locks had been changed and my belongings were on the driveway. For this reason, I've had to look closer to home for my fix of outdoors activity. Mountains are in short supply in my adopted home of Essex so an alternative to hillwalking has had to be sought. It has to be something that I can involve the kids in, and preferably something that can be combined with some mountains at a later date to form a proper challenge. Ladies and gentlemen, I give you canoeing.
'Boots n Paddles'
The seed was planted in my mind a few years back when my brother and I spent a couple of days in Scotland with Calum Rogerson of the aptly named Boots N Paddles, a hillwalking, camping and canoeing company. There's something about paddling to your hillwalk that turns a mere hike into a real adventure. We resolved then that we would try to do it more often but, as usual, life got in the way.
Recently, however, I've been attempting to make good on my promise to myself and have been sallying forth on some mini adventures through the waterways of Herts and Essex in the company of Peter Nash from Whoosh Explore. Under his tutelage I have gained enough confidence in my paddling ability that I am now the proud owner of my very own 16 Prospector, which I have resisted calling Canoey McCanoeface, and plans for multi-day canoe-camping trips are starting to form in my mind.
Before I can be trusted to take the next generation of Byrnes on such waterborne jaunts, however, I need to become a bit more profficient at wielding a paddle – so I took the opportunity during the second Scottish leg of my stand-up tour to take my canoeing skills to the next level. I met my instructor next to Wade's Bridge in Aberfeldy. His name is Richard Turner but everybody calls him 'Biscuit'. He told me that this nickname goes all the way back to his school days and is due to his fondness for biscuits (although I suspect the fact that his name is easily shortened to Rich T' has something to do with it as well). I expressed relief, as I'd been worried he'd earned the moniker in canoeing circles because of how often he would get dunked.
Our photographer for the day was Ed Smith. As we were preparing to embark, it became apparent very early on that Biscuit was going to need to yell instructions at the two of us and the fact we're both called Ed was going to prove problematic. I suggested 'Smithy' and 'Byrney' as alternatives and this was to serve us well – even if it did make us sound like a music hall double act from the 1920s.
While Smithy jumped into his kayak and took some shots from the river, Biscuit and I set to readying our boat for the off . I was delighted to discover that the craft we'd be piloting was almost exactly the same as the one I'd just bought, just a teeny bit shorter.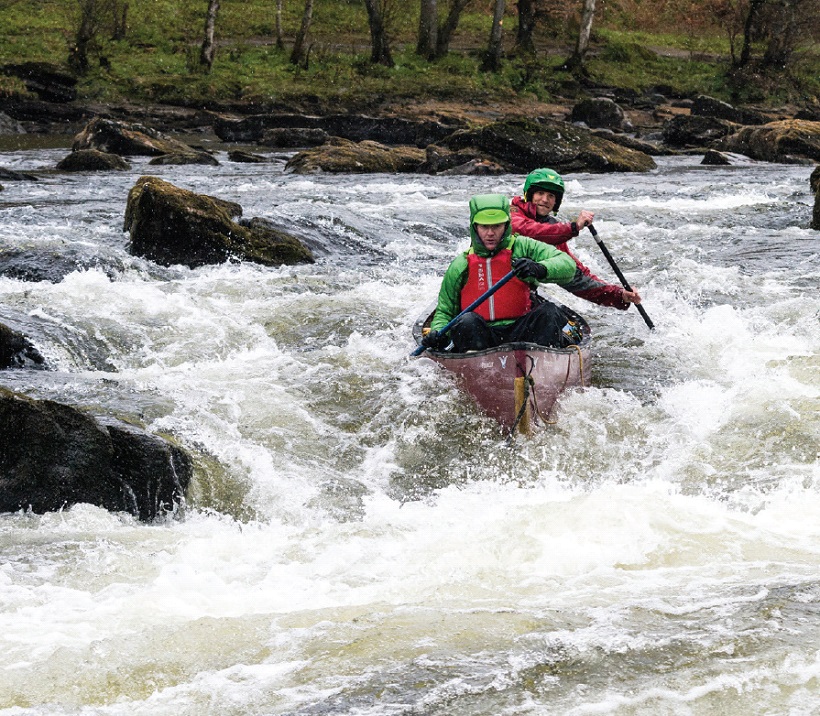 The second thing that struck me was just how much stuff you can get in a decently sized canoe. Biscuit clearly did not believe in travelling light. There was a blue barrel for me to put my stuff in. There was a blue barrel full of food and cooking equipment and another blue barrel filled with complete changes of clothes for both of us, should the worst come to the worst. As a hiker, I'm used to agonising over each and every item I pack and whether or not it's worth the extra few grams I'll have to carry for the next however many hours. Most of the time I err on the side of over-packing and then end up calling myself unspeakable things as I struggle across a sun-baked plateau with an ice axe and crampons strapped to my back. However, with canoeing such concerns are secondary.
Hitting the water
We begin our journey with me sitting up front and Biscuit at the back. The canoe is perfectly nimble, even with all the cargo it's carrying, and Biscuit starts putting me through my paces. Up until now I had only paddled solo. (Well, I say solo. Often with one or both of my kids but they're generally more hindrance than help when it comes to steering.) The difference between manoeuvring a boat this size on your own and doing it with another person is palpable. Although the rear (or stern if we're going to be properly nautical about it) paddler is essentially the rudder directing the course of the boat, Biscuit shows me some moves that demonstrate how the bow paddler also has a role to play in steering the canoe. Using cross strokes, prying, j-strokes etcetera, it's not long before I feel we can make the canoe do whatever we want it to.
Our day is spent enjoying the perfect balance of learning a new skill and simply enjoying watching the world go by. In between honing my strokes Biscuit points out the tell-tale signs of beaver reintroduction on the trees that line the riverbank. We shoot some fairly handy grade 1 rapids which don't test us too much, stop for a more sumptuous lunch than I'd usually have hiking the trail, and then spend some time with me as the stern paddle as we wend our way towards our destination at Grandtully.
The rapids at Grandtully are the perfect climax to the day. Usually a grade 2, the low volume of today's water bumps them up to a grade 3 – and we decide to tie up the canoe while we walk the riverbank and assess whether to attempt them or just call it a day and haul the canoe out. I have to admit, I'm a little trepidatious as we survey our prospective route. I'm not worried that we're going to drown, but if we're thrown out of the canoe, it's going to hurt and put quite the dampener on the day. We discuss our strategy and I flatter myself that my contributions are in any way helpful to a bloke who has probably paddled this way more times than I've had a disappointing hotel sandwich.
Staying dry
I ask Biscuit to put a number on our chances of navigating this final obstacle successfully. "I'd say 70:30", he replies. That's good enough for me. It's the end of the day, so even if we end up in the drink, we won't be wet for long.
As we push off for our final run, I have butterflies in my stomach, but it's exhilarating. It only lasts about 30 seconds but I feel all of the canoeing I've been doing, not just today, but on previous outings, is contributing to our passage going exactly according to plan. We don't crash into any rocks. We don't take on too much water.
We don't capsize. We DO have a ball! As we haul the canoe and our cargo out of the river, my mind is already turning to future trips. As my sons get older and more capable, what combination of canoes and kayaks would we use to navigate our family along the world's wildest waterways? Or is this destined to just be the thing crazy Daddy does with his loser friends? Either way, I appear to be hooked.
www.edbyrne.com