Every year in May, around 300 people travel to Scotland's west coast to participate in the Great Outdoors Challenge, the annual coast-to-coast backpacking event.
Over the course of the fortnight, each participant will follow his or her own route across to the east coast – either on their own, as part of a group or in the company of other Challenger's they've met along the way.
The Challenge has been running since 1980 and many participants come back time and time again, hooked on Scotland's magical landscapes, the hospitality of local businesses and the camaraderie of the event itself.
You only need to read some of the accounts from the 2016 Challengers to understand its uniqueness. Here are some of the memories we were sent:
Brian Gruber
What were the best bits? 
I loved seeing the ruins of homesteads, the castles and the small towns dotted throughout the Highlands. It felt like I was walking through history (here in Florida, or the US in general, there isn't anything nearly as old as the things in Scotland).
What made it a 'Challenge'?  
I'm an avid backpacker with about 1,500 miles on the Appalachian Trail and many miles on other trails in the USA, but the thing that was most challenging for me was the Highland terrain.  As a reader of journals and The Great Outdoors magazine, I can sit at home and read about how difficult and unforgiving the terrain is but now having experienced it I realise I had no idea!  From a distance the terrain looks soft and inviting but I soon found that a couple miles off-trail in Scotland can take hours of bog hopping and pushing through knee-high heather.  The navigation of the hills wasn't too bad for me, but it was a bit more challenging when trying to navigate in a white-out though.
What unexpected gems did you discover along the way?
Definitely the people.  Everyone I met was friendly and welcoming.  I'm not only speaking about the Challengers, but also the other people out enjoying the Highlands and in towns.
Read Bryan's blog here.
---
David Syme, who hiked with his friend Mike
We met  a fellow challenger as we strolled out of Aviemore at 9 am.  As we chatted he looked at us wistfully. According to hit route plan, that day was supposed to be a rest day, and I think he was regretting this loss of momentum.  We, on the other hand, were feeling buoyant.  The crossing had gone well so far, with four nights of wild camping, one night in the excellent Cannich campsite and the last night in a local B & B.  Aviemore had been wonderful!  Beds, a drying room, a chemist and a launderette, an evening meal with beer, newspapers and TV…. and a full breakfast – no wonder our morale was high!  What made it possible for us to wallow in such luxury was the previous day's dawn start from the Findhorn Valley.  We arrived in Aviemore at 2pm, so had plenty of time for admin and relaxation.
We managed the same at Tarland three days later. We had camped high in the hills above Corgarff and were woken at dawn by the call of a frustrated cuckoo.  The early start took us to our digs in time for a late pub lunch, a chilled afternoon reading the Saturday papers and as good a Chinese takeaway supper as you will find anywhere in Scotland.  Next morning we set off well-fed and well-rested.
If we take on the Challenge again we will remember Aviemore and Tarland as wonderful  half rest days, and feel that, as far as rest days  are concerned on a crossing, two halves are better than one whole.
---
Lindy Griffiths
What were the best bits?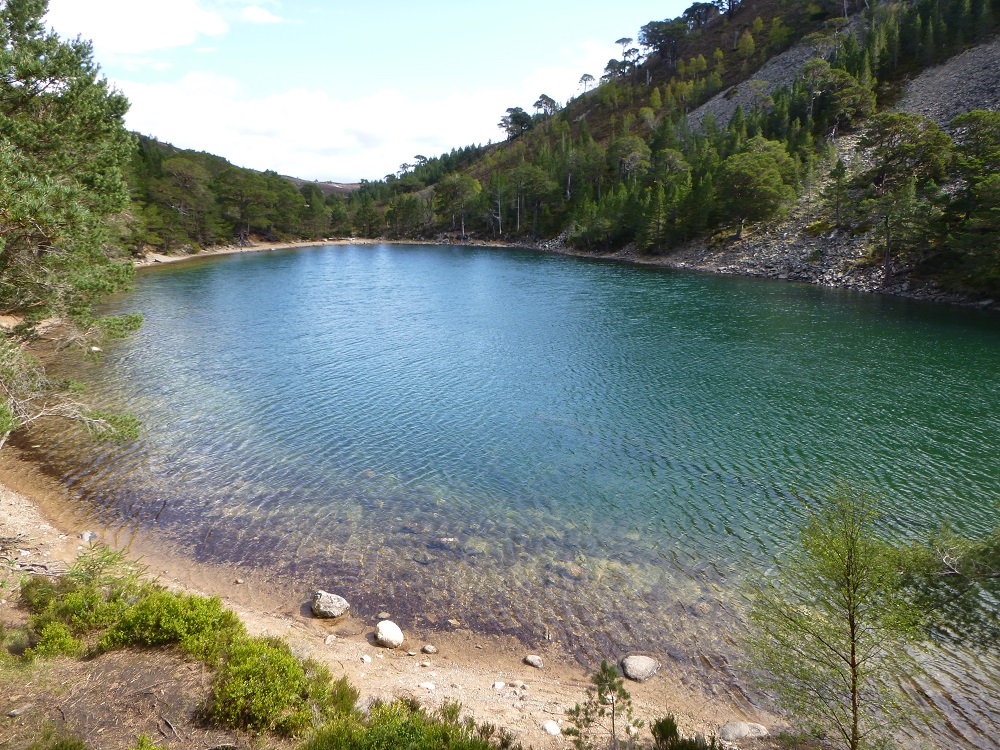 There were a few. Alltbeithe Youth Hostel – the wonderful warden, who made us all so welcome, plus meeting the other Challengers and unwinding after the first day. Just sitting in the shade of some trees, having lunch, half way between Glen Affric and Cougie. Finding an old roadway through woodland on the last morning – it was so peaceful after a fun 'party' night at the campsite at Northwater Bridge, and knowing how intense the finish and dinner would be.
What made it a "Challenge"?
Coping with being ill, yet still keeping going. See my blog for Tuesday 17 May (lindywalks.blogspot.co.uk/). The sheer distance I had to cover on Thursday 19 May – not done that before with a big pack on. Also, getting myself going again when I got lost (through my own stupidity) on Monday 23 May.
What unexpected gems did you discover along the way? 
Not unexpected, as I had been there before, but it still struck me as 'Wow': Lochan Uaine, in the Cairngorms, (pictured).
---
Martin Banfield
Day 1: After the bustle and conviviality of the Strathcarron Hotel in high summer, Sue and I strolled alone over Sgurr na Feartaig to an early camp at Bealach Bhearnais. An idyllic spot with a view from our beds across the Inner Sound to the Cuillin of Skye, over forty miles away. Visits from fellow Challengers Humphrey and from Richard added colour to our evening. Many such fellow Challengers are only encountered on an annual basis, if that.
Day 14: The weather had been good. We'd camped on top of Beinn Bhuidhe Mhor and Brown Cow Hill. Both brilliant spots. For a week in the middle of the Challenge we'd seen no other Challengers, indeed – no other walkers, on our carefully planned route. But now we had reached the business end of our crossing. North Water Bridge camp site is but a few miles from Kinnaber Links, our designated finishing point, and en route there's a fruit farm with a fine café at which to spend an hour over elevenses.
By now we were a team of eight, most of us seasoned Challengers from widely different walks of life, but it was good to include Scott, a first timer taking a holiday from being a publican in Glasgow. I hope we made him feel welcome. Challengers who are meeting up with old friends can inadvertently seem a little cliquey at this point.
Soon we were at the coast and skipping through the waves, before heading off down the beach and beside the golf course to sign in at Montrose and chat to celebrities like Roger Smith, Hamish Brown and Al Hinkes. The Park Hotel was humming with Challengers and after a lazy afternoon, we assembled early for dinner and fellow Challengers Ian and Jenny's wedding ceremony.
---
Applications to take part in the 2017 TGO Challenge are now open online. Click here for more details.