Zippo HeatBank 9s Rechargeable Hand Warmer offers fast heat and ergonomic design.
From the moment my tests of the Zippo HeatBank 9s Rechargeable Hand Warmer began, I realised its value and perhaps the reason for its price tag. The heat is felt within two or three seconds – the fastest of all the hand warmers in this comparative test. However, it is not the most powerful of the rechargeable devices and its heat emission tops out at 50°C/120°F.
RRP: £39.90
Weight: 156g
Type: 5,200 mAH lithium-ion rechargeable battery pack
Duration: up to 9 hours
Pros: one- and two-sided heat output, six heat settings, ergonomic design, USB compatible device charging
Cons: not the most powerful or highest heat, expensive
The device has three heat levels for both its one-sided and two-sided heat emitting settings. This essentially gives six options to users. With more options than any other model tested, the Zippo HeatBank 9s offered me comfort in almost every situation where a hand warmer was deemed appropriate. If you plan to use hand warmers regularly on rambles, this device may be worth the extra money.
While it lacks the power of other tested, it offered sufficient warmth for me to be comfortable on high, freezing camps and after cold water swims.
Unfortunately, the size of the device means it couldn't fit comfortably in any of my mitts, liners or gloves but on the highest setting, heat can easily be felt through a thick pair of waterproof gloves. With that said, the ergonomic design is superior and sits very well in the hand allowing me to wrap my fingers and palm around the heat bank giving good coverage of heat all the way to the tips of fingers.
It comes with a lanyard so it can also be used to heat the body through base layers. As with all large, rechargeable hand warmers this isn't a device to offer warmth while in motion in the mountains but would be suitable for gentle rambles when hands aren't needed for technical hillwalking.
See how the Zippo HeatBank 9s Rechargeable Hand Warmer compares to others in our guide to the best hand warmers for hiking.
SQUIRREL_BUTTON_12994461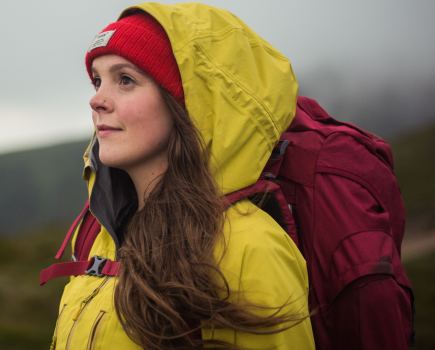 Testing Conditions
Francesca tested these hand warmers walking and camping through autumn and the beginnings of winter 2023 in the hills of her Peak District home as well as snow-capped Lake District fells. They were also tested post-swim. All hand warmers were reviewed while wearing the Outdoor Research Waterproof Liner (a generously-sized glove). She has small hands and runs hot. All weights from tester's own digital scales.