The Oboz Bridger Mid B Dry strikes a good balance between flexibility and protection on difficult rocky terrain, says Peter Macfarlane.
The Oboz Bridger Mid B Dry hiking boot is a hybrid of standard measurements on the regular fit model I tested, with the forefoot being D width and the heel being a C: a snug heel with a regular forefoot and toe box. It meant an excellent fit with no heel movement yet room for my toes to spread.
---
Price: $180/£160 (Available from sportsshoes.com)
Weight: 1220g
Pros: Comfort, grip, wide range of use
Cons: Rounded heel
Rating: 4.5/5
Materials: nubuck leather upper, rubber toe and heel bumper, rubber outsole | Features: Oboz B DRY waterproof lining, O-FIT insole | Sizes: 8-13 including half sizes up to 11; regular and wide fit available | Women's version: yes
---
Once broken in, there is good flex at the forefoot, which allows for very natural walking, aided further by a noticeable heel-to-toe curve along the sole. The sole itself is Oboz's own, with aggressive lugs that have proved reliably grippy across most terrain outside of wet rock and extremely muddy conditions.
The heel area of the sole is rounded, which is great on flatter ground as it minimises the effects of heel strike, but occasionally I did miss the ability to dig my heels in on steeper descents. The liner has remained waterproof through months of regular use and with so much leather in the upper, the Oboz Bridger Mid B Dry could likely be reproofed when the liner starts to leak.
The laces are chunky with easy-to-clean hardware and a padded tongue that eliminates any pressure when laced up. The footbed is simple but effective, and the ankle is high enough to keep me out of the water and allow for gaiters, or trousers with lace hooks.
The Oboz Bridger Mid B Dry was a stiff-feeling boot out of the box. However, the uppers softened in use, and they strike a great balance between protection on difficult rocky terrain and being flexible enough for comfortable walking on easier tracks.
See how this boot compared to other walking boots in this test in our round-up of the best walking boots.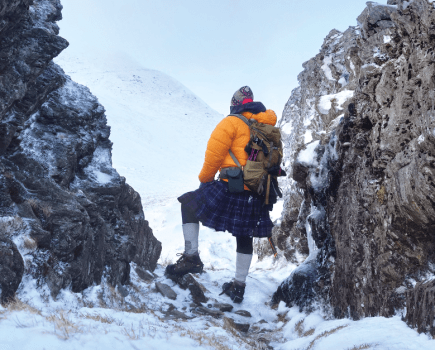 Tested by Peter Macfarlane
Woodland Trust ranger Peter is a UK9, with a narrow heel, wide forefoot and average volume. He wore these boots regularly through 2022 and into 2023 on big hill days and backpacks, and in nature reserves and forests. Useful for gauging like-for-like performance were his deer fence inspection treks across open terrain in the Kilpatrick Hills. He weighed the boots on his own digital scales.