Here's what Peter Macfarlane thought of the Keen Ridge Flex Mid WP, a distinctive boot designed to make walking easier.
The Keen Ridge Flex Mid WP three-season walking boot takes its name from a very unusual and distinctive feature that is designed to make walking easier and reduce wear and tear on the boot itself. Above the forefoot is a panel of synthetic material which is moulded into a series of ridges to act as bellows, stretching and contracting as the whole boot flexes through normal walking motion.
---
Price: $190 / £160 – available from Alpine Trek
Weight: 2.61 lb. / 1185g
Pros: Weight, comfort, grip
Cons: Heel lock feature abrades socks, bellows feature can be felt on your foot
Rating: 3/5
Materials: leather upper, EVA midsole, rubber outsole | Features: ridge flex bellows, KEEN.DRY waterproof lining, moulded insole, heel lock feature | Sizes: U.S. 7 to 17 / UK 6-16 with half sizes up to 11 | Women's version:  yes
---
In use this construction does give a very easy flex to the forefoot, but I also found that I could feel the sewn seams of the thicker leather around this panel on the top of my foot when I walked, especially those at the bottom of the laces. This did reduce over time as the boots wore in, but I still notice it every time I wear the Keen Ridge Flex Mid WP. The rest of the upper is leather with synthetic overlays at the heel and toe; it has good flex and required very little breaking in. The seam placement to incorporate the bellows means stitching lines in obvious wear areas, and there is now noticeable abrasion occurring on my sample pair.
The Keen Ridge Flex Mid WP fit and comfort overall are excellent. The wide forefoot gives my toes room to move, the heel is snug, and I've experienced no issues with heel lift or movement. The outsole is Keen's own design with aggressive lugs, and it has performed excellently over varied terrain with confidence-inspiring grip. The signature chunky Keen toe bumper does help protect your toes in an otherwise pretty light boot. The laces run over a padded tongue, and the webbing lace loops and metal hooks have been easy to keep clean. The Keen Ridge Flex Mid WP basic low-profile insole works fine, and I felt no need to replace it.
See how this boot compared to other walking boots in this test in our round-up of the best walking boots.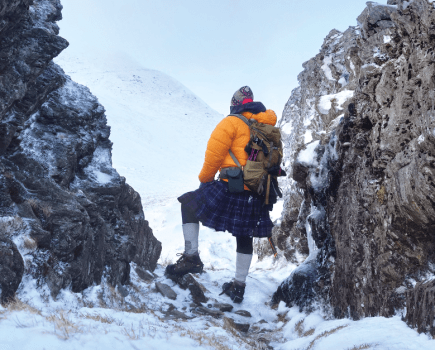 Tested by Peter MacFarlane
Woodland Trust ranger Peter is a UK9, with a narrow heel, wide forefoot and average volume. He wore these boots regularly through 2022 and into 2023 on big hill days and backpacks, and in nature reserves and forests. Useful for gauging like-for-like performance were his deer fence inspection treks across open terrain in the Kilpatrick Hills. He weighed the boots on his own digital scales.