HotHands hand warmers are a simple but effective offering for those looking for an affordable option for one-off winter days.
HotHands hand warmers are probably what spring to mind when you picture apparatus used for heating your extremities quickly and easily. The design – with outdoor workers, sports spectators and dog walkers in mind – is popular and fairly so. These are by far the most simple to use hand warmers tested. You simply tear open the packaging and give the air-activated hand warmers a good shake.
RRP: £4.99 for 5 pairs
Weight: 24g for one
Type: Air-activated (no fuel)
Duration: up to 10 hours
Pros: simple, ergonomic, lightweight
Cons: single-use
The manufacturers claim instant activation which is a bit of a stretch. In my tests, they took just over minute to emit noticeable heat and around four minutes to reach optimal heat to really rid your hands of a chill. This can be looked at as either a pro or a con. On the one hand, subjecting cold fingers to instant heat can cause painful tingling sensations. On the other hand, you might feel upwards of a minute is too long a wait for a product designed for heat emission.
The HotHands hand warmers do last the stated 10 hours of heat but also require a fair amount of squashing and shaking in air to reactivate. This may not be practical if you're really struggling with the cold and are forced to remove gloves to do so. Once the iron, activated carbon and water combination inside the hand warmers is spent, there is no resetting. These are single use and thus, not ecologically sound – you'll have to pack them out and dispose of them properly – or affordable in the long-term, especially if you find yourself reliant on hand warmers on any winter mountain day.
As a single-use hand warmer, HotHands aren't particularly durable either. The outer casing is liable to tears in the great outdoors. In this case, should the heating ingredients of the inner come into contact with skin, the manufacturer advises you rinse it off with your (precious) water supply immediately.
I do particularly like the flexibility in design. The small, compact shape and malleable filling of HotHands hand warmers will fit practically anywhere: in a jacket pocket and even snug gloves. However, the manufacturers do advise users not to place the warmers in tight pockets. In my tests, warmth was certainly affected when the hand warmers are tightly enclosed presumably allowing for lesser air flow.
They are also incredibly lightweight so don't feel like much of a burden to carry for that extra warmth while cooking in camp or after a swim. Overall, HotHands hand warmers are a cheap one-off solution to particularly cold but gentle rambles in the hills but shouldn't be relied upon for durability.
See how the HotHands Hand Warmers compare to others in our guide to the best hand warmers for hiking.
SQUIRREL_BUTTON_2773430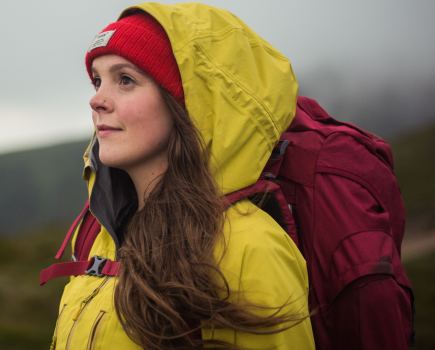 Testing Conditions
Francesca tested these hand warmers walking and camping through autumn and the beginnings of winter 2023 in the hills of her Peak District home as well as snow-capped Lake District fells. They were also tested post-swim. All hand warmers were reviewed while wearing the Outdoor Research Waterproof Liner (a generously-sized glove). She has small hands and runs hot. All weights from tester's own digital scales.