The best clothing, gear and outdoor innovations of 2020, as voted for by our expert judges.
We're excited to announce the winners of The Great Outdoors Gear of the Year Awards 2020. Across nine categories, these awards recognise the best outdoor equipment available: innovative and exciting products that – to put it simply – just do their jobs brilliantly. Our expert panel of judges has picked the best footwear, clothing, equipment, camping and tech products, and rewarded the kit that has pushed the boundaries in terms of innovation and sustainability. For the first time since the awards launched in 2012, we've also picked out the best overall brands for both innovation and sustainability. Our favourites have been granted a gold award, and in some categories products have received silver and bronze awards to commend their high quality.
The world of outdoor clothing and equipment is constantly evolving, and these awards are a snapshot of the best of it at this moment in time. We hope you find it a useful guide – and here's to a (hopefully) Covid-free 2021 full of lots of adventurous fun.
There are two parts to The Great Outdoors Awards. This article announces the Gear of the Year Awards, which reward the best and most innovative items of outdoor gear released that year in seven categories and are selected by expert judges.
The corresponding part, the Reader Awards, are nominated and voted by our readers and the outdoor public at large. Discover the winners of the Reader Awards here.
Contents
---
Footwear
GOLD: Inov-8 Roclite Pro G 400 GTX
Inov-8 have topped our footwear charts for two years in a row now. In 2019 the Inov-8 Roclite G 345 GTX took the gold award and this year the brand has scooped the number one spot yet again. New for 2020, the Roclite Pro G 400 GTX is a tougher, more durable evolution of the successful Roclite design, featuring the much-lauded graphene grip outsole. Judge Chris Townsend said: "These boots are superb. They perform really well and the big plus is the durability – they certainly look and feel tough despite being very light."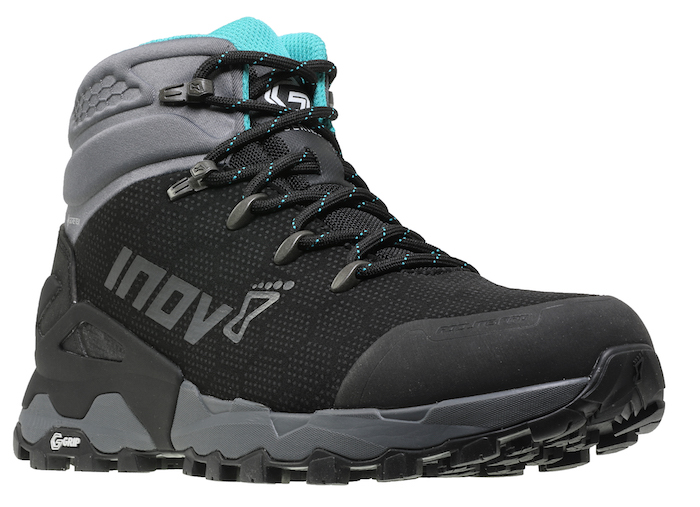 SILVER: Merrell MQM Flex 2 GTX
The MQM here stands for 'Moving Quickly in the Mountains' – and that's exactly what you're expected to do with these trail shoes. Designed to combine all of the best features of a trail runner and a hiking shoe into one fast, light and protective shoe, the Merrell MQM Flex 2 GTX is a 2020 upgrade of a classic trail shoe. Judge Alex Roddie said: "These are some of the best waterproof trail shoes I've tested in a while. Fit is excellent and I found them extremely comfortable with just the right amount of cushion. The uppers seem durable and the tread is excellent."
BRONZE: Scarpa Ribelle Tech 2.0 HD
A winter-ready, warm mountaineering boot with an eye-catching sock-like upper, the Scarpa Ribelle Tech 2.0 HD is designed for snowy adventures. There's mapped Primaloft insulation for added warmth, a HDry waterproof and breathable membrane to keep your feet dry, and a gaiter-style upper that wraps around the ankle. "They are very lightweight, supportive, warm and comfortable", said judge Judy Armstrong, "although it's crucial your foot shape matches the boot, as the sole is stiff and the sock opening quite snug."
SHORTLISTED
Clothing
GOLD: Klättermusen Vale
Judge Alex Roddie was extremely positive about this mid-layer, technical jacket from Swedish mountaineering brand Klättermusen. "It's very impressive", he said. "It's lightweight, fits really well under a waterproof jacket, and is extremely warm for the weight thanks to high-quality, Primaloft Gold Active+ synthetic insulation. It's incredibly breathable too. I can see it being ideal for winter backpacking in gnarly conditions. Sustainability is also top notch – it's 100% recycled polyamide, bluesign-approved and PFC-free."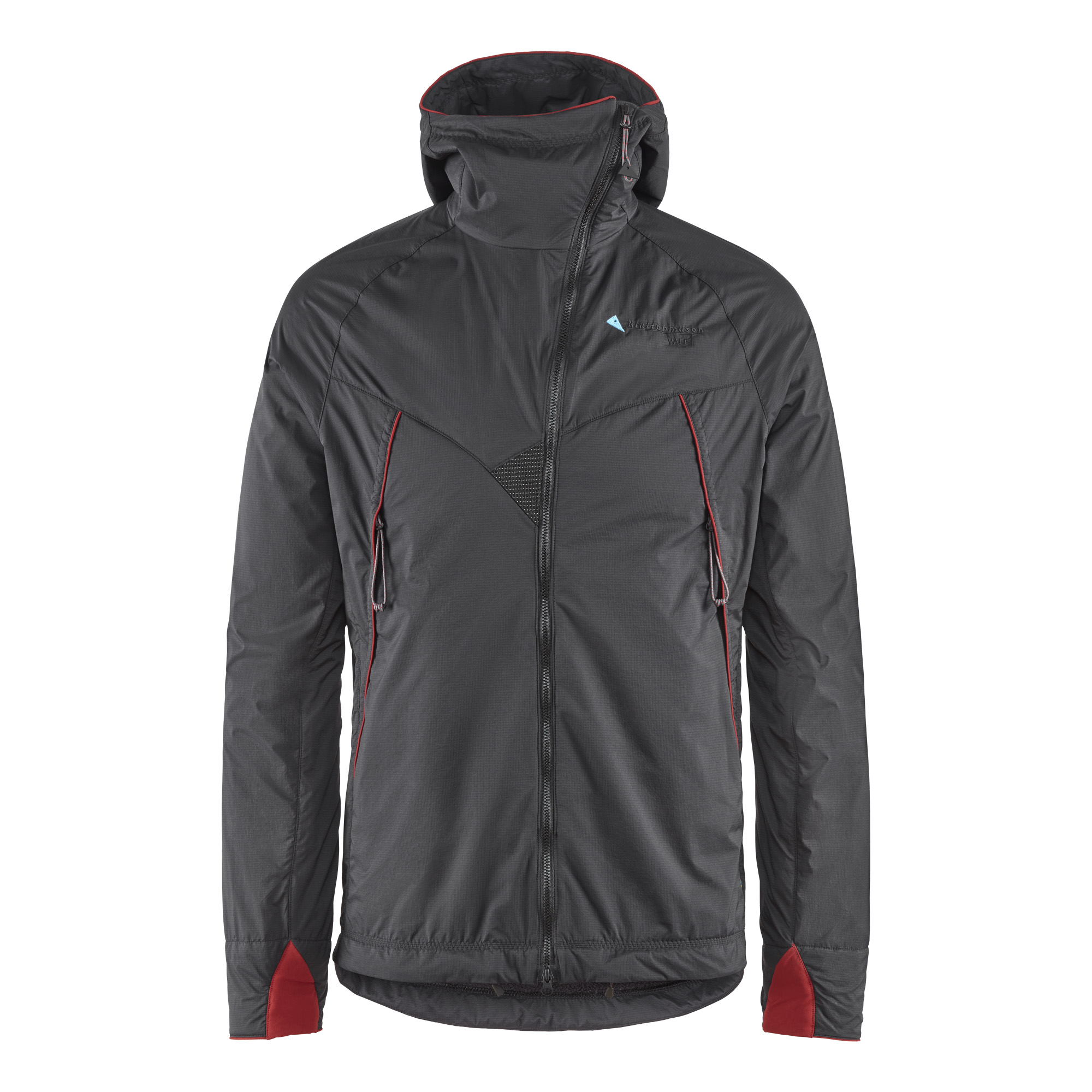 SILVER: Black Diamond Highline Stretch Shell
A breathable and waterproof shell jacket designed for alpine expeditions, the Highline Stretch Shell combines Black Diamond's BD.dry waterproof membrane with a brand new, PFC-free DWR (durable water repellent) coating that offers superior performance and durability. It was this DWR innovation that caught judge Chris Townsend's eye. He said: "The jacket works perfectly well, but it's the durability of the DWR that's the big plus point. It's significant because at present most PFC-free DWRs are less durable than PFC ones."
BRONZE: Berghaus Women's Hyper 140
A featherlight rain jacket with premium waterproofing and breathability stats, the Berghaus Women's Hyper 140 jacket is constructed from a three-layered Hydroshell Elite fabric with a tough, ripstop exterior. You get a peaked hood, fully waterproof zip, two hand pockets, and it packs away very compactly into its own stuff sack. Judge Judy Armstrong said: "Performance of the fabric is impressive, as are the features for the very low weight."
SHORTLISTED
Equipment
GOLD: Sierra Designs Flex Capacitor
A lightweight, well-featured backpack with an ingenious expandable volume, the Sierra Designs Flex Capacitor is our top equipment choice for 2020. Judge Chris Townsend said: "This backpack definitely stands out. I have tested it extensively and used it on my month-long walk in the Colorado Rockies. It is tough and the design is unique. It's been around for a few years, but there have been some changes and updates for 2020. The gusset system does work and is unique. I like the zip-round top too." Damon Street, European General Manager for Exxel Outdoors, parent company of the Sierra Designs brand, added: "We would like to thank the judges for awarding us Gold in the equipment category, it really means a great deal to an up and coming brand in the UK. We have been investing heavily in product development and getting the product right, and to be recognised against some well-known competitors is a true testament to the quality and performance of Sierra Designs. We are looking forward to seeing more Flex Capacitors out on the trails very soon."
SHORTLISTED
Camping
GOLD: Sierra Designs Cloud 800
The Sierra Designs Cloud 800 is most notable for its zipper-less design and top-rated technical performance. Instead of a zip, which can add weight and restrict movement, the Cloud 800 features an oversized integrated comforter that works with an insulated shoulder pocket and crescent-shaped opening to keep the comforter wrapped around the body whilst asleep and prevent heat loss. This effectively seals out draughts and delivers a new level of comfort without a feeling of being confined. There's also a clever sleeve on the underside which your sleeping mat slides into. The insulation has a high-quality 800 fill power and, for a minimum weight of 880g, you get a -3C comfort rating.
Judge Chris Townsend said: "The Cloud 800 is great. The wrap-over style top is effective and it's good not having a zip. I find it easier to use than a bag with a zip. It's very easy to stick an arm out to cool down if you need to and it has a slot so you can stick your feet out too. I think the weight is quite low for the warmth." Damon Street, European General Manager for Exxel Outdoors, parent company of the Sierra Designs brand, added: "I can't wait to pass this news back to the design team. They are going to be ecstatic that we have been awarded Gold. For a young team they have worked incredibly hard to perfect the Cloud 800. We are innovative and they like to push the limits, but when they get it right, they really get it right. Our range of zipper-less sleeping bags has been very well received by the trade, the media and outdoor enthusiasts in the UK. Many thanks to the judges at TGO."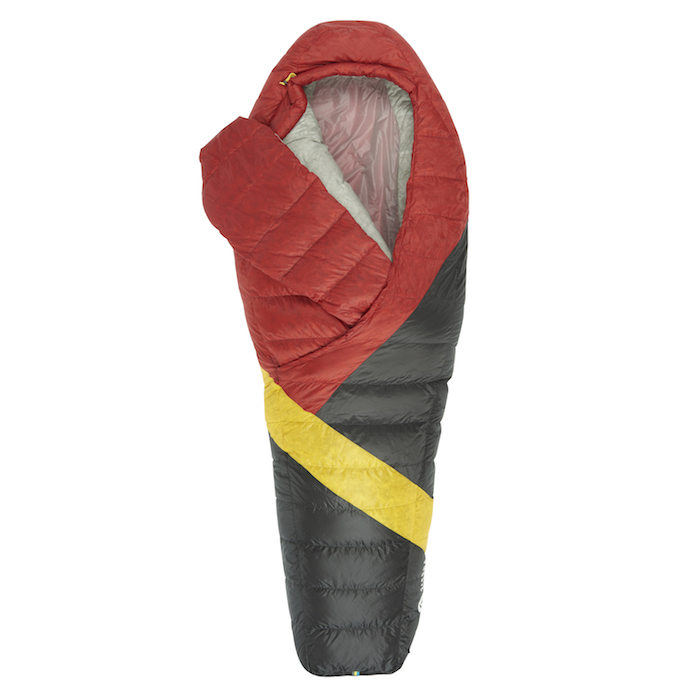 SHORTLISTED
Tech
GOLD: Petzl IKO Core
This innovative headtorch is lightweight (79g) with premium stats (500 lumens and 100 hours of burn time) and a versatile battery set-up too – re-charge via USB or switch out for three AAAs. But it's the wacky design that made this headtorch a firm favourite of judge James Forrest. He said: "Petzl have totally re-imagined the headtorch with this eye-catching, modern design. There is no fabric headband. Instead you get the so-called AIRFIT headband, a sleek, semi-rigid band with a sunglasses-like fit and shape. It's super-comfy, with weight balanced evenly between the rear battery pack and front lamp plate. The frame also folds away compactly into a carry case, which doubles as a nifty tent lantern when the torch is on – ingenious stuff."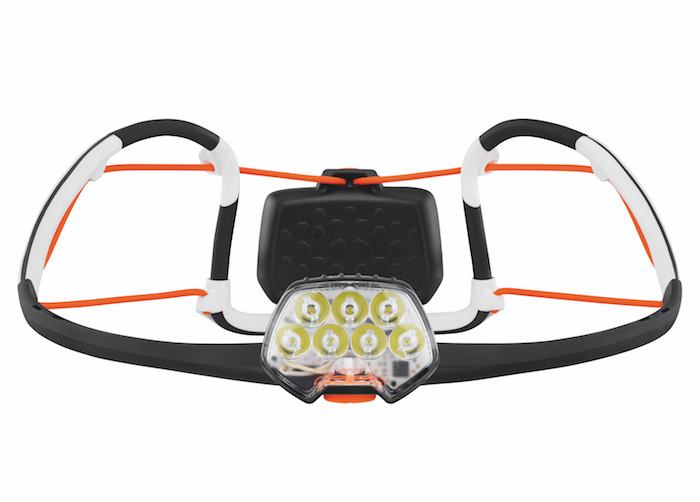 SILVER: BioLite HeadLamp 750
Building on the success of its 200 and 330 headlamps, 2020 saw the release of Biolite's most powerful headtorch yet – the HeadLamp 750 with (yes, you guessed it) a max output of 750 lumens. Designed to deliver powerful brightness alongside top-notch comfort and compactness, this headtorch is ultralight with a comfy headband and USB-rechargeable rear power unit. "HeadLamp 750 is the culmination of years of engineering, development, and user feedback," said BioLite CEO Jonathan Cedar, on recognition of this award. "We're thrilled to deliver a pro-level offering that puts users in total control of their lumens and runtimes. And coming in at only 150g, we do so with a form factor that acknowledges fit as a key element of performance."
BRONZE: Coros Apex Pro
The Coros Apex Pro smartwatch has a titanium frame, sapphire glass screen and 100m waterproof rating, ensuring excellent durability. At just 59g including the watch band, it's light enough for all your adventures, and the battery delivers 40 hours of GPS use. Judge Alex Roddie was certainly impressed: "Battery life is phenomenal – best in class, or close to. The sensors are accurate and reliable. GPS is solid and locks on very quickly, much more quickly than anything else in this class I've used. Build quality is superb and the price is competitive. Perhaps as importantly as anything else, the smartphone app is simple, reliable and works well – a refreshing change from glitchy alternatives from other brands."
SHORTLISTED
Innovation
GOLD: Haglofs V Series Mimic Hood
Filled with synthetic insulation called Mimic Platinum and containing graphene to reflect and retain your body heat, the Haglofs V Series Mimic Hood provides a superb warmth-to-weight ratio for cold mountain activities. "This is the warmest synthetic puffy I've tested at anywhere near this low weight, which is impressive – it really does warm up very quickly", explained our tester Alex Roddie. "Another innovation is the windproof Gore-Tex Infinium layer on the inside. It feels comfortable against the skin and it's very windproof and breathable. Another positive is that the insulation is highly compressible and lofty, and effectively mimics down, as claimed. Overall it's very impressive."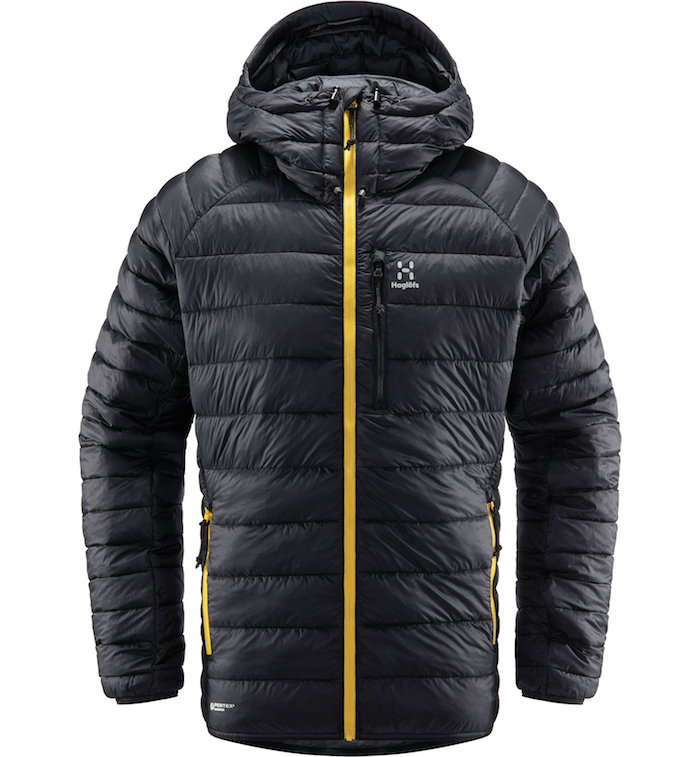 SILVER: PrimaLoft P.U.R.E.
PrimaLoft P.U.R.E. (Produced Using Reduced Emissions) is a new, eco-friendly manufacturing process for insulation that reduces carbon emissions by up to 48%. P.U.R.E insulation uses 100% post-consumer recycled material but performs the same as PrimaLoft Gold insulation. It's a massive win win: improved sustainability credentials without loss of technical performance. But how has this been achieved? PrimaLoft have simply cut out the need for energy-intensive ovens (used to melt bonding fibres and give them structural integrity) in their manufacturing process, achieving the same result in a heat-free way – and ovens turned off, means less carbon dioxide emissions.
BRONZE: Nikwax Hydrophic Down
Nikwax's hydrophobic down (NHD) has been around for a while – it was launched in 2013. But the brand has continued to innovate and 2020 saw the release of NHD+. The plus here signifies the improved performance of the insulation. It's the first and only hydrophobic down to exceed 10,000 minutes of continuous shake time (that's a lab test equivalent to a full week of constant exposure to water). The result is that it keeps users warmer and drier in a wider range of conditions. Nikwax has also launched NHD Recycled, the first recycled down to achieve a 1,000 minute hydrophobic shake time.
Sustainability
GOLD: PrimaLoft Bio
PrimaLoft Bio is a biodegradable, 100% recycled synthetic insulation and performance fabric. It's made from 100% recycled plastic bottles that biodegrade in specific environments. When PrimaLoft Bio is exposed to oceanwater, wastewater or landfill environments, naturally occurring microbes break down the fibres to their natural elements, without leaving behind any harmful waste – and they do so at a dramatically faster rate than standard polyester. But what does this all mean? Well, it means a drastic reduction in micro-plastics polluting our land and oceans, improved soils for plant growth, and a circularly-sustainable process (PrimaLoft Bio can be repeatedly repurposed into a high-performance material). Judge Chris Townsend said: "I've found PrimaLoft Bio insulation to be soft, warm and high-performing. It's an important innovation because it'll be used by many manufacturers and therefore will have a big reach."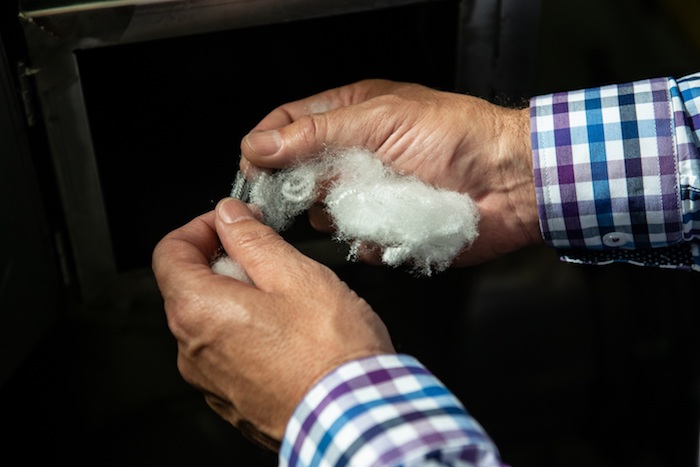 SILVER: Jack Wolfskin Ecoloader 24 Pack
Made of 100% sustainable and recycled materials, the Ecoloader's green credentials are impressive. Eighteen recycled plastic bottles are used in the manufacture of each pack, but more exciting is the use of BLOOM foam – it's actually an algae – in the shoulder straps and back padding. This is good for the planet because algae is renewable (unlike CO2-producing plastics). Plus, during the algae harvesting process, water is cleaned and re-circulated back into the environment. "I think it's impressive", said judge Judy Armstrong. "The process of creating the algae foam is fascinating, the pack is 100% recycled material, the foam is genuinely sustainable and the end result, the rucksack, is a good product in its own right."
BRONZE: Fjӓllrӓven Expedition Pack Down Hoodie
New for 2020, the Fjallraven Expedition Pack Down jacket is a plump, insulated jacket designed for colder climes. The insulation used is a 90/10 blend of goose down with 700 fill power, complemented by synthetic padding over the shoulders. Ethically, this jacket is top-notch too, with responsibly-sourced down and a 100% recycled polyamide lining. Judge Judy Armstrong was particularly impressed with Fjӓllrӓven's mission to produce long-lasting, repairable products, explaining: "A warranty and repairs department can supply spare parts – patches, zips, press studs – and designs are adapted to simplify repairs. Unlike generic marketing hype, this is the real thing with the brand putting genuine effort into reducing their garments' carbon footprints."
Best brand: innovation
GOLD: Polartec
Creators of the original synthetic fleece in 1981, this year (2021) Polartec are celebrating the 40th anniversary of their first breakthrough innovation. But the brand is not resting on its laurels and has spent the past four decades focusing on continual innovation and development: inventing high-loft fleece, pioneering post-consumer recycling, developing grid construction with Polartec Power Grid, reinventing stretch fabric and revolutionising the softshell category with Polartec Power Shield. 2020 saw another key breakthrough too – the Polartec Power Air lightweight version, an ingenious new knit construction that not only reduces micro-fibre shedding (saving millions of micro-plastics from polluting the environment) but also encapsulates air to retain warmth. Judge James Forrest said: "considering it is 40 years since Polartec invented the fleece, it seems only right to recognise their continual innovation. We're particularly impressed with the way the brand has saved more than 1.7 billion plastic bottles from landfill, recycling them into over 200 different usable fabrics."
SILVER: PrimaLoft
PrimaLoft have pioneered two key innovations this year: their P.U.R.E. (Produced Using Reduced Emissions) manufacturing process, and PrimaLoft Bio, biodegradable synthetic insulation made from 100% recycled plastic bottles. Of the latter innovation, Mike Joyce, president and CEO of PrimaLoft, said: "The prevalent use of plastic in our society has a huge impact on our environment because of its inability to break down over time. PrimaLoft Bio has been specifically designed to biodegrade in the environments where most plastics eventually end up: landfills and ocean water. PrimaLoft Bio is an important step forward in providing sustainable solutions for micro-fibre pollution, throughout the entire life-cycle of a product."
BRONZE: Inov-8
The Lake District-based trail running and hiking brand has been recognised for its footwear innovations, particularly the use of graphene in its grippy outsoles and its focus on improving the durability of lightweight hiking boots. Judge Chris Townsend said: "Inov-8's progress has really great potential to solve a big problem – that lightweight boots usually aren't that durable." Michael Price, inov-8 COO, added: "Innovation is in our name and will forever be at the heart of everything we do. Our world-first use of graphene – the planet's strongest material – in hike footwear has taken grip to a whole new level. Hikers can gain the confidence-boosting joys of a soft, sticky outsole rubber, knowing its grip powers will now last much longer than ever before. The fact that we've now won the TGO Gold award for best footwear two years in a row tells you that our lightweight, durable boots with unrivalled grip are hitting the mark. As industry pioneers, we will never follow, we will always carve our own way."
SHORTLISTED
Best brand: sustainability
GOLD: PrimaLoft
 Considering their eco innovations with PrimaLoft Bio and PrimaLoft P.U.R.E. (both winners in our product categories), it's only right that PrimaLoft took top spot for the Best Brand Sustainability award. In recognition of this prestigious accolade, Mike Joyce, PrimaLoft President and CEO, said: "As experts in advanced material technologies, PrimaLoft's commitment to responsibility drives our developments beyond the product level. Over the past four years, we have been working towards manufacturing solutions that will drastically reduce carbon emissions. The result is a brilliant shift in our process that will make a significant impact for the environment. Once we identified the ovens as a key opportunity to reduce emissions, we set out to find a creative solution and our engineers have developed and perfected a manufacturing technology that uses air, instead of heat, to cure and stabilise the insulation." This new process reduces carbon emissions by up to 48% – an incredible achievement. 
SILVER: Patagonia
Patagonia has always been at the forefront of eco-friendly and ethical business in the outdoor sector – and its successes are well-documented. Recent progress includes moving towards being carbon neutral by 2025, meeting 100% of its electrical needs from renewable sources in North America, having recycled materials in 68% of its product line, repairing 56,000 garments in a year (and thus prolonging the lifespan of said garments), and saving 35 tons of plastic waste from the oceans by turning fishing nets into brim hats. (Recycled) hats off to you, Patagonia.
BRONZE: Fjӓllrӓven
This Swedish brand has a range of eco-friendly policies, including high standards of animal welfare, only using fully traceable down, avoiding harmful fluorocarbons, and moving towards being carbon neutral by 2025. Another big aspect of its sustainability efforts is making sturdy, durable gear that stands the test of time, as well as offering a superb repair service. After all, buying new gear all the time isn't good for the planet – the most sustainable garment is the one you already own.
SHORTLISTED
There are two parts to The Great Outdoors Awards. This article announces the Gear of the Year Awards, which reward the best and most innovative items of outdoor gear released that year in seven categories and are selected by expert judges.
The corresponding part, the Reader Awards, are nominated and voted by our readers and the outdoor public at large. Discover the winners of the Reader Awards here.
Subscribe to The Great Outdoors

The Great Outdoors is the UK's original hiking magazine. We have been inspiring people to explore wild places for more than 40 years.
Through compelling writing, beautifully illustrated stories and eye-catching content, we seek to convey the joy of adventure, the thrill of mountainous and wild environments, and the wonder of the natural world.
Want to read more from us?