It's an attractive lineup of GPS devices with a good mix of features and access to OS mapping
Updated 27/03/2018 with a few extra details supplied by the OS.
This week, the Ordnance Survey announced the launch of four new GPS navigation devices designed for walking, hiking, and off-road cycling. The units are a first for OS, and the company say they have been designed for ease of use straight out of the box. Each device comes with up to 12 tiles of OS's world-class leisure mapping, giving access to continuously updated maps in either 1:50,000 or 1:25,000 scale.
All devices come with the inbuilt safety tracking option 'SeeMe', unique to these devices. SeeMe allows you and your specific contacts to know exactly where you are without the need to connect to a separate mobile phone. This sounds like an intriguing option that could be of genuine value on the hill, if it works reliably (although it's important to note that it relies on GPRS coverage, which can be spotty in mountain areas). SeeMe works in Europe, the US, Canada, and Israel.
There's a six-month free subscription to SeeMe out of the box, £25 per annum thereafter (subject to fluctuation as based on the Euro).
"We have designed these units with simplicity and ease of use in mind."
The devices can also be synchronised with other services and add-ons – including OS's award-winning OS Maps app – to plot and share routes, or monitor heart rate, energy and speed.
All devices are IP67 rated, resistant to dust, water, and extreme temperatures (-10˚-60˚C). All devices include both touchscreen and buttons, a 3-axis compass, barometric altimeter, accelerometer, GPRS communication, Bluetooth Low Energy, and Wi-Fi capabilities as standard. While none of the devices have a display that can match a modern smartphone in resolution, size or clarity, the hardware is able to withstand severe mountain conditions better than most smartphones. Claimed battery life is also very attractive in the higher-spec models.
Nick Giles, Managing Director of Ordnance Survey Leisure, said: "For a long time, our customers have asked for us to produce GPS devices, and now here they are. Traditionally GPS devices can be difficult to use, but using our experience with OS Maps we have designed these units with simplicity and ease of use in mind."
The devices start from £379.99 and are available from www.os.uk/gps.
The lineup
Velo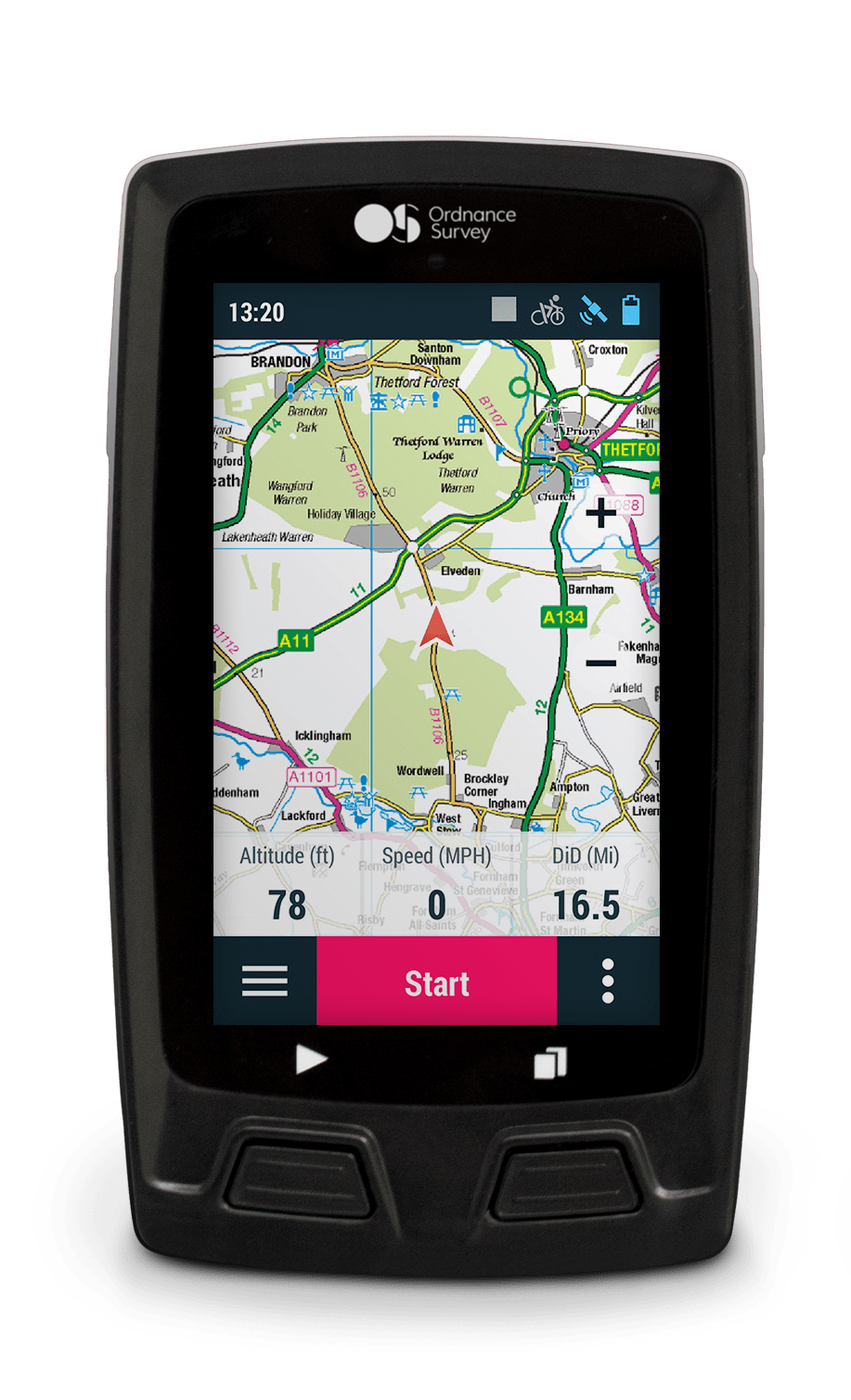 OS say: "Streamlined cycling computer with advanced navigation across any terrain."
Designed for easy bike mounting
60 x 105 x 16mm, 110g
Display: 3″ touchscreen, 240×400 resolution
Battery: Li-ion rated at 10hrs (appears to be non-removable)
Buttons: 2 front
Memory: 16GB (non-expandable)
Comes with 6×1:25K free map tiles
Horizon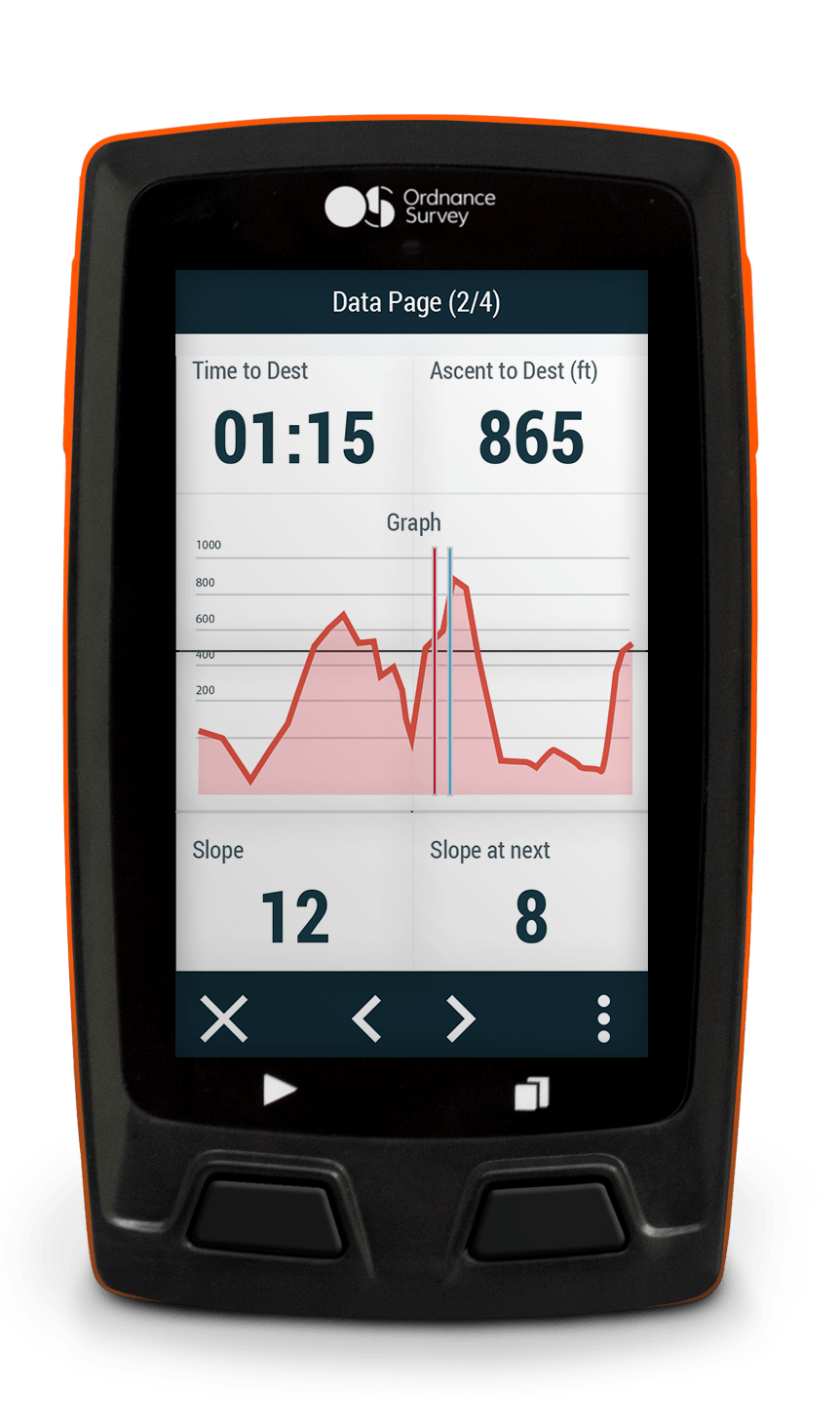 OS say: "Compact and lightweight, with advanced navigation for walking or off-road cycling."
60 x 105 x 23mm, 125g
Display: 3″ touchscreen, 240×400 resolution
Battery: Li-ion rated at 10hrs (removable)
Buttons: 2 front
Memory: 8GB (expandable with a Micro SD card)
Comes with 6×1:25K free map tiles
Trail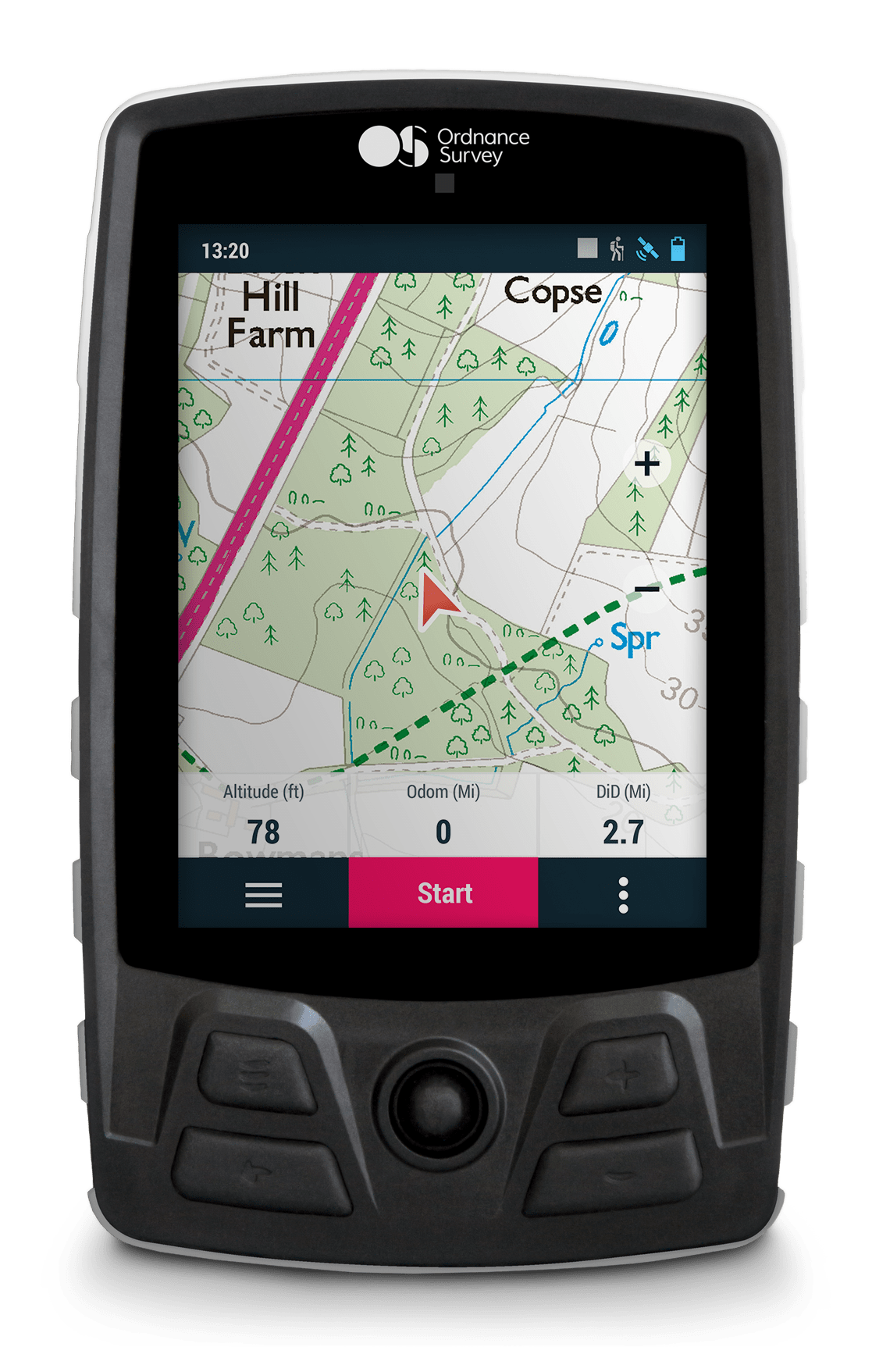 OS say: "Go further, with advanced navigation on a large screen."
80 x 130 x 20mm, 215g
Display: 3.7″ touchscreen, 640×480 resolution
Battery: Li-ion rated at 20hrs (non-removable)
Buttons: 4 front + joystick
Memory: 16GB (non-expandable)
Comes with 6×1:25K free tiles
Aventura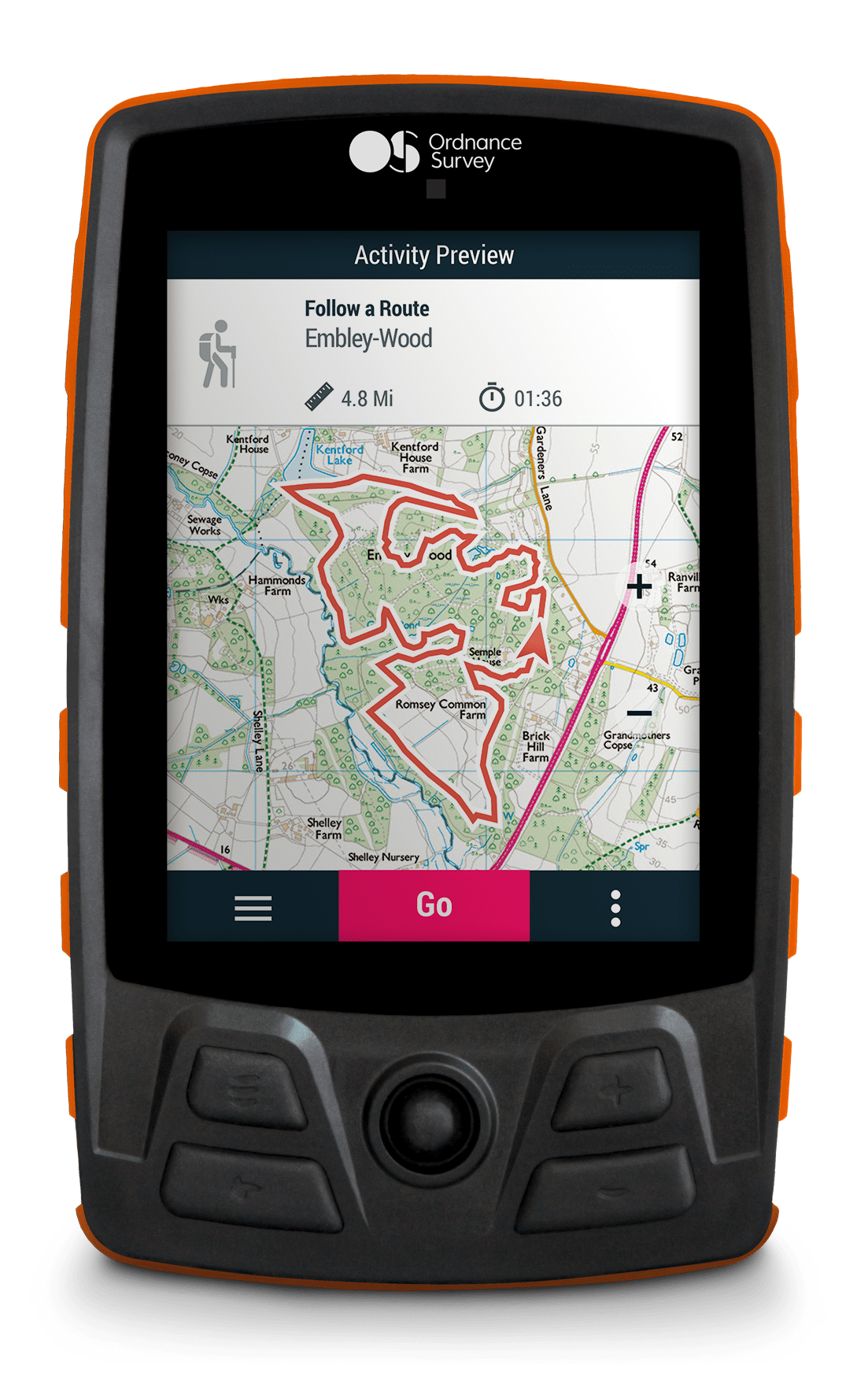 OS say: "Go further for longer, with advanced navigation and a bigger battery."
80 x 130 x 28mm, 250g
Display: 3.7″ touchscreen, 640×480 resolution
Battery: Li-ion rated at 24hrs (removable)
Buttons: 4 front + joystick
Memory: 16GB (expandable with a Micro SD card)
Comes with 12×1:25K free map tiles
Map purchases and access
Customers coming from a smartphone navigation platform will want to know how the economics of map purchases stack up. A few facts:
Every device has the standard 1:250K base map included, plus between 6 and 12 free tiles, depending on model
Tiles are 25x25km in size
Additional tiles cost £5 each for Explorer (1:25K) or £1 each for Landranger (1:50K) mapping
Currently, it is not possible to purchase any of the units as a bundle deal with complete mapping included out of the box, but the Ordnance Survey say they would consider this if the demand is there.
Devices support international mapping via TwoNav.
Devices also come with a 3-year subscription to the very useful OS Maps platform, giving unlimited access to OS maps online or on your smartphone (including printable maps at the correct scale)