John Allen spent thirty years in the Cairngorm Mountain Rescue Team and shares the incredible tales and lessons learned in his book, Cairngorm John. Ahead of the book's 10th anniversary edition (published by Sandstones Press in September), John spoke with Chiara Bullen to share more about the book and his life in the Cairngorms. 
I joined the Cairngorm Mountain Rescue team in 1972, just after the Cairngorm Plateau Disaster. I knew nothing about mountain rescue at the time, and was only a gentle hillwalker. Seventy people applied when the call for volunteers went out that year, and thirty of us were taken on an expedition to test our skills. I was asked to join after that. I quickly learned how to navigate and use crampons to improve my winter climbing skills, which led me to being a mountaineer outside the job too. 
You don't have to be a top end mountaineer to join a mountain rescue team.You do, however, need to have some winter walking knowledge, enjoy mountaineering and be fond of the mountains themselves. Being part of a rescue team is all about the hard work – we don't do this for money or for glory, so general enthusiasm is important too.  
If people feel frightened of the hills after reading the experiences in my book, then if they enjoy hillwalking they should take to the hills with those more experienced to learn. Respecting the mountains is important, but you can learn a lot from others to keep yourself safe and improve your survival skills. 
The most common error I came across during my career revolved around their lack of navigation skills. Even the most experienced and technical climbers who don't often get into difficulty can get to the top and find themselves unable to navigate back down to safety. A turn in the weather can scupper navigation abilities if you aren't vigilant about keeping your skills up to scratch. 
People underestimate the Cairngorms. Particularly the Plateau – it's incredibly difficult to navigate as it has few distinguishing features. When I came across people struggling with navigation here, I would then see a knock-on effect to the errors made with their gear. Clothes couldn't withstand the cold as they ended out longer when lost, or they didn't pack extra food because they assumed they'd be off the hill for their next meal.   
With mobile phones, people assume rescue is closer than ever. But that isn't always the case. Rescue teams can still be hours away after you've made the initial call. And people now rely on phones for navigation – but what are you going to do when there's a storm and you need to navigate in the lashing rain with huge gloves? Despite the wonderful – and often – helpful technology available through phones and apps, people should be able to read a map and compass at the absolute minimum.  
I think the modern technology and safety equipment that people wear or can carry gives a false sense of security. People think it means they cannot make mistakes and certainly the modern technology makes you feel safe. But if they fail, you still need to have foundational skills to fall back on.  
The best piece of advice I'd give to any hillwalker or climber is to plan thoroughly. There's no excuse for not looking ahead to the weather, preparing extra gear and food in case something goes wrong. Know what you're going to do that day, that week, and of course be willing to change your plans if things go bad, is key. 
With my book, I hope some of these lessons are taken away. When I was approached by Sandstone Press after my retirement in 2007 to write this book, I declined. But they asked again after a month, and my ego was boosted – so I said yes! I never imaged the impact it would have. Some mountaineering teachers are using it with their students, as the book is full of my experiences and mistakes that can be learned from.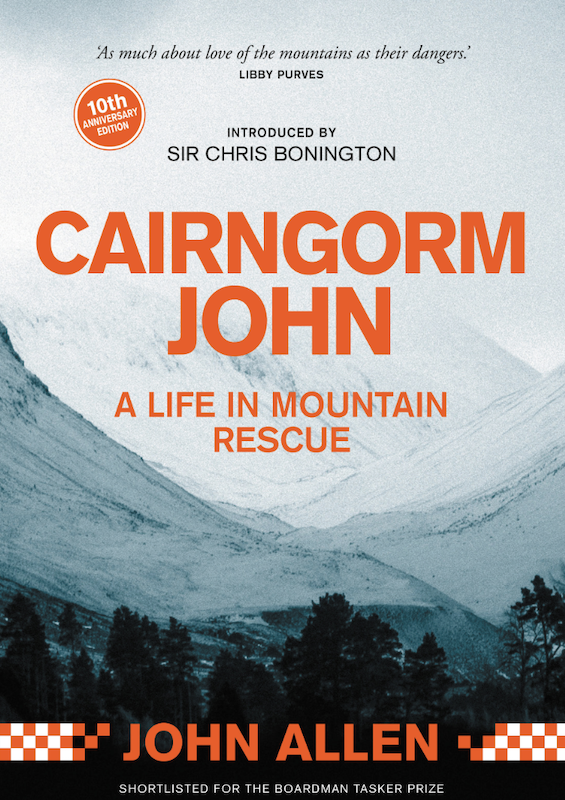 Cairngorm John: A Life in Mountain Rescue is published by Sandstone Press and will be available from 26 September. More at sandstonepress.com
Featured Image by John Paul Photography