Alex Roddie tests the Arc'teryx Norvan VT GTX trail-running shoe
The Great Outdoors Awards 2017 HIGHLY COMMENDED – Footwear category

The Norvan VT GTX is Arc'teryx's first ever trail-running shoe. It was, according to the manufacturer, "built for vertical terrain". What this means in practice is that it's a very interesting product with some unique and innovative features – but is it too quirky for the average user? Alex Roddie has put this shoe through its paces to find out.
Features
Arc'teryx describe the Norvan VT GTX as a high-performance trail-running shoe for challenging terrain. It's basically a hybrid between a standard trail-running shoe and a scrambling shoe.
The uppers are a combination of mesh and reinforced TPU panels, but don't be deceived – these are not highly breathable mesh shoes, because there is a Gore-Tex inner 'sock' Arc'teryx call Fixed Adaptive Fit Technology, wrapping the foot and sealing out debris. This internal stretch liner is waterproof and breathable.
The Vibram sole unit is grippy and aggressive, with a sticky 'Idrogrip' forefoot for traction on rock, and 'Megagrip' compound elsewhere for durability.
The real innovation in the Norvan VT GTX comes in the 'Adjustable 360˚ Support System'. This is a special lacing system that allows you to switch from 'climb mode' to 'run mode' with a single pull, tightening the lace around the forefoot.
In use
First impressions of the Norvan VT GTX were very positive. Quality of workmanship appeared everywhere very high, and the red colour of my sample was striking – perhaps a bit too striking for some tastes! I was impressed by the seamless, sleek finish of the outers, although as I handled the shoe I worried that grit or debris would work its way between the inner stretch liner and the outers, causing damage.
The inner stretch liner feels strange when you first put the shoe on. It hugs the foot closely, making an accurate fit essential, and it can be a bit of a tug-of-war getting it off again. There are two robust pull tabs to help with this operation although it can be a bit annoying at the end of a tiring day.
For someone like me with wide feet, the fit is only just wide enough, so that's something to bear in mind.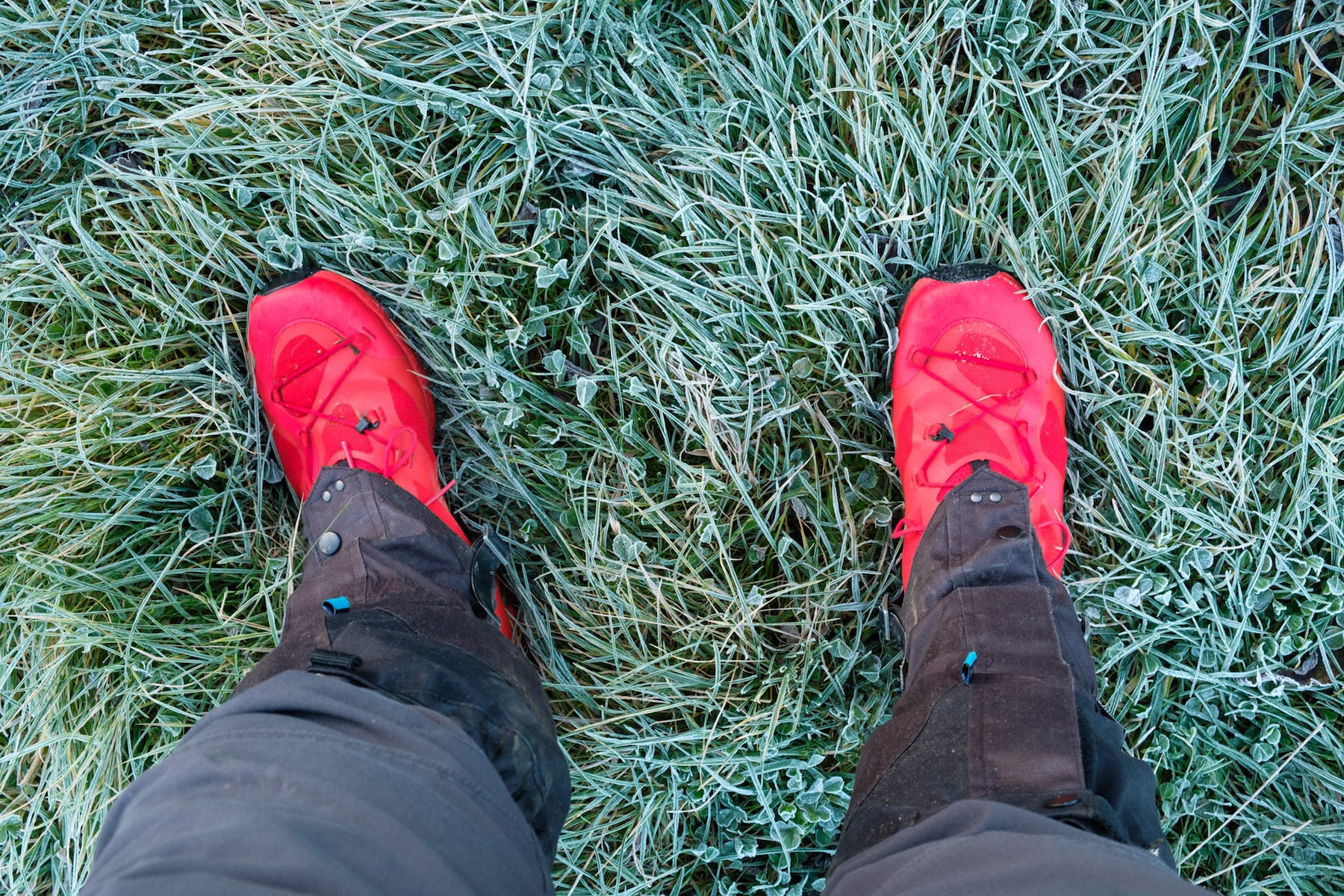 Wearing these shoes on the hill and on my local trails, I've found them brilliant for both general use and scramblier stuff. The sole unit is impressively grippy on a wide range of surfaces, from mud to slick rock – better than some boots I've tested lately. The shoes strike a good balance between light weight and support. They certainly don't give the barefoot sensation of some shoes, but they don't impede natural movement either.
Unfortunately, I think the Adjustable 360˚ Lacing System is not very useful. For me, the shoes fit perfectly in 'running mode', but when adjusted to 'climbing mode' they are simply too tight (uncomfortably so). The idea is innovative, but I'm not sure it works – they're great for scrambling even without adjustment, and if you really need the tight fit of real climbing shoes, you'll want to switch to real climbing shoes.
After around 150 miles of use on and off the hill, the soles remain in very good condition, and the stretch liner remains fully waterproof. My concerns about debris wearing holes in the membrane have not come to pass. However, I'll note that these are not very quick-drying – that air gap between the outer shell and the inner liner is a haven for trapped moisture.
Recommendations
Like most waterproof shoes, I'd find these too warm for summer use, but over the cooler months they're just right for me. I've found the Norvan VT GTX great for general scrambly hill use, thanks to its reassuringly good sole unit.
The stretch inner liner is a bit of an acquired taste, but I've come to like its enveloping sensation. The adjustable lacing feels rather gimmicky and I doubt many users will want this. At least it gets out of the way if you don't use it.
These shoes are pricey, but high quality. And the red colour is incredibly eye catching!