Alex Roddie gets a first look at Memory-Map for All and gives his verdict on this highly customisable app.
Memory-Map has been around for a long time, but the company has recently released a new app called Memory-Map for All (MM4A) – a totally revamped system with a new interface. Although it has a steep learning curve, it's a dream for those with demanding or professional needs.
MM4A is all about two things: the map-viewing experience, and creating and managing your own library of routes. With a few caveats, in both of these respects it is the best app tested. There are no route recommendations or social features. For more advanced users who may not be interested in route recommendations and just want to manage a (potentially large) library of GPX files, this is a good thing. Cloud features are limited to syncing saved routes and purchased maps to your account.
The Memory-map app is built around several screens, one of which is a large, uncluttered map view. Buttons are placed in the corners and edges of the screen, and the interface is based on a system of nested menus. This is logical and powerful, but may look old-fashioned to users who have come from more limited but modern-looking apps. The map manager lets you select which map is active. OS maps require purchase or subscription; the base map isn't good enough for hill use, but you can download the OS 1:250K Road Atlas for free, which is great for an overview. Unfortunately, Harvey maps can't be used. Once a map is active, tiles are saved offline automatically as you scroll around, or you can save the entire map for the selected country all at once. You can also download offline mapping for any selected route. This is the best implementation of offline mapping of all apps tested.
Memory-map for all is reasonably priced if you only want OS mapping – and you even get the option to buy OS maps for the whole UK outright for £124.99 if you'd rather avoid a subscription. However, many European topo maps are not available.
OS maps scroll and zoom quickly once downloaded and with a superb degree of clarity, by far the best of all the apps tested. The "List overlays" menu lets you control exactly what user data is shown on the map screen. I find it essential to be able to show my own routes on the map screen, but also to be able to hide ones I don't want to see at any given moment; MM4A can do this easily.
Route planning is close to great, but falls short in one critical area. It's an old-school experience of creating a line of dots. If you want to snap to path – an essential time-saver – you can't do it at all while actually plotting the route. Instead you have to draw an approximate route of less than ten points, then tap through to Route Operations -> Optimize route -> For Walking. If you're lucky, the app will route along known paths and roads, but this almost never works because not all paths are recognised, it can't take off-path sections into account, and it doesn't work at all if you're offline or you've plotted more than ten points. The developer has told me that a better implementation is on the wishlist, but in its current state it isn't usable. If you're ok with plotting routes the old join-the-dots way, or if you want to create routes in another app and then import them into Memory-map for all, it works fine. On the plus side, GPX file import and export are easy and reliable. You can also control the exact appearance of routes (line colour, thickness, and opacity, plus waypoint symbol).
MM4A's interface offers an extremely high level of customisation. Almost everything can be tweaked, but you'll need to consult the reference docs. The "Edit layout" menu lets you build your own screens from scratch. Add buttons, data fields, or even entire screens – you can do anything you want, but expect to take some time to master it, and if you delete something by accident it isn't always obvious how to reverse your mistake. You can build an app that is as minimal or comprehensive as you want.
For the advanced user willing to put a bit of time into learning its interface, Memory-map for all offers an incredible level of power, and it can do things that other apps simply can't. However, it is overly complicated for people with more basic needs, who are likely to find it confusing and frustrating. The route-planning function also needs an overhaul, and it isn't a great option for European topo maps. I like MM4A's strict emphasis on offline functionality and rejection of social media features – it feels like a refined and reliable tool rather than just another app.
See other hiking apps in our guide to the Best hiking apps for digital mapping
---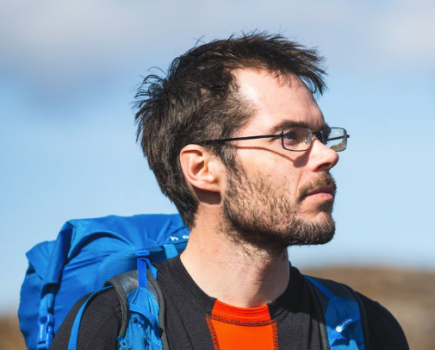 Written by Alex Roddie
Alex has been an active backpacker, mountaineer and hillwalker for over 18 years. Since 2015 he has been a passionate long-distance walker and has completed many classic trails, including the Cape Wrath Trail, Tour of Monte Rosa, Haute Route Pyrenees, and a fastpacking traverse of the Alps.