Alex Roddie tastes the Expedition Foods Vegan Mushroom Risotto, a dehydrated meal with an extremely high energy-to-weight ratio.
Expedition Foods has every base covered: a wide variety of breakfasts and main meals, and in many cases a choice of 450, 800 or 1000kcal packs. You can also buy its meals in bulk, making them a good option for extended trips or multi-person expeditions.
Price: £8.99
Weight: 150g
Pros: High energy for weight and cost, quick to rehydrate
Cons: Flavour and texture not the best
Rating: 4/5
Calories: 800 | Calories/100g: 534 | Calories/£1: 88.99 | Time to hydrate: 5 minutes | Vegetarian/vegan: vegan | Allergens: none listed
Expedition Foods tends to offer an extremely high energy-to-weight ratio, and its vegan mushroom risotto (I tested the 800g version) is no exception, with an unmatched 534kcal/100g. This is a long way above the next best meal tested – a clear choice for energy-intensive stuff such as high-altitude trekking or Scottish winter mountaineering. Rehydration is incredibly fast too.
Although I'm partial to a mushroom risotto, the taste and texture of this one didn't thrill me. The mushroom flavours were somewhat overpowered by onion, and the mushrooms themselves lost their definition, leading to a homogenous texture.
A plus point: the packaging is excellent. There's the usual tear point at the top, just above the seal, but another tear point about a third of the way down, which you can open up for ease of eating. Although priced higher than some of the other meals, the calories-to-price ratio is best in test, making it excellent value.
See more reviews of the best backpacking meals as tested by The Great Outdoors' expert testers.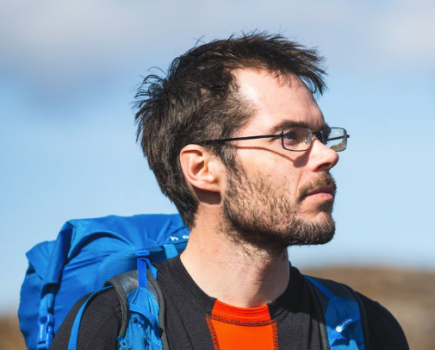 Tested by Alex Roddie
Alex tasted these meals out in the mountains whilst backpacking or fastpacking. Although trail hunger is the best sauce, he also finds that real-world testing is essential for checking out whether meals agree with him after a big hill day – as well as for testing details such as how glove-friendly the pack opening is. This review was originally conducted in July 2022.