Back in December the Black Diamond Highline Stretch Shell won Silver in the clothing category of the TGO Gear of the Year Awards. I said then "the jacket works perfectly well, but it's the durability of the DWR (Durable Water Repellency) that's the big plus point. It's significant because at present most PFC-free DWRs are less durable than PFC ones." I've since worn the jacket many times in rain, sleet, hail and snow and the DWR is still fine. This is unusual. The PFC DWR's that are being phased out because they're environmentally unfriendly were never that durable anyway, despite the name, and their more environmentally safe replacements are even less so.
The DWR
Now DWR isn't essential for waterproofness but it does make a difference to breathability. Once the DWR starts to wear off rain can be absorbed into the outer of the fabric. The garment isn't leaking but you may get damper inside when this happens because your body moisture doesn't go through the wet outer so easily and condenses on the inside instead. A good DWR that lasts makes a difference to how comfortable you feel and how dry you stay.
Some waterproof clothing companies now advise refreshing garments with a DWR treatment regularly. Black Diamond has taken a different route. They're using a PFC-free DWR finish called the GTT Breathable Water Protection Technology that is permanently fused to the individual fibres of the fabric. Black Diamond say this is so durable that "there is no need to ever refresh the jacket with an additional spray or wash-in finish". This is some claim but so far it's held up. I'll be wearing the jacket much more to see if it continues to do so.
The Fabric
The fabric is also soft and comfortable and has a little stretch for ease of movement. The waterproof/breathable part is called BD.Dry and it works well. I have had condensation inside but never very much. However, I haven't used it in warmer weather (it arrived for test last autumn) and I expect there'll be a bit more condensation when I do. There are long pit zips that are quite easy to use, and the cuffs are wide for ventilation at the wrists.
The Design
The design of the Highline is good though I have a few quibbles with the hood. This only adjusts at the back, something I dislike as it's awkward to fiddle about with when your hands are cold or wearing gloves. The small cordlock is hidden in the fabric too and can be hard to locate with your hands behind your head. The hood is designed to fit over a helmet so it's quite large too. Worn over my bare head or a thin hat I have to cinch the drawcord quite tight to stop the peak flopping over my eyes. Once tightened it does move with my head well and stays in place. I'd rather have front drawcords for easier adjustability and so I didn't have to tighten the cord so much though. The hood is a better fit over a thick hat. Tightening the drawcord enough to keep the hood on also pulls it back from the sides of the face. The lack of protection here is noticeable in a hailstorm!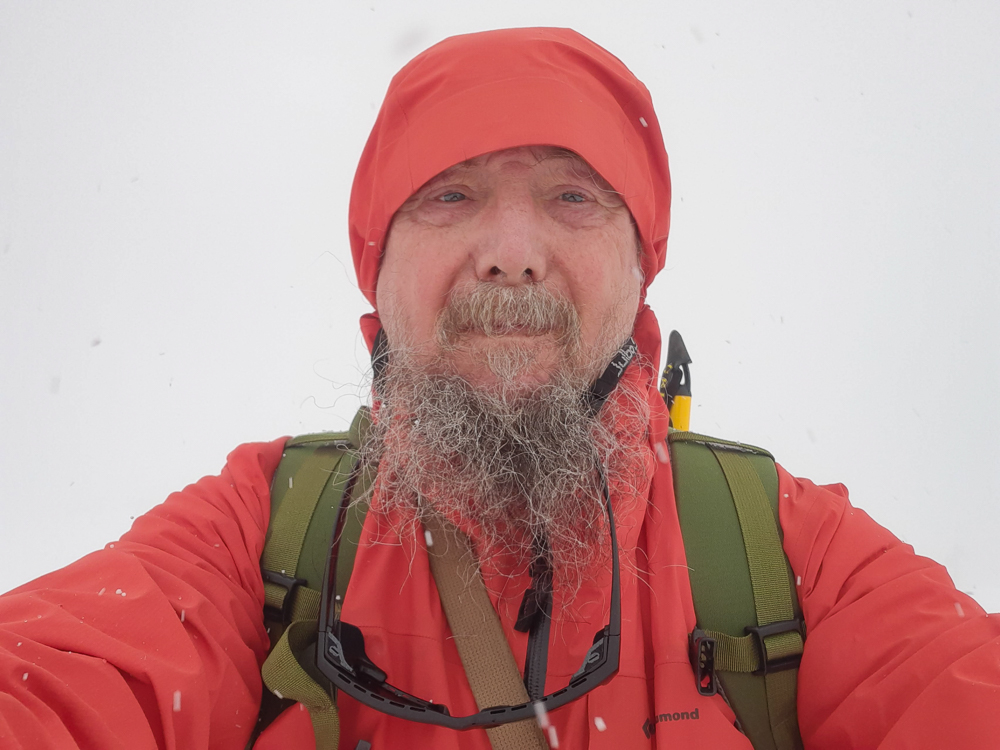 There are three pockets. The chest one is exactly right for a smartphone but too small for a map. The base of the angled hand pockets is cut off by a hipbelt but they are still usable.
The Highline is light and excellent for year-round use, especially for backpacking. I've worn it in blizzards in the Cairngorms and it works okay though it doesn't feel as protective as heavier, stiffer jackets. Overall, it's a good jacket though. If the DWR really lasts it'll be a superb one.
RECOMMENDED: This product has been awarded our 'Recommended' endorsement, meaning our reviewer believes it is a strong product which works well for its intended purpose.
Chris Townsend is impressed by a waterproof jacket with a durable DWR treatment.