The first in a new series looking at the brands that have shaped outdoor gear since The Great Outdoors launched in 1978
This year, The Great Outdoors celebrates its 40th birthday. Over the past four decades, the magazine has covered every development in outdoor clothing and equipment, and the world's leading brands have advertised and been reviewed in our pages.
Now, to mark our landmark birthday, we are taking a look at some of the key brands that have been around since our very first issue. The magazine has changed a lot since then, and the world of outdoor gear has too.
In the first in a new series of brand profiles to celebrate 40 years of The Great Outdoors, we invited pack manufacturer Osprey to tell us a bit about their history and what makes their products so special.
---
How and when did the company first come into being?
"Osprey was born in California in 1974 at the seat of a single sewing machine, with a head full of ideas and a desire to design and build innovative backpacks to the highest quality. Founder and chief designer Mike Pfotenhauer designed his packs around a simple message: backpacks that fit better will feel better. Through to this day, Osprey products continue that pioneering spirit, being used on the highest mountains to the remotest islands and everywhere in between."
What have been the key product innovations in the years since?
"Osprey's first pack was the Osprey, designed as a custom pack and built for each individual user by Mike Pfotenhauer himself. We now specifically design packs for a wide range of activities including travel, hiking, backpacking, climbing, running and biking.
"Osprey's key innovations include the AntiGravity™ backsystem, which suspends the pack behind the user in a way which seems to defy gravity. Osprey also pioneered a number of technologies to improve experience and comfort on the trail, such as Stow-on-the-Go™ walking pole attachments, Fit-on-the-Fly™ adjustable hipbelt, and the Lid-Lock™, which keeps your bike helmet stowed when not in use.
"Osprey has also been designing and making the female-fit-specific pack range for 25 years, meeting the need for ergonomically designed packs and changing specifications to suit the female form."
When did the brand enter the UK market?
"Osprey Europe was founded by Managing Director Rob Wylie in 2003 to serve the growing demand for high-quality packs throughout Europe. Osprey has since become the fastest growing pack brand in Europe."
How has the British outdoor equipment market changed in the years since?
"The British outdoor equipment market has exploded over the last 15 years, with rising interest in outdoors pursuits and greater focus on health and fitness. Users have become more and more demanding as technology has brought the accessibility of high-performance, high-tech products to an affordable price point. As time has gone by, outdoor equipment has become lighter, smaller and easier to find. Osprey packs have kept up with this trend, helping people to carry their gear in a more comfortable way."
"Our specialism as a pack brand is something that we are really proud of and that sets us apart. We live to build high-performance products that last a long time"
Who are your customers?
"Our customers are adventurers, commuters, travellers, runners, backpackers… the list goes on. They're unified by a passion for the outdoors and a need for well-designed and well-built backpacks. Whether cycling through a city or scaling a mountain, we want to ensure our customers have high-quality packs supported by over 40 years of outdoor heritage."
Where are your packs made?
"Our packs are built in Ho Chi Minh City, Vietnam. Osprey run a design office in the city and employ a multinational team of designers, engineers and material experts to create our packs. In production, we work alongside a number of manufacturing facilities in the city which are immaculately clean, well lit, comfortably ventilated and extremely safe work environments. All repairs are made on site at our UK repair centre."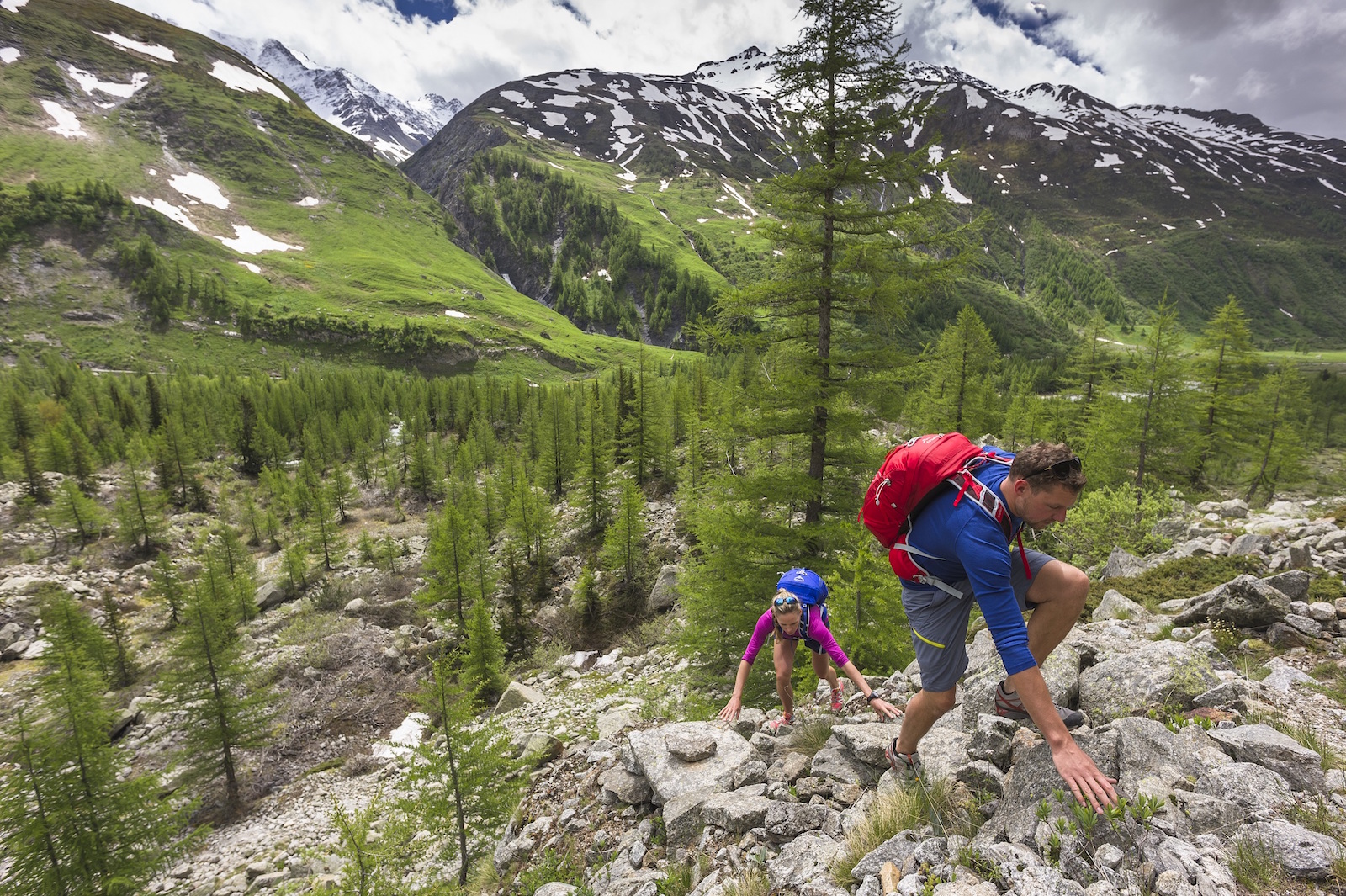 What systems do you go through to test your products before bringing them to the market?
"Driven by design and innovation, Osprey Europe's packs are built to last. We only use the highest quality materials and fabrics, with the best possible workmanship. The development process for each new pack takes over two years and we'll never launch anything until it's been well and truly put through its paces by our product development team. We work with a diverse group of athletes and outdoor enthusiasts to gain direct feedback from industry and activity experts. All of our products are developed with the end user in mind, which is why we always listen to customer feedback, be it from our website, social media, retailers or pack users, when developing new products."
What makes your packs different to others on the market?
"Our specialism as a pack brand is something that we are really proud of and that sets us apart. We live to build high-performance products that last a long time and are always looking at cutting-edge technology and materials when designing our packs."
What do you believe are the most important recent innovations in the company?
"Recently, Osprey's most important innovations have revolved around providing our most effective ventilation across a range of products. Through design innovation we've added our AirSpeed™ trampoline suspended mesh backsystem to our three key Spring 2018 products. From our day hiking Hikelite, technical backpacking Exos & Eja and Ultralight Levity – all three utilise the same highly ventilated technology."

What does the future hold?
"The future of Osprey Europe is very exciting. Fall 2018 brings a number of additions to the product line, including a comprehensive update to our alpine climbing packs, a new range of travel luggage and additions to our everyday collection. We have an exceptional and exciting product line coming in Spring 2019 too, aimed at providing amazing packs for every major outdoor activity, but to know more about those you'll have to wait and see!"
ospreyeurope.com