Do you aspire to a truly outdoor life? The February issue of The Great Outdoors unpacks the adventure dream to see what it really means, while exploring far and wide from the Munros to the Karakoram.
Happy New Year from Team TGO. In Our February issue, we investigate how to make changes to your life in 2023 to welcome the outdoors in more often. We asked six 'normal' people who live for the mountains how exactly they make it work. Some work outdoors having relocated to one of our many national parks. A few manage to squeeze in micro-adventures between office jobs or freelancing. Others accidentally became adventure influencers. Vastly varied, their answers shed a light on what the 'adventure dream' really means. We hope this issue helps you to live your best outdoor life in 2023, whatever that may look like to you.
Cover image: Tom McNally
Elsewhere, we hear other stories from the outdoors:
Rich Hartfield jets off on a summer working holiday to mend the Swiss Alps trails he'd usually be hiking
James Roddie brushes doubts aside to spend a perfect snow day on the Coulin mountains
Andy Wasley goes Wainwright-bagging in the western Lake District as he follows in the footsteps of the past
The Karakoram mountains play minds games with Terry Adby on the trek of a lifetime
PLUS: High Street in profile, the TGO Reader Awards winners, how our obsession with litter is distracting us from the real environmental issues, 'super nature reserves', one woman's big bothy walk, 14 pages of expert gear reviews including winter gloves and socks and budget sleeping bags, bagging the 88 trigs of the Peak District, advice on how to clean your tent, a selection of the best mountain events this month, 10 Instagram-worthy Wild Walks, and much more.
How to get a copy
Order a single copy of this issue and get it delivered with free postage.
Take out an annual subscription and take advantage of our subscriber offer (£15 for your first 6 issues).
Download the digital version to your tablet or smartphone and start reading straight away.
Buy it in shops across the UK.
Read more: live your best outdoor life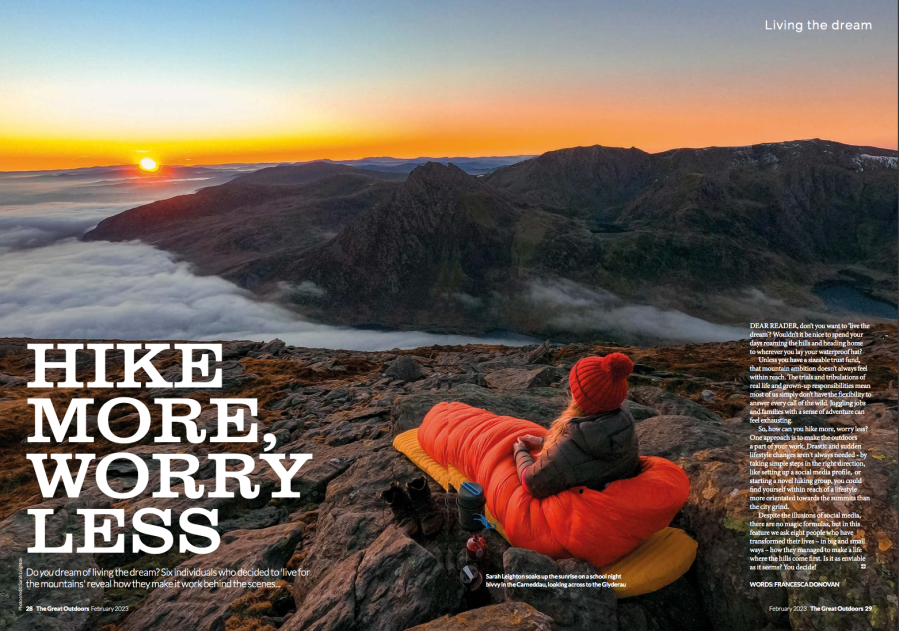 Hike More, Worry Less: Do you dream of living the dream? We asked six outdoor-goers who've transformed their lifestyles – in big and small ways – for honest accounts of how they bring the outdoors into their lives more often.
"Dear readers, do you want to 'live the dream'? Wouldn't it be nice to spend your days roaming the hills and heading home to wherever you may lay your waterproof hat? But unless you have a sizeable trust fund or 100k followers, that mountain dream doesn't always feel within reach. The trials and tribulations of real life and real responsibilities mean most of us simply don't have the flexibility to follow every call of the wild. Juggling jobs and families and our sense of adventure can sometimes feel exhausting. So, how can you hike more, worry less?"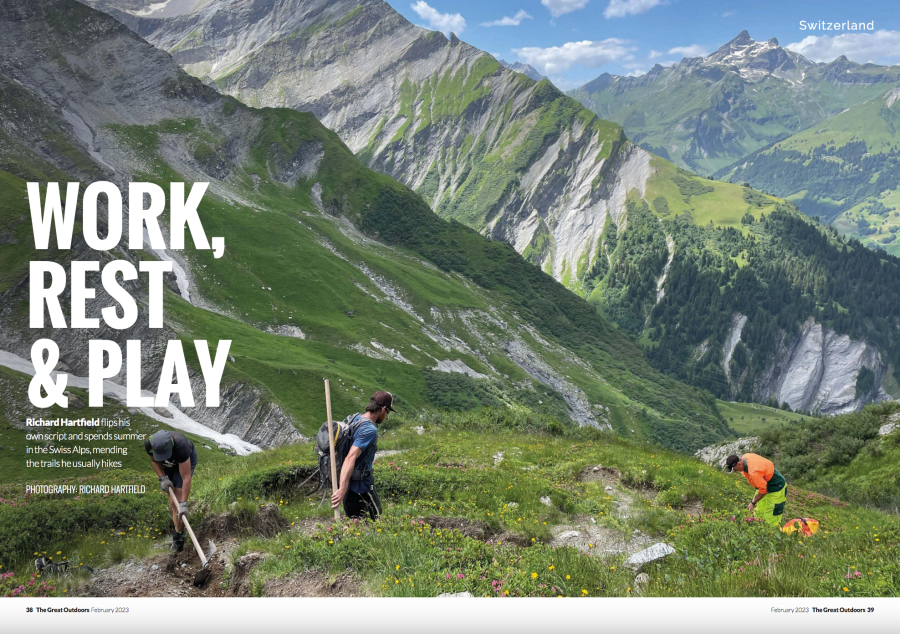 Work, Rest & Play: Richard Hartfield flips his own script and spends summer in the Swiss Alps, mending the trails he usually hikes.
"Our day of trail work began with an unusual commute. We were collected by helicopter and flown up to the 2600-metre-high Segnes Pass at the head of the valley. As we ascended, a rocky col appeared above, surrounded on either side by a cirque of towering cliffs. Scree and old moraine fell away beneath our feet towards the distant tree line. From the pass, we watched the helicopter tear off back down the mountain. What would have been a two-hour hike had taken less than five minutes, and the temperature had plummeted by over 10 degrees. Our job was to clear a narrow trail through the steep gorge of the Biflenbach on the route back down to the valley. Heidi had worked on the footpath many times before and warned that it was prone to rock falls during the winter, which meant we had a lot of work to do."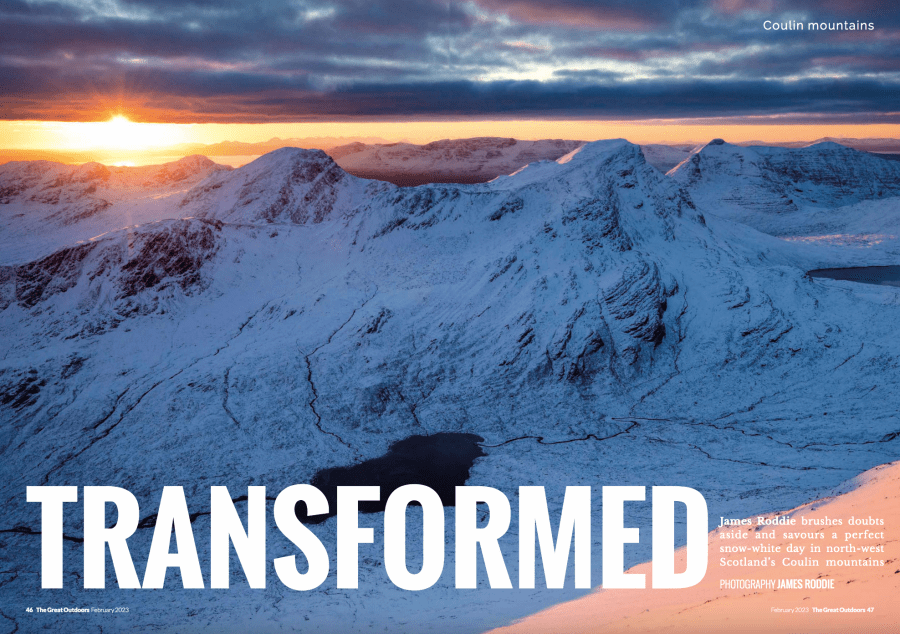 Transformed: James Roddie brushes doubts aside and savours a perfect snow-white day in northwest Scotland, on the Coulin mountains.
"I was moving on autopilot along the track past Achnashellach Station and the woods along the river Lair. I had walked this path more times than I could remember, and my thoughts were elsewhere; daily worries and troubles exaggerated by the dark. The snowline was a little way ahead and I walked quickly, trying to keep the bite of the cold at bay. There was no spark of enthusiasm as I caught my first view of Fuar Tholl glowing in the moonlight, only guilt at my own lack of energy. I had another word with myself and pressed on, tiptoeing around the flows of black ice snaking their way down the path. Why was simply feeling present so often a challenge? My introspection ended abruptly as I reached the 200m contour."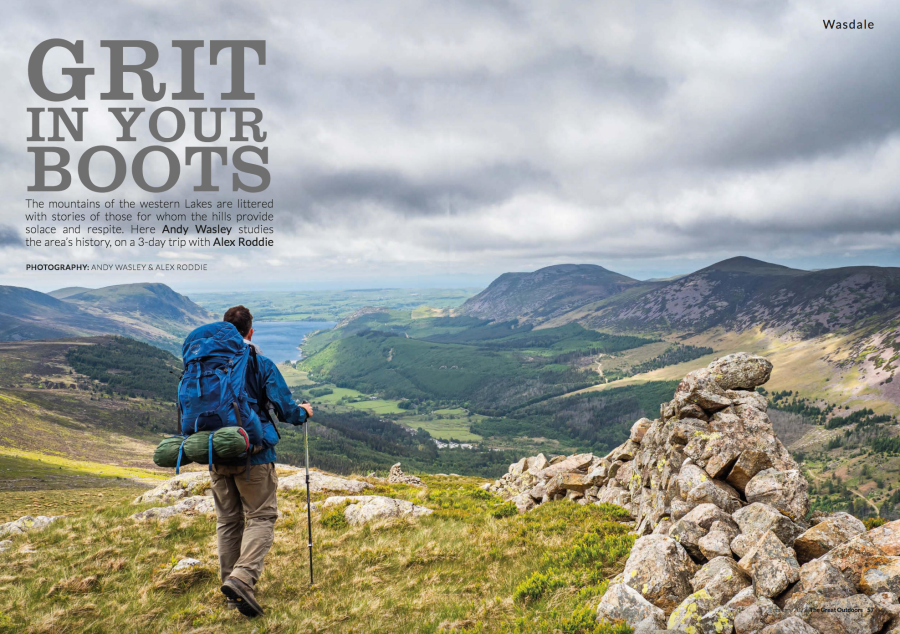 Grit in your boots: The mountains of the western lakes are littered with the stories of the past – climbers, soldiers and others for whom the hills provide solace and respite. Andy Wasley goes Wainwright bagging for three days, accompanied by Alex Roddie.
"Soon, we stood on Middle Fell. A cloudless day, now. Across Wast Water the Screes were lit silver-grey. All about us stood fells whose names echoed through Lakeland history: Scafell and Scafell Pike, Great Gable and Yewbarrow. Mountain giants, all. Mountaineering giants, too, crowded in on our thoughts. In three days, we had recalled great names who remain twinned with the Lake District, however momentous their achievements elsewhere: Wainwright, Jones, Mallory and Young, Haskett Smith and – unnamed – a walker whose ashes had welcomed us back to the fells."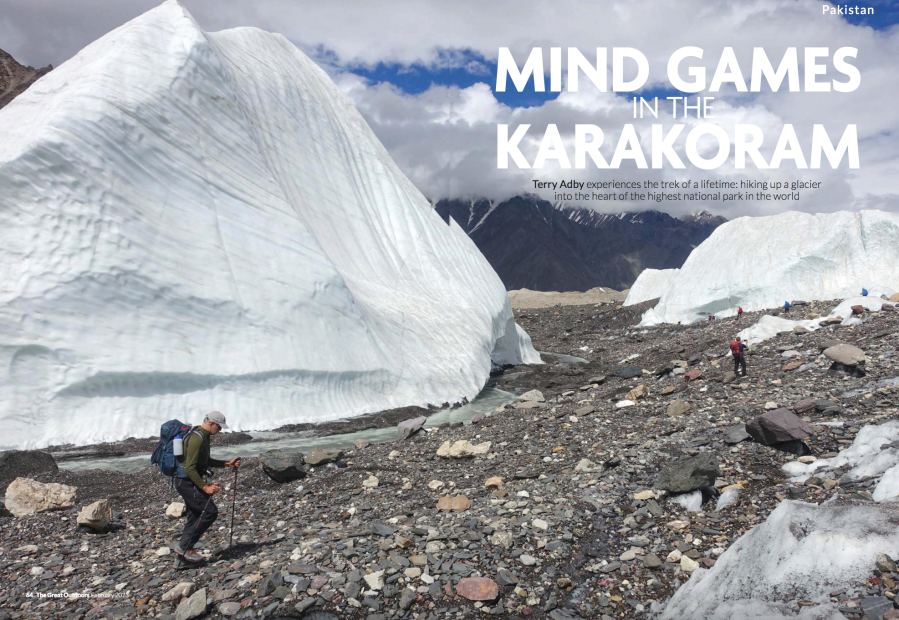 Mind games in the Karakoram: Terry Adby experiences the trek of a lifetime, on the Baltoro glacier in the highest national park in the world.
"A rickety, makeshift box is suspended on a wire and pulled on a rope barely thicker than a piece of string, and that is all that separates us from certain death. The grim reaper flows beneath in the form of an icy torrent of grey meltwater that rushes onwards, swift and violent, to pummel the shattered remains of a metal-framed road bridge. It's not hard to imagine what that elemental force would do to our precarious perch – the bridge's hastily improvised replacement – and its contents. But perversely, at the end of this trek through the mind-bending Karakoram mountains, this nominally horrific, hand-pulled crossing of the Braldu river is the most relaxed I've felt in weeks. It's actually a relief."