This content is sponsored by our friends at komoot.
If you're a hiker, you may know komoot as the app that can help you navigate the hills on two feet – but did you know it can also help you perfect a trip on two wheels? Originally built in Germany with cyclists in mind, expanding to encompass hiking since, komoot is an excellent bikepacking companion that can enable you to explore for days on end under your own steam and with just a little bit of bike grease.
Here's how Huw and Annie used komoot to plan and prepare for a two-day bikepacking adventure on the Isle of Skye, as featured in the September issue of The Great Outdoors.
Photo credits: Huw Oliver & Annie Lloyd Evans
Huw and Annie's route: at a glance
1. Old town roads: trail types to ride your own way 
Annie and Huw sought out the "99% of the island that isn't a roadside attraction" on their trip, and were able to plot cycling routes that took them off the beaten track using komoot's Route Planner. In the app, you can toggle between road bike, touring bike or mountain bike sport-types, allowing you to ride your own way.
Once your route is mapped, you can download it for offline use – which was handy for Skye's remoter landscapes. With on-screen and turn-by-turn voice navigation, you can simply clip your smartphone onto your handlebars and away you go. Alternatively, routes created on komoot can also be sent to a compatible cycling computer or smartwatch for navigation.
2. Train for the terrain: trail surface information 
Some alternative routes took Annie and Huw onto unpaved tracks – old road beds from bygone eras they said felt like windows into the past. Luckily, they knew what their wheels and suspension would be in for thanks to komoot's surface and 'waytype' information, which clearly indicates whether the track is alpine, paved, gravel and more.
In the planning stages, komoot's desktop version also gave our pair a clear picture of the trails they'd face with a satellite map layer (which offers a photographic birds'-eye view of any location).
The innovative Trail View feature also calls on the komoot community's first-hand experience. This enabled them to see real photographs of specific spots as taken by fellow users and indicated by a green dot at the corresponding location on the komoot map.
3. Ups and downs: detailed elevation gains at a glance 
Annie and Huw knew the trail north from Camasunary to Sligachan would require an uphill effort, thanks to komoot's route profile.
It offers you a clear visual of how steep those inclines go – and with further incline/decline percentages it'll give experienced cyclists an idea of how quickly you might hurtle down the descents, too! Whilst the roughest terrain on Annie and Huw's trip was barely over 100m above sea level, they could also check their altitude at any time.
4. Time for tea: match your bikepacking days to your fitness levels
When you're bikepacking, you need to have a clear idea of the miles you're to cover each day in order to plan overnight camping spots – and, in Huw and Annie's case, whisky and cake stops! – into your itinerary.
In the planning stages, you can input your fitness level so komoot can give more accurate predictions regarding your speed. Whilst on the move, komoot will clearly display how far you've travelled and how far there is still to go, keeping you well-informed of the distance remaining and helping you stay energised and well- fuelled until your next stop.
5. The misty isle: real-time weather updates
Skye is known for its ever-changing coastal climate and the deluges of rain that lash at the island; perhaps not a pretty prospect for bikepackers who travel light. But Annie and Huw were prepared, thanks to komoot's dynamic weather forecasts, which displays when the rain, wind and snow might come in, as well as forecasted temperatures.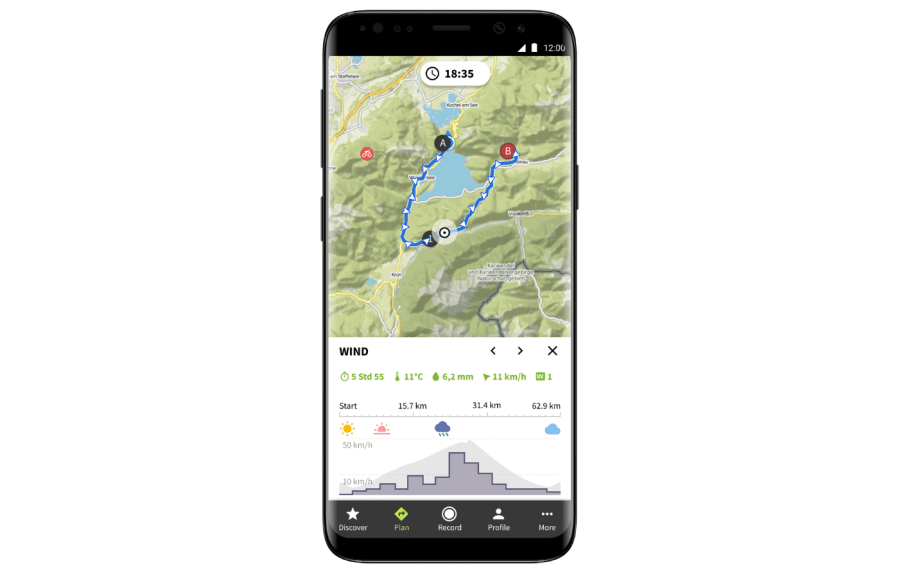 It's a premium feature worth investing in should you and your wheels be out in the elements for days on end. It will also keep you up to speed on fast-changing weather fronts and give you warning should you need to re-plot your route in adverse conditions.
6. Staying in touch: share your bikepacking progress with others
Annie and Huw had each other for company on their couple's bikepacking adventure. But solo bikepacking is also an incredibly freeing experience, should you feel prepared to go it alone. Another feature of a premium komoot subscription is in-app live tracking, offering you and your loved ones (up to three friends or family members) reassurance. While you're pedalling along, you can instantly share your location and progress with these safety contacts, whether in an emergency or simply to stay in touch.
Bikepacking safety relies on having a wide range of tools at your disposal and knowing how to use them. We strongly recommend always carrying a high-quality topographic paper map and compass alongside digital tools like smartphone apps. Good knowledge of how to read and interpret a map is essential for any type of navigation.