Mountain Leader Lucy Wallace thoroughly tests the best hiking backpacks in the 60+ litre range to help guide your buying choice.
Larger hiking backpacks, suitable for the likes of multi-day walks, backpacking and wild camping, can be a very personal decision, comparable to choosing a pair of walking boots.
What works well for the individual varies. We come in a variety of shapes and sizes, and rucksack fit is absolutely critical, as aches and pains can get worse over a long trip.
Hiking backpacks of the sort we're looking at here, in the 60 – 75 litre range, will need to carry heavier loads than usual for more than one day at a time; and the more time we spend on the journey, the more we will notice any problems if they exist. 
Ideally, most of the weight should be carried on the hips, which are much more able to bear heavy loads than the shoulders, and an adjustable back system goes a long way to ensuring a custom fit.
Hiking backpacks come in more than one length, with men's and women's designs that reflect differing body shapes and centres of gravity.
---
Best hiking backpacks for women contents
What to look for in hiking backpacks
1) Fabric
Hiking backpacks have changed a lot over the years, and most fabrics in use are now synthetic. They're lighter, thinner and hydrophobic to varying degrees, whilst the very latest are laminates developed out of competitive sailing technology.
Most backpacks are still not waterproof, and indeed they need to be able to drain once the inevitable happens and water gets in. As a result, they should be used in conjunction with drybags to store and organise your clothing and equipment within the pack.
If your pack promises to be waterproof, check to see if the seams are taped. Without that, it may 'resist' water but won't be water 'proof'. 
2) Back support
Whether you call it a frame, a stay or a 'back system', the most important part of the pack is the bit that sits between you and it. This can be anything from a sheet of plastic to an aluminium strut.
Others offer a composite of materials or sprung frames for increased comfort or ventilation – usually at the cost of weight and stability.
For larger loads, we think it's useful to have some sort of frame, in order to move the weight to the hips most effectively.
3) Fit
Getting the fit right is essential. If the pack is too long or short for your torso, the weight will not be distributed properly, and the carry will be very uncomfortable.
Products vary widely, from adjustable frames designed to work for all, to set sizes available at point of purchase.
However, most packs will come with some form of lumbar pad, which protects the base of the spine from undue pressure or abrasion.
4) Hipbelt
Essential for carrying heavier loads. A correctly sized hiking backpack will distribute most of the weight to your hips, which are best placed to support the load.
Larger-capacity packs should come with more supportive belts. Some have pockets, whilst others can be folded behind the pack or removed altogether.
5) Sternum strap
This strap holds the shoulder straps together across your chest. Naturally, women and men have different needs.
Either way, make sure that the sternum strap is adjustable and comfortable when the pack is fully loaded.
6) Load lifters
Another vital part of weight distribution mechanics, these pull the top part of the pack – which tends to be loaded with heavier items – closer to your back.
Too loose and the pack will feel unstable and 'drag' you backwards, too tight and it may restrict head or arm movement or place too much weight on the shoulders.
7) Compression straps
When properly cinched down, compression straps create a compact carry by preventing the contents moving around inside. Again, designs vary widely.
They often feature on the sides of packs but can reach across the front and over the top as well. They are also used as attachment points for mats, tents (and even tin mugs or cuddly toys if you want to go old-skool).
Arguably, the use of lighter fabrics has meant that compression straps systems have become more important in creating bag structure and keeping your load secure and stable.
8) Lid
Some closures are simple roll tops, and others have zipped pockets for items you need to access during the day.
Winter or climbing hiking backpacks often feature 'floating' lids, which can accommodate extra bulk of a rope or crampons stuffed underneath.
9) Internal organisers
Once again, an area that varies hugely across hiking backpacks. Some offer only a single space in which to put all your kit, whilst others have one or more compartments that can be used to organise your possessions.
As a general rule, the simpler the pack, the lighter it is (and the less there is to malfunction, as access to each of those compartments will mean more zips and buckles), so bear that in mind when choosing.
---
Montane – Women's Sirenik 65 | TGO Best Buy     
Fabric: 100D RAPTOR Featherlight and 420D RAPTOR Endurance nylon | Frame: pre-curved aluminium  | Size: one size, adjustable | Model: Women's specific | Rating: 4.5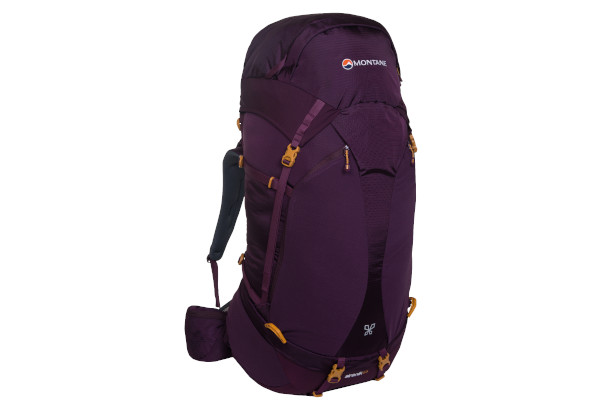 My husband has an annoying mantra – "light plus light equals heavy" – that he trots out whenever packing for the hills. 
He's right, of course: a load often contains little additions that all add up to the overall weight.
The pack itself is one area where a few grams, even a kilo, can be shaved off, making a big difference to physical performance on the hill. 
The Sirenik is lightweight, without being overly stripped down.  There are one or two compromises, such as slightly-too-small-for-my-camera hip pockets, and lighter materials that trade a bit on durability. 
What this pack doesn't skimp on is comfort.  I love the moulded foam ZephyrAD back system, which is easily adjusted with a huge slab of hook and loop fastening.
It feels stable and supportive, body-hugging and responsive over uneven ground. Externally, there are large zipped mesh storage pockets plus two mesh side pockets and side compression straps. 
The removable lid contains a rain cover and 'buddy pocket' – so-called I guess because you need a friend to help you get at it – plus an internal security pocket. 
The configuration of the lid pockets seems slightly counterintuitive, with the buddy pocket facing the wrong way, but it's the sort of thing I could easily get used to. 
Inside is a double skirt with drawcord closures, for water repellency if using without the lid, plus a pouch for a hydration sack and optional zipped divider.
Overall, everything is as you would expect from a premium 65 litre sack, and it comes at a very reasonable price.
---
Berghaus – Women's Trailhead 65        
Fabric: ripstop polyamide | Frame: HDPE sheet and removable metal stay | Size: one size, adjustable | Model: Men & Women available | Rating: 3.5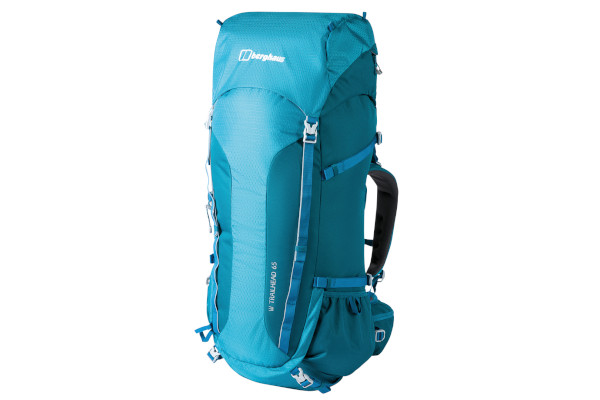 As a Duke of Edinburgh's Award supervisor, I've seen a lot of budget backpacks over the years. 
Many are not built with enough care or precision to do the job they are intended for, and I've helped a quite few candidates repair their rucksack far from home. 
Not so, the Berghaus Trailhead 65, which comes at an entry-level price but is of a quality that will see a few years of adventures in the wilderness. 
Inevitably there are compromises: it's not as well-featured as higher spec packs, with only one hipbelt pocket, and external side pockets but no additional front pocket.

It does have a roomy top pocket in the lid, an internal divider (I never use these as they waste space), a pouch for hydration system, plus zip entry in the base for easy access to the bottom of the pack.
Externally there are also side and base compression straps, plus an attachment point for trekking poles and a raincover stowed in the base. 
I carried this pack over a three-day expedition in Cumbria prior to lockdown and became quite well-acquainted with the fit and feel of it.
The shape is long and narrow, so that the pack towers over me a bit; and whilst the back system is adjustable, the large blocks of foam padding and a stiff pre-curved hipbelt did leave sore spots on my hips and back.
Despite this, I do think that this is a well-made rucksack, available at an excellent price, excelling within its class, both on features and build quality.
---
Jack Wolfskin – Denali 65 Women 
Fabric: 280D and 320D ripstop polyamide | Frame: aluminium honeycomb and HDPE | Size: one size adjustable (women's M-XL) | Model: Men & Women's available | Rating: 3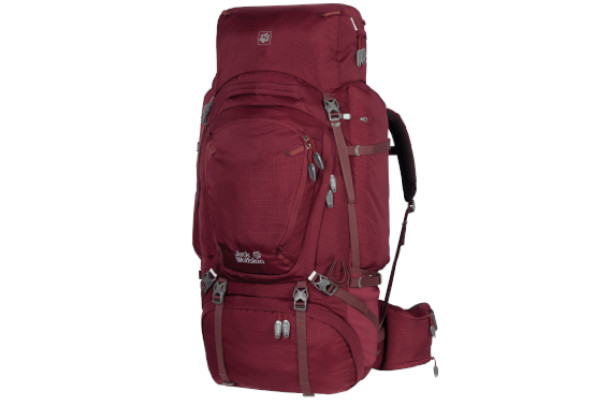 At 65 litres, the Denali is ostensibly the same volume as most of the other hiking backpacks in this test; but on comparison it is cavernous. In fact, everything about it is big: the volume, weight and back length.  
It's advertised as covering women's sizes M-XL. I'm 172cm tall, and shortened the back length a lot more than expected. It's easy to adjust (although it does tower over me a bit), but I think anyone under 160 cm will struggle to get a good fit with this pack.
Jack Wolfskin make a 45 litre hiking backpack (The Highland Trail) fitting size XS-M, which is sadly much lower volume.  
There's no shortage of features, and I especially like the hip pocket with the water bottle expander pouch.  There's a vast, zipped front pocket with internal compartments, and a huge removable lid with external, internal and raincover pockets.
There are mesh side pockets and additional zipped side pockets. The pack has zipped access points in the base and the side as well as the drawcord top. Inside is an optional divider and hydration pouch. 
It's quite wide and cumbersome to carry and there seem to be a lot of loose straps. I wouldn't choose it for rough, mountainous terrain; but for flat trails and overland travel it is a solid and versatile backpack that will transport a huge amount of gear in a well-organised way.
---
Fjällräven – Keb 72 W  
Fabric: G-1000 Heavy Duty Eco-S 65% polyester 30% cotton, 400D recycled polyamide | Frame: birchwood laminate | Size: one size, adjustable | Model: Men & Women's available | Rating: 3.5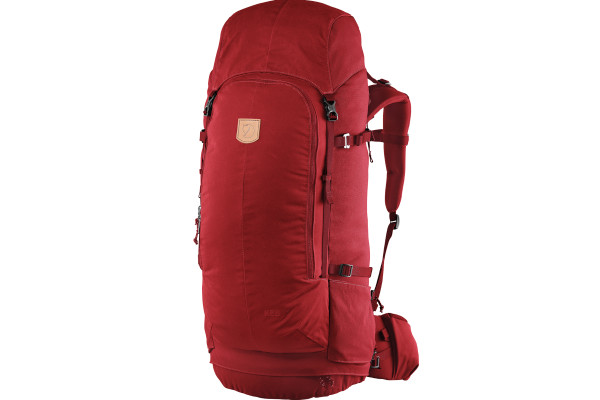 This rucksack's biggest strengths are also its drawbacks, making it quite a niche product.  I love that it is made from renewable and recycled materials, but these add to the weight and the price. 
The main shell is Fjällräven's G-1000 Heavy Duty Eco, which will last a lifetime. Elsewhere, Bergshell – a waterproof, recycled polyamide fabric – has been used.
The stays are a strong and gently flexible laminate of birchwood, a renewable resource that Fjällräven say reduces the overall carbon footprint of this pack by 90%. 
This isn't a lightweight option – and that's before the cotton content in the G-1000 has absorbed a bit of water (although Greenland Wax can combat this). 
It's a very comfy and stable carry on mountain terrain, with the load transferring well to the generously padded hip / lumbar area. It's sleek, but side pockets take bottles and skis and/or poles can be accommodated. 
A roomy zipped front section has more internal pockets and the padded hipbelt also has big zipped pockets. The removable lid has a large pocket with a rain cover and internal security pocket. 
I love this pack's quality, features and eco credentials.  I just wish it weighed less.
---
Lowe Alpine – W's Manaslu ND60-75 | TGO Recommended
Fabric: mini ripstop nylon with a 500D base | Frame: VT Plus lightweight aluminium stay with HDPE slab | Size: one size, adjustable | Model: Men & women's available | Rating: 4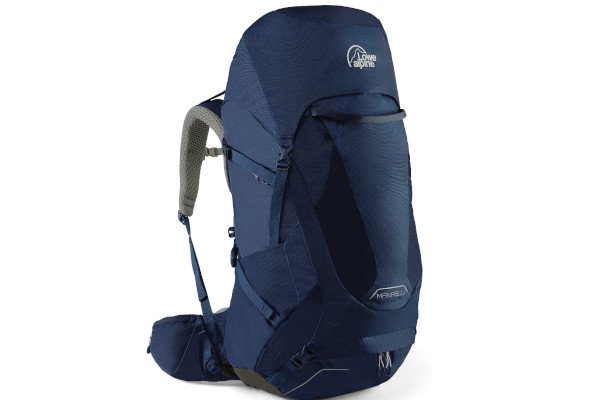 The headline here is comfort and stability, thanks to Lowe Alpine's excellent VT Plus carry system. The harness hugged me really well, with just enough padding on the shoulders (I don't like these too bulky) and lots of cushioning around the hipbelt and lumbar region.
I tested the latest model; but I also have an older version of this pack that I use for multi-day mountain trips, and I love how well it moves with me whatever the terrain. 
Full or empty, it has a neat, streamlined shape with no flapping straps. When fully loaded, the pack is so well-balanced it stands up on its own (maybe not important, but actually very handy!).
The back length is easily adjustable, and has a range that should suit people with shorter backs. 
I like the attention to detail and the user-friendly features such as buckles and toggles that are easy to operate in gloves, big stretchy mesh pockets on the front, side and belt, attachment points for poles or ice axes, and grab handles front and back.
The removable lid has really big external and internal pockets, the reinforced base contains an optional raincover.
It's a tough, well-made rucksack, which does translate into a bit of a weight penalty, the only drawback in an otherwise superb pack.
---