Chris Townsend looks at Teva's lightweight sandals
---
Teva were the originators of sports sandals back in 1984 and have been leaders in the field ever since. Their Terra-Fi models are excellent but they are quite heavy so I only take them on trips when I'll be wearing them all the time. I don't want to carry them in the pack. Teva's latest sandals, the Terra-Float Universal, are the opposite. At 462 grams (size 9) they are very light. At 898 grams the Terra-Fi 4s are almost twice as heavy.
In appearance they resemble Teva's original sandals with minimal strapping and a thick sole. The webbing uppers are lined with full-grain leather and have Velcro fastening over the forefoot and the instep. Plastic supports at the junction of the ankle and instep webbing means the sides are stiff here, which adds support to the feet.
The curved sole is well-padded with a fair amount of give and rebound for good cushioning. The diamond-patterned sole grips well though the narrow spaces between the lugs can clog with mud. The EVA topsole is soft and moulds to the feet though it can feel a little slippery when wet. It dries very fast though.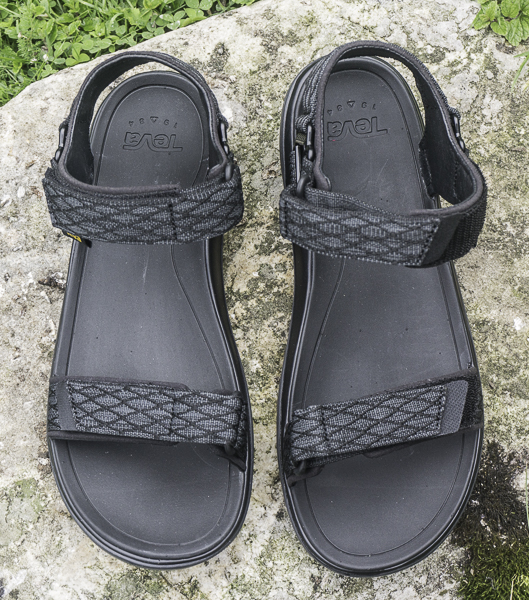 These sandals are fine for day walks but I think their real value is for backpacking as they can be carried in the pack for camp wear and as an alternative for walking in. On any walks of more than a few days I always like to have two pairs of footwear in case one starts to rub or hurt my feet. Changing footwear can solve foot problems very quickly.
A pair of ultralight sandals like these plus a pair of light trail shoes weighs less than many walking boots. I'll be taking the Terra-Floats on my next long walk.