Chris Townsend is a world-leading authority on outdoor gear. In his weekly column, he assesses new innovations and tests exclusive early samples of new kit. This week he tests a well-made zip-round daypack for outdoor & urban use
Patagonia's Refugio is another of the increasing number of daypacks designed for both outdoor and urban use. Unlike some alternatives I think it serves both purposes admirably. The 28 litre capacity (26 litres in the women's version which has a shorter back) is fine for everything needed for a day out in the hills outside of winter (and some might fit everything in even then).
The pack is solidly made from 50% recycled 630 denier PU coated nylon with a 100% recycled 200 denier polyester lining. There are two zipped compartments, a zipped front pocket and two stretch mesh lower side pockets. The YKK zips are reversed to protect them from dirt and abrasion and to give some water resistance. The zips all have long cord pullers that make opening them easy even when wearing gloves. The main compartment has padded sleeves for a laptop and a tablet. The smaller one has a zipped pocket and a mesh pocket inside for smaller items. The side pockets easily hold water bottles and there's an opening for a hydration hose at the top of the pack. A bladder could be carried in the laptop sleeve. Side straps on each side can be used to compress the load if the pack isn't full and for attaching long items like trekking poles. There are two sets of daisy chain loops on the front for attaching other items like a foam pad.
The back and shoulder straps are well padded and covered with breathable mesh. There's a sternum strap but no hipbelt or waist strap. The base is also padded.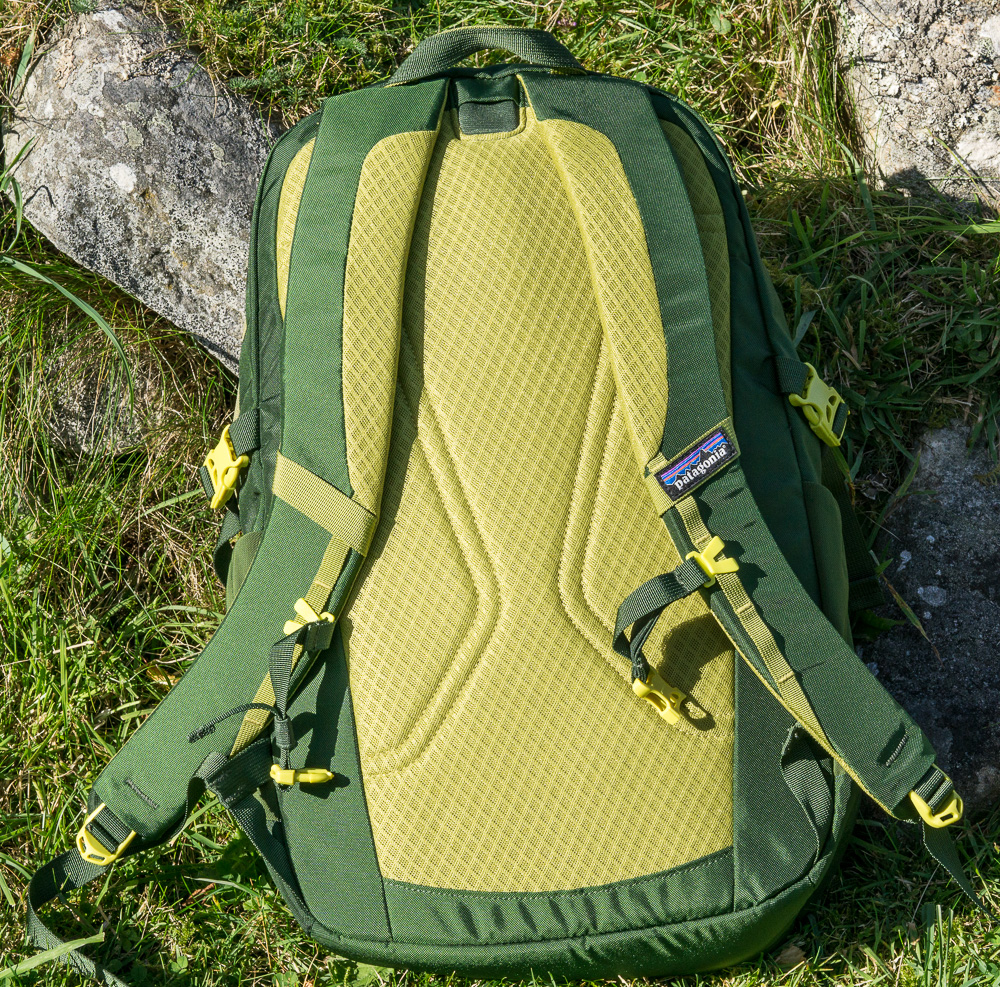 In use I've found the Refugio comfortable. I didn't miss a hipbelt as I don't find one necessary for the light loads the pack is designed to carry. The curved shoulder straps fit well and support the pack fine. The padded back stops items poking you in the back and the mesh does limit condensation though the close fit means some does occur. Even without a hipbelt the pack is quite stable. I've used it on some steep rough terrain without problem. The three roomy compartments and pockets made organising gear easy. The outer one held hat, gloves and windshirt – Patagonia says it's 'just right for tickets or other small items' but it's actually much roomier than that would suggest as it stretches almost the whole length of the pack. The smaller compartment is good for phone, notebook, camera lenses and accessories plus keys and wallet.
Overall the Refugio is a fine daypack. It's well-made and should last and I like the design, even though I'll probably never carry a laptop in it (mainly because I don't own one!) It weighs 660 grams, which isn't that light but which I think is perfectly acceptable in a daypack. It is dependent on the zips of course but these are generally very reliable.
£75