Supportive fabric boots with a good sole
Salomon's latest boot in the Quest series, the Quest 4D 3 GTX, is a nubuck leather and synthetic fabric model that looks and feels fairly substantial but is quite lightweight at 1.334kg for a pair of size nines. The boots have a Gore-Tex lining, a dual density EVA midsole and a Contragrip tread.
The hiking boots are built on a Salomon's 4D Chassis midsole, which consists of two cushioning layers of different densities with a shaped stiffening plate between them. Salomon says this 'guides the foot on even the roughest terrain to ensure stability and help reduce fatigue'. What it does is make the boots quite stiff side to side. They do flex at the toe, but not easily though in time they will probably soften up here. The boots are built on a curved last so there's a rolling motion when you walk that counters some of the stiff toe flex. The boots have a solid heel counter and toe bumper. They're quite high for a fabric boot and the tongue is sewn-in almost to the top so they're good at keeping out water and snow.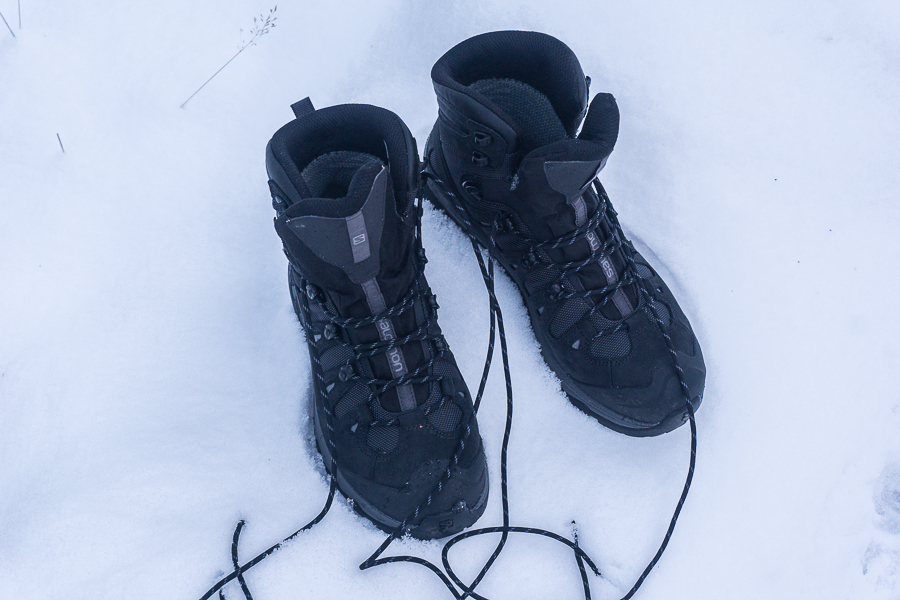 The fit is slightly narrow at the front for my feet, as is usual with Salomon footwear. I can wear them for a couple of hours but then my feet start to ache. They do feel stable on rough ground and the stiff sole makes for a supportive platform when traversing steep slopes. Whilst not designed for winter I've mostly worn them in snow as they only arrived in December and it's been pretty snowy since then. I've found the grip excellent on muddy thawing ground as well as on firm snow. Worn with medium weight socks they're proved warm too. I think I'd find them too hot in summer.
If they fit these are good boots for rough ground and cool weather. I just wish Salmon would offer different widths.
Until February 1st the Salomon Quest 4D boots are exclusive to Cotswold.
£180