An innovative functional and comfortable daypack
The Lowe Alpine Aeon 27 is a neat little daypack with an unusual back system. Packs in the sub 30 litre range usually have fairly simple harnesses as they're not designed to carry much weight. The Aeon 27 is different and will handle heavier loads than most packs this size.
Firstly, the back is adjustable and comes in different sizes, which is very rare in small packs. The shoulder harness is attached to a Velcro pad that can be moved up and down between the main pack and the moulded back panel. The range of adjustment is 9cm. There are two back lengths available and a women's specific version.
The back panel itself consists of a flexible flat framesheet behind a soft rubberised ribbed framesheet with cut-outs and holes in it for breathability. This is covered by mesh. The shoulder straps are also mesh with reinforcements and holes for ventilation. The straps are very thin but wide enough to spread the load and firm enough not to twist or buckle when loaded. There are top tension straps – again unusual in this size of pack – to pull the top of the pack in over the shoulders plus an adjustable sternum strap with an attached whistle. There's a firm panel in the top of the pack behind the shoulder straps too to help keep them in place. The hipbelt is quite substantial for a small pack. It's mesh covered with cut-outs, again for breathability.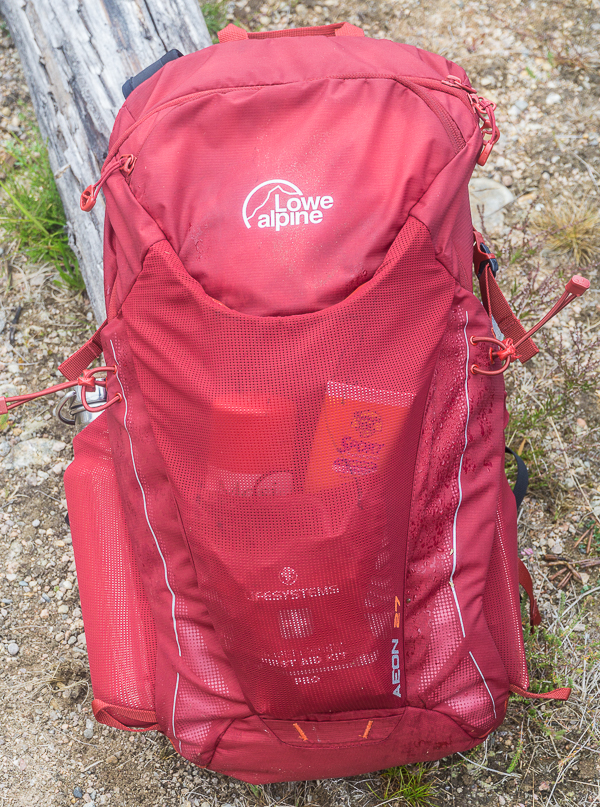 The pack is made from coated nylon that feels quite tough. It opens with a zip that curves round three-quarters of the main compartment, giving good access to the contents. There's a small zipped security pocket inside the top. Outside there are six pockets – a small zipped one at the top, one big front and two side stretch mesh ones, and two zipped stretch mesh hipbelt ones. The capacity is given as 27 litres. Fill all the pockets and I reckon it's quite a bit more than this. There are also two pairs of side straps on each side plus ice axe/trekking pole attachments. A hydration bladder can be carried between the back pad and the main pack. There are stretch loops on the shoulder straps for holding a drinking tube in place.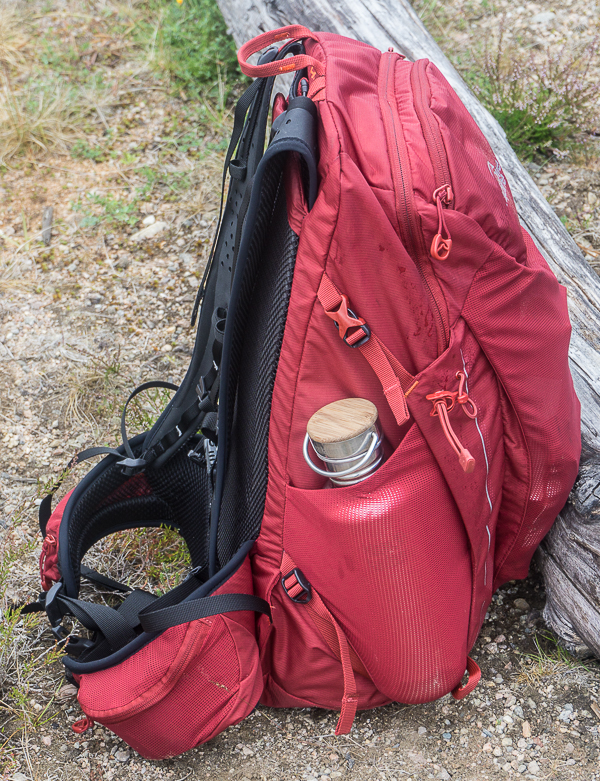 All this sounds quite complicated for a daypack. It doesn't feel fussy in use however as the design is functional. I've found the harness comfortable with the pack heavily loaded – several camera lenses and tripod as well as all my day walking gear. It's stable too, moulding itself to the back. Condensation control is better than packs with flat backs but not as good as curbed ones with big air gaps – the latter are less stable however. After several hours walking on a damp day I had a damp back. The pockets and the long main zip mean items can be organised and accessed easily. The zips are not waterproof though and as the main one runs across the top of the pack rain gets in quite quickly. No pack cover is provided, which is fine with me as I prefer to use waterproof stuffsacks inside. In rain you do need one or the other.
The Aeon 27 weighs 980 grams in the Regular size, not ultralight but fine for a daypack. It's a versatile pack that I really like as it's comfortable, stable and well-designed.
£90