Author and outdoor instructor Kevin Walker looks at how to stay safe in thunderstorms
This skills guide was first published in the December 2016 issue of The Great Outdoors.
While not a major cause of accidents, lightning claims the lives of two or three hill-goers every year (Ed: including this recent tragic accident). Even if you are not struck directly, you can be stunned by 'ground currents', which potentially fatal results if you are on steep ground.
Contents
---
What is lightning?
Lightning is caused by electrical energy in the atmosphere, and like water, electricity always follows the line of least resistance. The material through which it flows is called a conductor, and any break in this conductor causes the current to arc across the gap, accompanied by a flash of light (just like a car's spark plug). During a thunderstorm, clouds become charged with electricity, which then arcs to earth. It tries to travel the shortest possible distance, and therefore tends to strike the most prominent features in its locality.
A strike is like a raw egg being dropped onto a concrete floor from a great height – it doesn't just break, it splatters! When the electricity hits the ground, it spreads out in a series of ground currents, following the lines of least resistance like damp cracks and gullies. Any break in the conductor (like caves or overhanging rocks) will cause it to arc.
Signs of an approaching thunderstorm
You should get plenty of advanced warning of an approaching storm:
You will usually be able to see it coming.
You will almost certainly be able to hear it.
You may be able to feel it. Your skin will itch and your hair can literally stand on end.
Most alarming of all, local projections may glow with a blueish light and metal objects may hum and spark.
How to stay safe if caught in a storm
It you can, get to lower ground as quickly as possible, but if you do get caught, there are a few basic rules.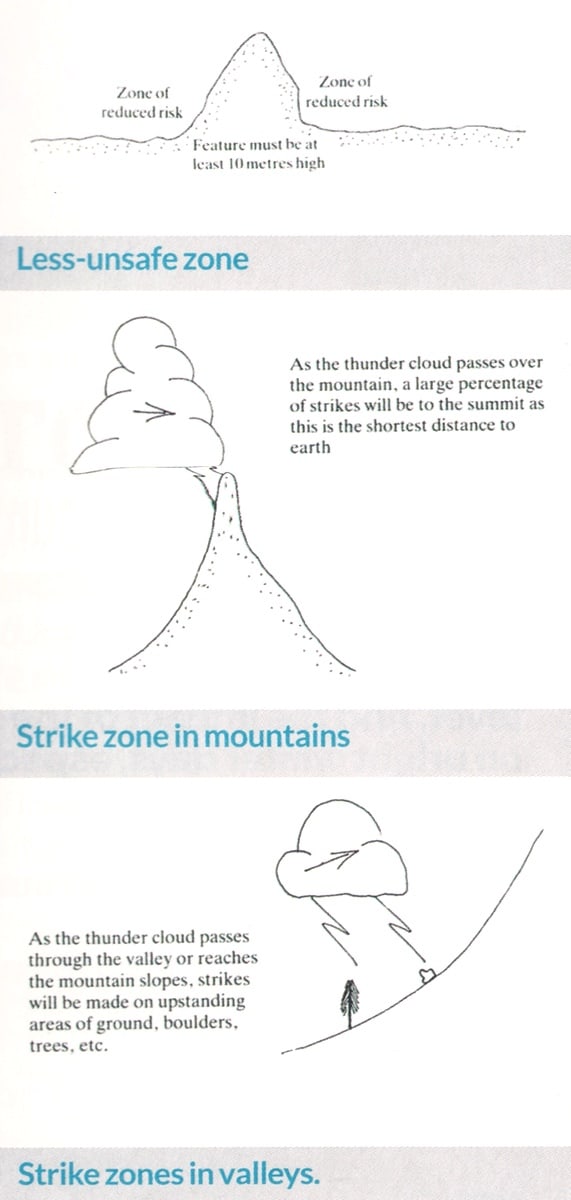 Because strikes tend to favour prominent features, there are zones around these features that are less prone to strikes. These occupy areas around features that are more than about 10 metres high, and have a diameter roughly equal to the height. These are not safe zones – these are less unsafe zones!
Move away from exposed ridges, mountain tops, prominent boulders, etc, into a less unsafe zone. Try to find a flattish, open area.
Sit down on the driest object you can find (rucksack, rope, sleep-mat), pull your legs up to your chin and clasp your hands around your legs. Try to keep your contact with the ground to a minimum.
On no account should you lean back on your hands – although you are less likely to be struck, you still have the ground currents to contend with.
By now it will likely be pouring with rain or even hailing, and you will be tempted to seek shelter. Do not shelter in fissures or gullies as these are the most likely routes for the ground currents. Similarly, never shelter in shallow caves or under overhanging rocks as these are potential spark-plug gaps and you could be severely burned. If you are camping, get out of your tent, because if it is hit, it will probably burst into flames.
There is no need to discard metal objects as they do not attract lightning. It may be prudent to place such objects to one side (it is disconcerting when they start sparking) but make sure you can retrieve them afterwards.
Don't forget that lightning can cause accidents indirectly as well. A ground current can easily stun you, so if you are on steep ground with no chance of reaching a less unsafe zone, find the flattest area you can and sit it out. Keep your eyes and ears open for falling rocks, for not only can lightning split a rock into fragments, but thunder can also cause rock-fall.
If, in the middle of it all, crouched, fearful and undoubtably buzzing with adrenaline, you can summon up the courage to open your eyes and look around, you will not be disappointed. It is a bizarrely beautiful experience.
Kevin Walker runs a range of navigation and hill skills courses in the Brecon Beacons. Full details and online booking are available on his website at www.mountain-activities.com
Header image © Shutterstock / Leopoldd