Gear Editor Chris Townsend explains what to look for when choosing a sleeping bag
---
1. Shell fabric
Shell fabrics should have a DWR treatment so they will resist drips and humid air. Waterproof shells are available, but for the bag to be fully waterproof the seams need to be sealed too, which is expensive. Very light fabrics allow the fill to expand fully but require more care.
2. Fill
The choice is between down and synthetic. Both come in different types. With down the higher the fill power the higher the quality. Fill power is the measure of the volume a given amount of down will fill.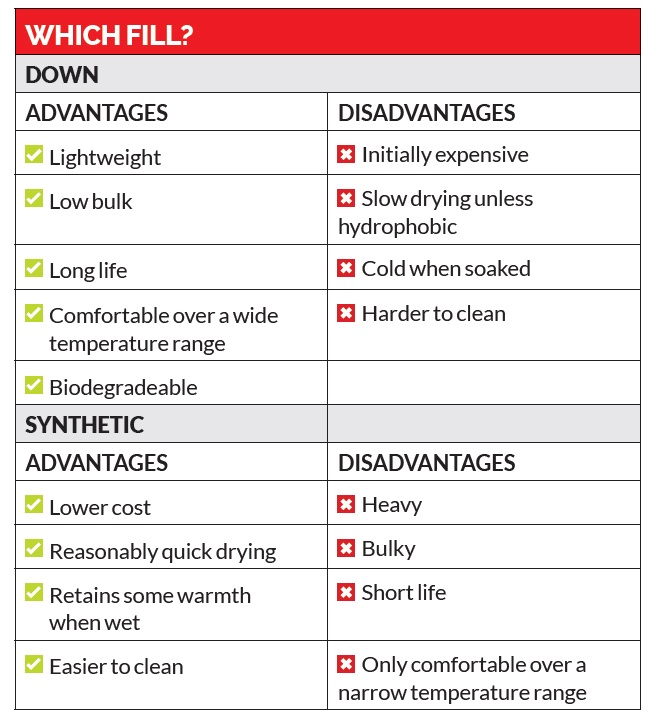 3. Construction
To ensure there are no cold spots at the seams sleeping bags should have short walls that separate the lining from the outer or overlapping sewn-through layers. The first is found in down bags, the second in synthetic ones. Some bags have more fill on the top than the bottom. This is fine as long as you turn over in the bag rather than with it as the latter moves the thinner section to the top and reduces the warmth.
4. Length
Some bags come in more than one length. A bag should be roomy enough that your feet aren't pushing on the end but there shouldn't be a large gap as it will hold cold air.
Click here to read Chris's assessment of 12 of the latest bags on the market
5. Width
Narrow bags are the most efficient as they cut out cold spots. But many people find them too restrictive. If you sleep with your legs bent you'll want a wider bag than if you sleep straight. If you might want to wear warm clothing there needs to be room in the bag for this without compressing the fi ll.
6. Hood
A good hood should fi t snugly round the face and have a drawcord that is easy to adjust when it's dark and you're half asleep.
7. Draft collar
An adjustable draft collar in the mouth of the bag can be used to cut out drafts when you don't want to close the hood.
8. Foot
A circular or oval foot gives more room for your feet and is warmer as the fi ll isn't compressed.
9. Zip
A zip lets you ventilate a bag and makes getting in and out easier. Bags with full length zips can be used as quilts on warm nights. Zips add weight though so some bags only have short ones. Two-way zips give the best heat control as you can open them a little way from the top or bottom.