The F10 Neon UL 1 is truly ultralight. It's a double-skin tent yet weighs less than many hooped bivis. Its size makes it more akin to the latter than bigger, heavier tents, however. This is a tent for the ultralight minimalist who just wants somewhere protected from the weather to sleep. There's no room to sit up inside, very little storage space (but then anyone using this probably won't have much gear to store), and no room for cooking undercover.
Price: £525 (available from Vango / alpinetrek.co.uk)
Weight: 580g | Pitching: as a unit | Flysheet: 7D double silicone nylon, hydrostatic head 2000mm | Inner: 7D nylon | Groundsheet: 10D ripstop PU nylon, hydrostatic head 6000mm | Poles: Yunan UL | Pegs: 12 x 13cm titanium wire, 3 x 15cm alloy Y | Porches: 1, max depth 30cm | Inner Dimensions: 62 x 85 x220cm, max. height 65cm
The F10 Neon UL 1 is made from the same materials as much bigger solo tents and, in fact, has a better groundsheet with a hydrostatic head than some of them. It's only let down by the pegs, most of which are needle-thin titanium ones. These bend easily and don't hold well. I bent a couple and had a couple more spring out of the ground as soon as they were tensioned. This is the one tent reviewed where I think most of the pegs are inadequate.
The tent is a tapered tunnel in design and pitches as a unit. Its very low profile means it sheds wind easily. The door is on one side and is long, which makes getting in and out easy and gives good views. The porch is long enough to store a few items – trail shoes and an ultralight pack on its side.
There's a protected vent above the door to reduce condensation. I didn't find condensation any worse in this tent than most of the others tested but, of course, the lack of space means it's easier to push the inner against the outer and transfer some dampness inside unless you are careful. It's best to avoid sitting up suddenly!
I like tents with room for gear, sitting up and cooking under cover. A tent I can live in comfortably in bad weather. This makes it hard for me to judge the F10 Neon UL 1. If I had to use a shelter this size, I'd definitely choose it over a hooped bivi though. If you want the lightest shelter that gives the complete protection of a tent this is probably the best there is. It's not for me though.
To read the other tent reviews in this test head to The Great Outdoors' best one-person backpacking tents.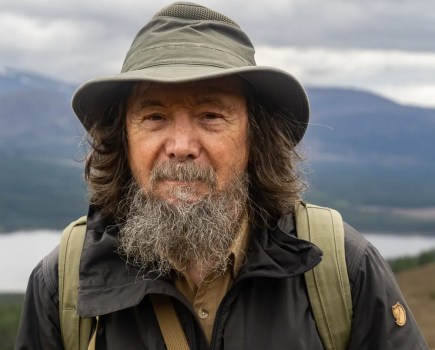 Tested by Chris Townsend
The tents were used in the winter and spring in the Cairngorms in all weather conditions – heavy rain, strong winds, frosty nights, and snow. All tents were weighed on the tester's digital scales and the weights are for all components including stuff sacks. Chris Townsend is 5' 8" tall with a long back and short legs.