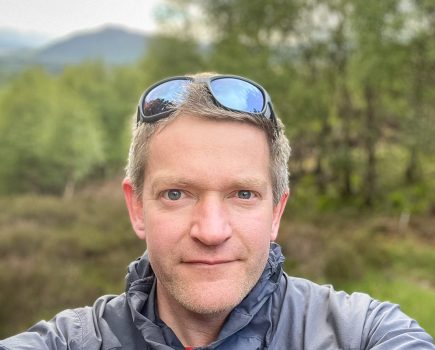 Tested by David Lintern
David tested these poles on a wide mix of ground, from multiday backpacks to his local trails on days out with the kids, right across Scotland from Spring through to Autumn. Weights are from his digital scales and for individual poles (not pairs). 
This review first appeared in the January 2023 issue of The Great Outdoors.
David Lintern finds the Salewa Carbonium Ascent Poles felt a little heavier than others in his extensive gear tests of trekking poles.
The Carbonium Ascent is a three-section, composite trekking pole – the upper two being carbon and the lower third being aluminium, which will handle bumps against rocks with more ease. Each section is held together with flick locks, tensioned by recessed Phillips screw – these locks were the best in test, and really smooth to adjust. The handle is foam and moulded for a trigger finger, but not aggressively so. The lower section just has tape wrapped around the shaft – I liked the simplicity of this: it didn't retain water and it's grippy with or without gloves.
Rating: 4/5
Pros: Very robust, ball basket design
Cons: Weighted heavier at tip end
Price: $130 | £125 (pair)
Buy now from salewa.com
Weight: 232g each
Materials: carbon (upper) and aluminium (lower) shafts, foam handle | Features: 3-section pole, fabric straps, foam handle, flick lock system, 3-season basket supplied. | Sizes: packed 68cm, fully extended 138.5cm
The strap on the Carbonium Ascent is simple and contoured for the wrist, without padding but comfortable enough. The baskets sit on a ball, which gives some play laterally. I'm not sure this has an advantage in softer ground, but it may help to prolong the life of the plastic on rockier terrain. In use, the poles proved secure and rigid, but the use of carbon in the upper sections and aluminium lower down means the pole feels unevenly weighted at the tip. Rather than aid a natural swing, for me it made the poles feel a little heavier than others. 
See more trekking poles in our guide to the best trekking poles.