Alex Roddie tests the Satmap Active 20, a high-end GPS with both touchscreen and button navigation
---
The Satmap Active 20 is a full-featured, high-end GPS handset designed for outdoor adventures. Building on the formula established in previous Satmap models, the Active 20 brings a dual touch/button control layout to the table – an innovative and flexible system giving users the familiarity of touch operation combined with the precision of glove-friendly buttons.
On paper, this looks like the perfect outdoor GPS. But as we discovered in our testing, it isn't without flaws, and it isn't for everyone.
Features
The latest Satmap handset includes a few key improvements over previous models in the range. While it retains the 3.5″ 480×320 sunlight-readable display introduced with the currently available Active 12, the screen has been dramatically improved with toughened Gorilla Glass. It's also a touchscreen, and the Active 20 is the first consumer outdoor GPS that can be controlled entirely by touch, buttons, or both. The touchscreen can be disabled in the settings.
Other key specs have been beefed up in this model:
Improved IP68 waterproof protection, usable in heavy rain. It's also shockproof.
A faster processor and more system RAM for smooth operation.
A new 3-axis electronic compass.
The GPS antenna picks up GLONASS and Galileo satellite networks for greater precision and speed.
Speaking of the GPS antenna, it's a very large 25mm patch antenna – significantly larger than the antenna found on smartphones or most other GPS devices. That also helps achieve a strong and accurate lock. In comparison, the Active 12 has an 18mm patch antenna.
There's a new 5,000mAh rechargeable battery, much bigger than the 2,700mAh battery that ships with the Active 12.
Other features include a barometric altimeter, Wi-Fi and Bluetooth connectivity, and the ability to use an optional AA battery caddy for powering the unit with Lithium cells. However, this caddy is a separate purchase that costs £20.
The unit I tested came with an SD card stuffed with maps, including OS mapping of the entire UK at 1:50,000, 1:25,000 and 1:10,000 scales. The equivalent bundle is the Active 20 Platinum Edition, which retails for £680 at the time of writing. It also came with a generous selection of accessories including a high-quality travel adapter and car charger.
In summary, this is a 'kitchen sink' sort of outdoor GPS: top-notch specs and every feature the most advanced user is likely to need.
In the field
Navigating with the Satmap Active 20 is in most respects a joy, but it does have some quirks – a couple of which are particularly annoying.
Smartphones loaded up with OS Maps, ViewRanger or Memory Map are gobbling up the outdoor GPS market, so it makes sense to introduce a touch-capable model. And the touchscreen does work very well. It's fast and fluid, and rarely lags, although it can't compare with a modern smartphone screen – in fact, the screen is identical in both size and resolution to that of the iPhone 3G, which came out in 2008. While it's sharp enough for most purposes, people used to the tiny pixels of a Retina display will still find it grainy. And the touch controls around the borders of the screen eat in to the amount of space devoted to the map.
On the plus side, the screen has very good brightness and decent clarity in sunlight. It's worth noting that it isn't possible to deactivate the backlight to save battery life – unlike some competing models, which keep the screen active but dimmed at all times, the Active 20 shuts the screen off entirely when the device is sleeping.
I found the GPS accuracy very impressive. It's able to rapidly achieve a lock under challenging conditions – indoors, for example – and shows very little 'jitter' in the recorded tracks. This GPS is more than accurate enough for the most demanding users.
The chunky, rugged housing has pros and cons. It's very easy to grip and difficult to drop thanks to the ribbed and rubberised sides, and it's unlikely to be damaged if you do drop it. I've used the Active 20 in torrential rain and it's proven waterproof so far, although you do have to take care that you don't lose the Micro USB port cover. It falls off entirely with ease, and if the seal is compromised at this point water can flood into the battery compartment and wreck the device. Not ideal.
That fast processor does make a big difference
Due to the device's size and heft, it isn't the easiest thing to store on your person while out walking, especially as there is no way to attach a lanyard out of the box. At almost an inch and a half thick, it's too big for most trouser pockets or even rucksack hipbelt pockets.
The large battery takes up much of that thickness, but I didn't find battery life to be that great on the whole – around 10 hours on a full charge, which falls short of the 12-16 hours advertised by the manufacturer. It's more than most users will get out of a smartphone with GPS tracking continuously active, but not by that much – and far below the battery life offered by competing GPS handsets with smaller screens and slower processers.
On the other hand, that fast processor does make a big difference. Redrawing the map is effectively instant, as are complex tasks such as plotting new routes. Partly that's thanks to the generous control layout with the choice of touch or buttons.
Those buttons are big and satisfyingly clicky, and they make it easy to use the device with gloves – with the exception of the button in the middle of the D-pad, which is a bit too close to the others and hard to press when wearing thicker gloves.
I don't find Satmap's operating system very intuitive compared to Garmin or any of the main smartphone navigation apps. In particular, I can find no way to remove pages I don't use from the main menu carousel – something Garmin has supported for years. The icons aren't always very obvious in terms of their function either.
Then there are the software bugs:
Sometimes, it takes several minutes after startup for the system to 'see' the detailed maps on the memory card – even well after a GPS fix has been made. This can be very frustrating.
Tracks I have deleted from memory sometimes remain visible on the main map screen and are impossible to remove.
Tracks created on the Active 20 and saved as GPX files are not always totally compatible with other mapping software. For example, ViewRanger will import then just fine, but OS Maps Online will crash on import, as will Garmin BaseCamp. While Satmap can't be expected to take responsibility for the behaviour of third-party software, the reality is that many people use multiple mapping apps these days, and GPX files are supposed to be universally compatible.
When the Active 20 is plugged in to my Mac for transferring files, it often fails to eject properly and shows up with an error message. This could be a problem with the computer, but I can't reproduce the error with any other USB device.
Recommendations
There's a lot to like about the Satmap Active 20: it's fast, accurate and mountain-proof, even in the worst winter weather (if you use Lithium batteries). However, in 2018 this device not only has to compete with other GPS handsets but also the smartphone you already own, and at £680 such a device had better be flawless.
Unfortunately it isn't flawless. While the software bugs could be limited to my sample or fixable with new firmware, Satmap's failure to include the AA caddy for Lithium cells – a requirement for winter use – feels like a cheapskate move, and a missing USB port cover could ruin your device in the field. It's also strange that there is no way to attach a strap out of the box. Both these omissions are puzzling given the otherwise excellent complement of bundled accessories.
Want to see more GPS reviews then check out our guide to The best GPS watches for hiking
The Active 20 offers you complete mapping plus advanced navigation functionality and hardware that is far more robust and weatherproof than most smartphones
It's also a bit of a brick. The hefty size and weight make it something you'll only want to carry if you really need it.
We're at the point where a good smartphone with a competent nav app, weather-resistant case and battery backup is 90% as good as something like the Satmap Active 20 – and has other benefits too. But what about value?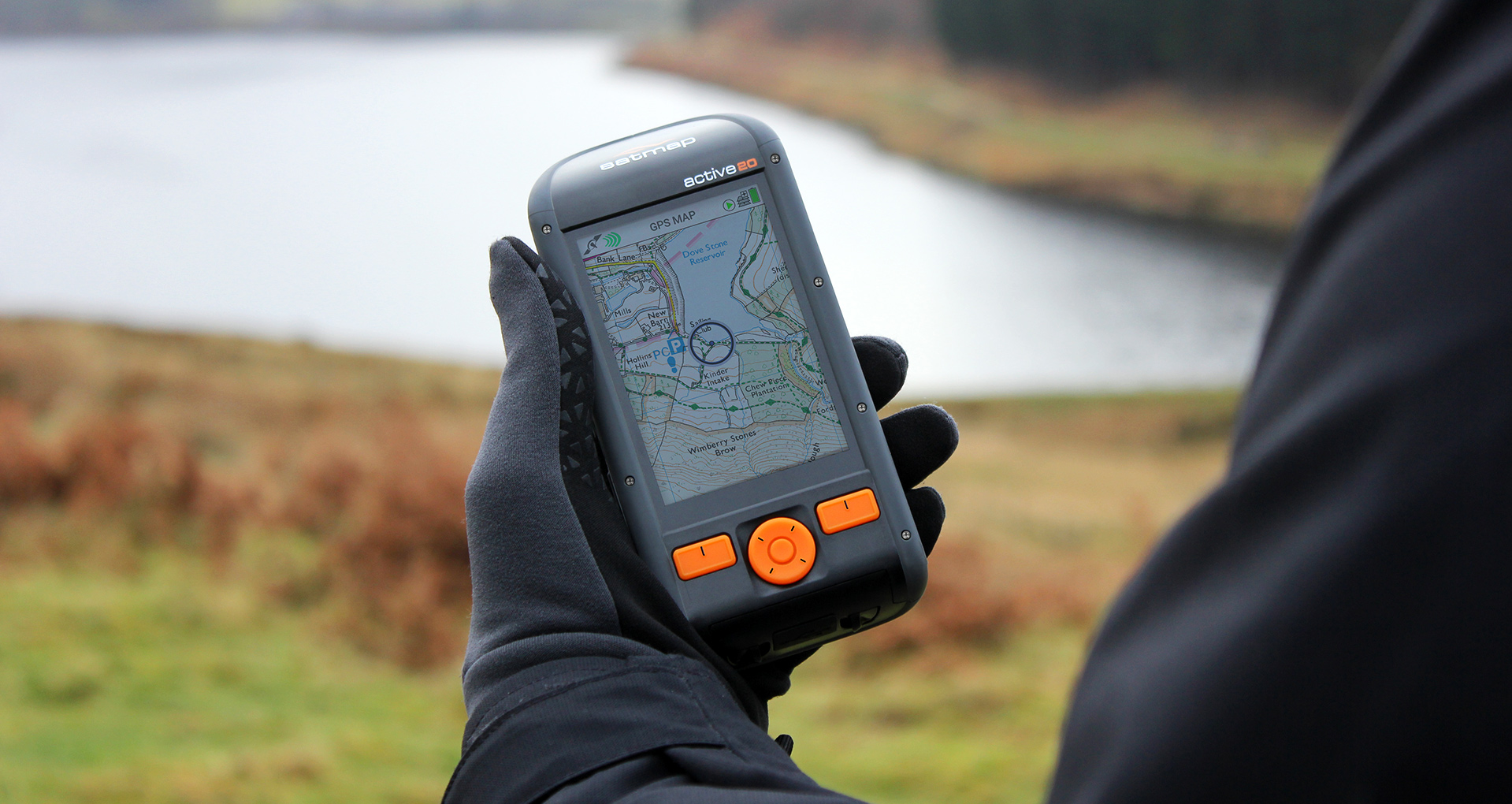 The Active 20 isn't as expensive compared to a smartphone as you might think. At the time of writing, to purchase full 1:50,000 and 1:25,000 OS Maps of the UK costs a total of £269.99 from ViewRanger. While an OS Maps subscription is cheaper, the app is far more basic. The Active 20 offers you complete mapping plus advanced navigation functionality and hardware that is far more robust and weatherproof than most smartphones. Not a bad deal, all considered, if you can live with its quirks and if you need the Active 20's features.
Lean more about how to use your GPS with our 6 top tips to make sure you are using a GPS wisely