Alex Roddie reviews a capable and adaptable pack for Alpine mountaineering.
Although marketed as a pack for climbers and alpinists, the new Mutant 52 from Osprey has a number of features that make it interesting for backpackers and scramblers too.
The Mutant is available in three capacities: 22, 38 and 52 litres. We tested the 52-litre model on a multi-day trek in the Austrian Alps, a journey that included plenty of scrambling and load-hauling on steep and rocky ground. So how does the Mutant 52 perform as a pack for Alpine mountaineering?
The details
Starting on the outside, it has a streamlined profile that is free from superfluous tassles and whipsnips to snag or get in the way. There are side compression straps (the upper ones can be unclipped, which is very convenient for when you want to fit them around bulky items). Immediately beneath the lower side compression straps you'll find a much beefier, fixed strap, and a vestigial side pocket – nowhere near big enough for a water bottle, but fine for capturing the tips of trekking poles or ice axes. I also found it great for holding my camera tripod in place.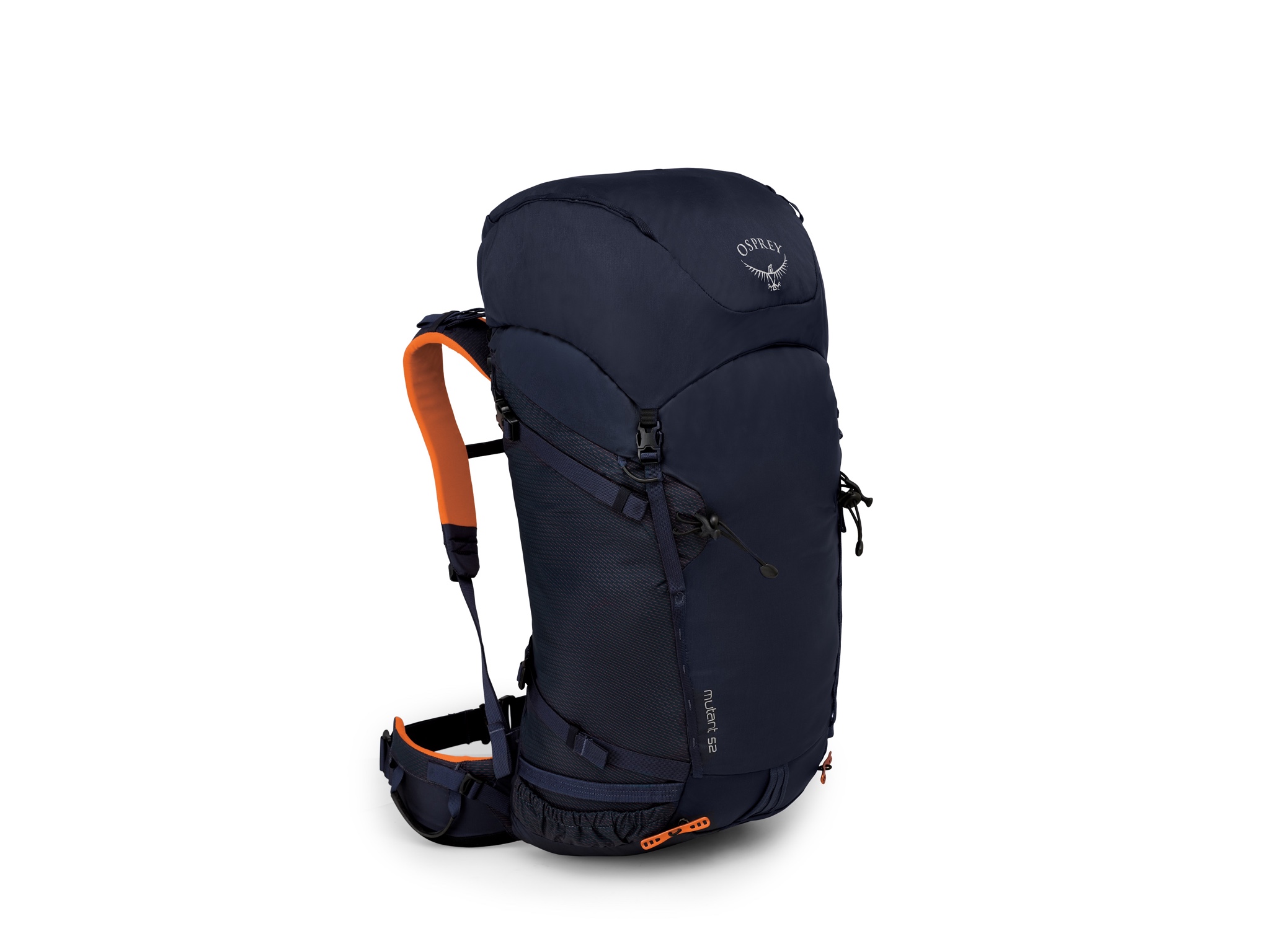 Moving to the front, there's a very secure method for attaching twin ice axes. Most of our readers will need one axe at most, but it's good to have the option – especially if you have climbing aspirations. Low-profile daisy chains down the front, and on the lid, make it possible to add a bungee system to your own requirements.
It has a simple but comfortable and supportive back system, designed to shed snow. No fancy ventilation or adjustment here – just a sheet of durable orange fabric over a removable HDPE framesheet with aluminium stays and a separate foam sheet. It's quite rigid and transmits weight to the hipbelt extremely well.
The removable hipbelt is basic and just padded enough. Each side has a reinforced gear loop designed to take a few karabiners, but I found it ideal as a hanging-place for my tripod (it would also be great as a quick-access ice axe holster). There are no hipbelt pockets, which some backpackers may find inconvenient, but this isn't an expected feature on an Alpine pack.
The shoulder straps are about as padded as the hipbelt and feel comfortable with a load up to around 13–14kg. The sternum strap is removable and there are elastic straps for a hydration hose. Otherwise, they're very simple.
The floating lid can be easily removed with two snap buckles, but adjustment is not as easy as it could be. The lid pocket has a good, big size. An unusual feature is the helmet attachment on the top. An extra pocket, secured by Velcro, conceals a stretchy mesh panel that hangs on with hooks fore and aft. It's designed to hold a climbing helmet in place. I did wonder if it could be used for securing a waterproof jacket, but it wasn't secure enough – it works better with rigid items. I think non-climbers will want to remove this element.
Moving to the inside of the pack, it's a lot more capacious than you might expect. That's thanks to the incredibly wide drawstring opening. Unlike other typically narrow Alpine packs, the Mutant 52 is narrow at the bottom but very wide at the top. This is to make life easier for alpinists who often shove rope and rack on top of everything else, but I found it really convenient for general use too. You do have to adapt the way you pack, but it improves the pack's balance and makes it easier to pull things out without too much rummaging. There is also a generously sized hydration sleeve.
The extension collar hides an interesting feature: a concealed flap called FlapJacket. This is a minimal top cover for use when you've removed the main lid, to stop rain or snow from getting through the drawcord hole. It's well sized to hold a waterproof jacket too. My only bugbears are that this flap can't be removed if you don't need it, and it sometimes falls out of its pocket by accident – I'd like to see a Velcro closure.
Overall
Build quality is top notch, as you'd expect from Osprey. The fabric is highly durable and more water resistant than average. I subjected the pack to multi-hour downpours and the contents stayed fairly dry, although you will still want to use drybags or a liner in wet conditions.
The M/L version of this pack weighs 1.55kg, which is not that light for a pack of this capacity, but the weight is justified by its intelligent features and durable build quality. However, this is a modular pack – remove the framesheet, hipbelt, top lid and helmet cradle and you'll reduce the weight by a respectable 690g. This makes it quite adaptable, from beefy load-hauler to svelte summit pack.
Two unisex sizes are available: S/M and M/L. As previously mentioned, there is no fine-tune adjustment possible beyond the usual load lifters and other straps, but I found fit very comfortable.
So who is the Mutant 52 for? Serious alpinists will get the most from its features, but I found it great for general Alpine use too. It feels secure and nicely balanced on steep scrambles. The main downsides from a backpacker's perspective are the lack of hipbelt pockets and water bottle-compatible side pockets, but if this doesn't bother you then you'll find the Mutant 52 an adaptable load-hauler that can perform in a variety of mountain scenarios.