Seriously good coffee bags, ideal for wild camping and backpacking
How does coffee count as outdoor gear, you might ask? Coffee enthusiasts who are also backpackers will attest that good coffee is essential to any wild camp, but good mountain-friendly coffee isn't always easy to find. Many swear by the Aeropress, but when you want something quick, simple and ultralight – without compromising on quality – then coffee bags are an attractive option.
Mitchell Blend coffee comes in whole bean, ground (cafetiere or espresso) or in coffee bags. We tested the 'MB Bag', which come in very convenient packets of ten (£15), twenty (£26) or a hundred (£90).
The packaging is particularly useful for backpackers, especially in the ten-pack size. Each foil packet is resealable, slim, and ultralight (the packaging for the ten-pack weighs roughly 10g empty). The coffee bags themselves are completely biodegradeable. While we'd encourage you to take them home for composting rather than leave them on the hill, there's no reason why you shouldn't carefully bury your coffee bags after use (well away from water sources, of course).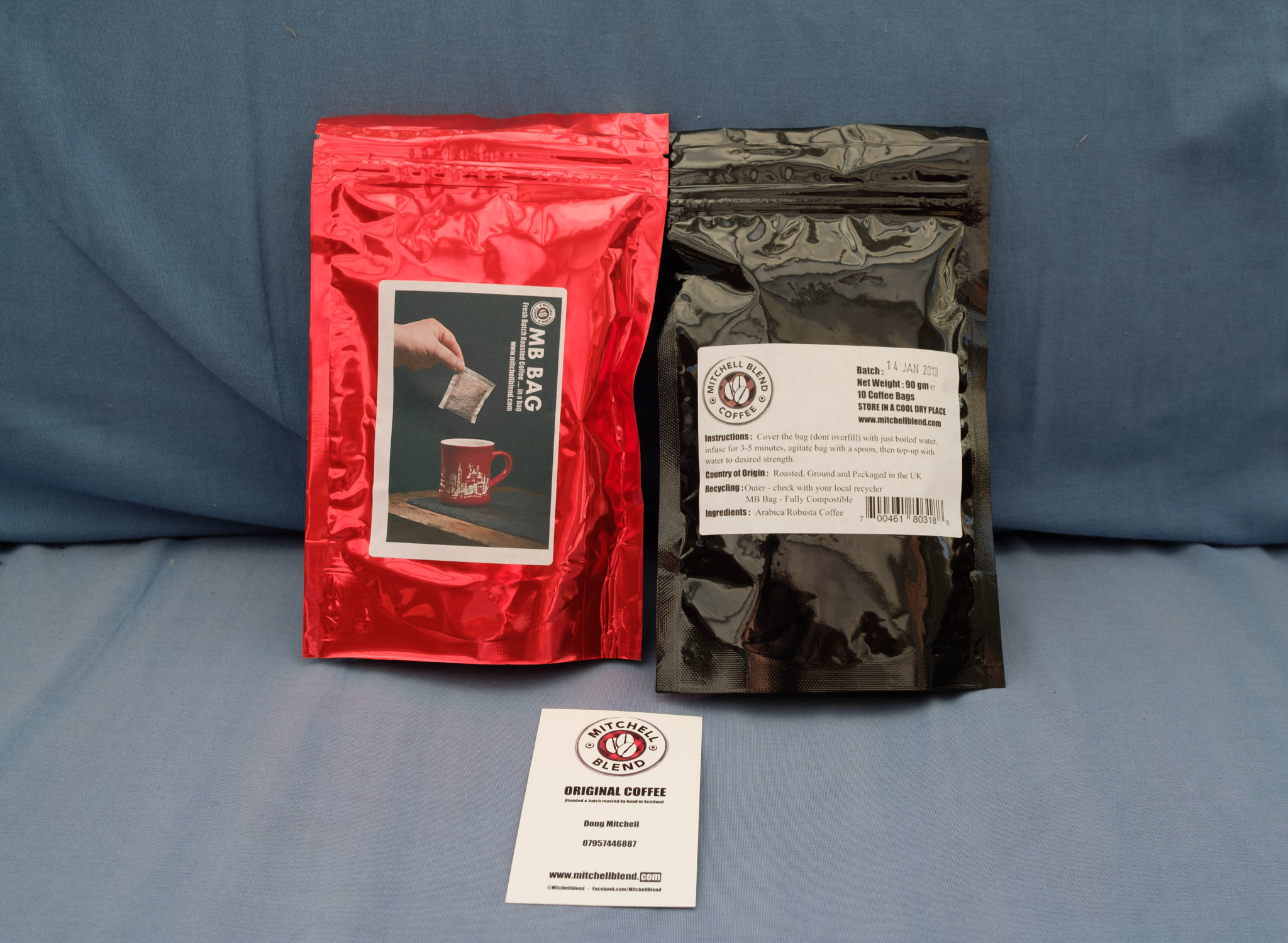 The packaging comes with clear instructions on how to make the perfect brew: it's best to just cover the bag with boiling water, infuse for about five minutes while occasionally stirring, then top up to required strength. I've found that this approach consistently produces an excellent brew.
This is seriously good coffee. The manufacturer says that Mitchell Blend was created to 'scratch an itch' when a favoured supplier moved to Spain, taking his coffee recipe with him. So Doug Mitchell decided to create his own blend. It was specifically created to be drunk with milk and two sugars, because that's how Doug likes his coffee, but this reviewer favours his coffee black and I'm glad to say it works just as well that way.
The flavour is rich and smooth with a good caffeine kick, although it isn't too intense. It has just the right balance for a post-wild-camp cuppa, helping to bring you to life first thing on a frosty morning. While these coffee bags aren't cheap if you drink a lot of coffee, it's a serious upgrade from that cup of instant Kenco and a lot less hassle than using a cafetiere.
All coffee is made from South American and Sumatran beans, roasted, ground and packaged in the UK.