Alex Roddie reviews a no-nonsense pair of boots for the winter mountains
Over the years I've worn (and worn out) quite a few pairs of winter mountaineering boots. My needs closely reflect those of any average winter hillwalker: I want a durable, waterproof boot I can comfortably wear all day, which feels supportive on steep snow, kicks steps well, and can take a walking crampon. At £190, the pricing of Jack Wolfskin's Wilderness Peak Texapore Mid is attractive, but is it up to the mark? I've been testing this boot in the Scottish mountains this winter, and here's my review.
First impressions
The Wilderness Peak Texapore Mid is a large and chunky boot, and the size-10.5 pair I was sent for testing tipped the scales at 1726g. That's about average for a boot of this kind; lighter options are certainly available. The boot is built around a Vibram sole unit with aggressive lugs and a 'climbing zone' at the toe, which is of limited interest to hillwalkers although it can make a boot feel more positive on scrambly steps. There's a very wide, durable rubber rand encircling the entire boot – good to see. The uppers are made from high-quality suede leather with only a few visible seams and some decorative detailing. Lacing hardware is top quality and allows for a good level of adjustment in the fit.
The Wilderness Peak Texapore has been designed in collaboration with Alpinschule Innsbruck (ASI) and bears the stamp 'ASI Approved Product'.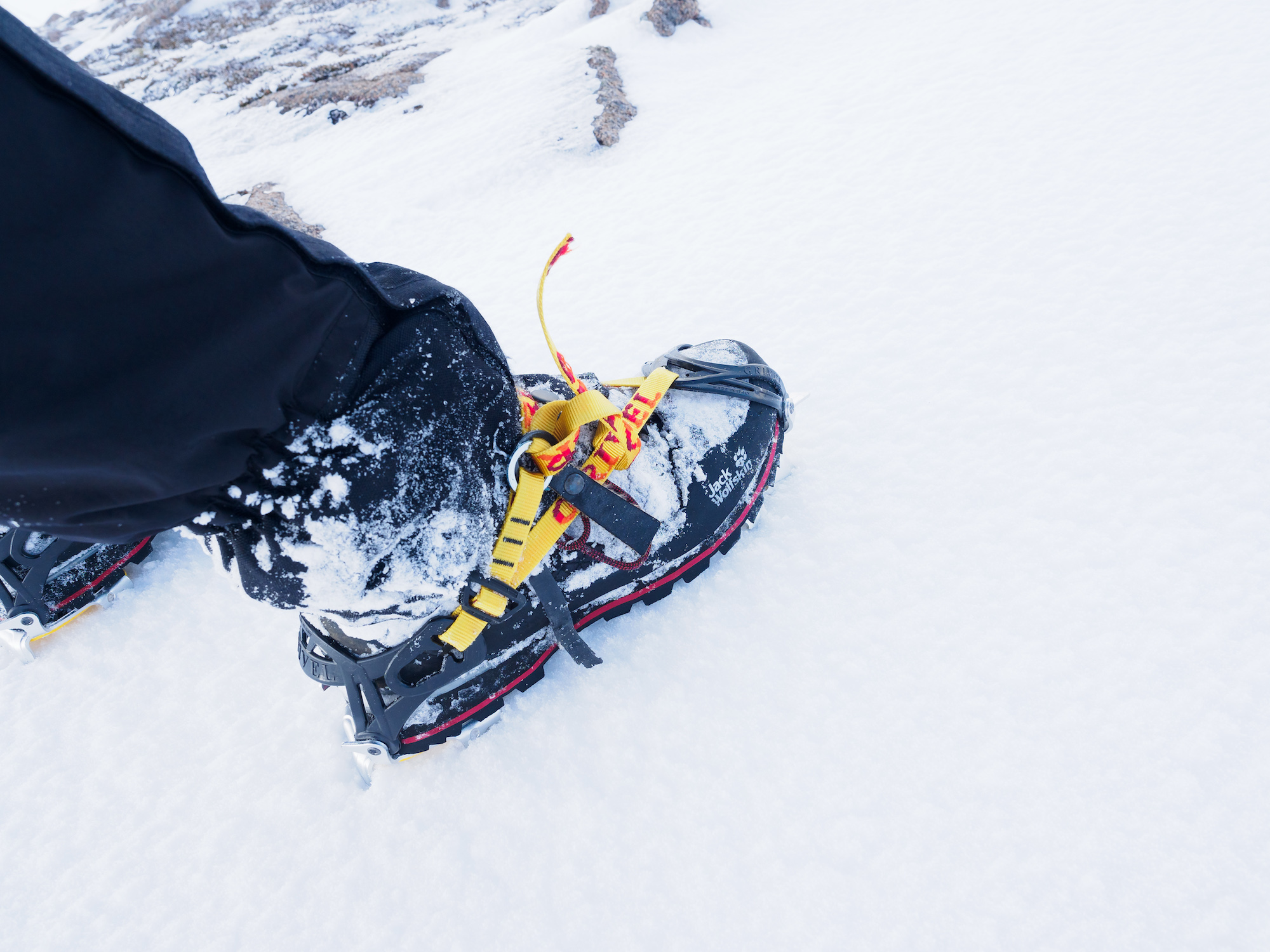 Jack Wolfskin don't rate this boot on the B1-B3 scale used by many manufacturers. They classify the Wilderness Peak Texapore as 'C', meaning simply 'mountaineering'. It is a semi-stiffened boot with a heel welt, and will take semi-automatic crampons or strap-on walking crampons. This makes it suitable for most forms of winter mountaineering, including low-grade climbing.
The first thing I noticed about the fit was that the ankle cuff seemed awfully high for a boot with 'Mid' in the title. I have wide feet, and the boot felt only just wide enough for me. However, my first impression was that they would be slightly too big overall, despite the narrow forefoot. I decided to pop in volume reducers for my first outing to see if that improved the fit.
On the hill
I have worn the Wilderness Peaks for every winter mountain outing this season between November and March, totalling seven days on the hill. That's fewer than I'd intended – the coronavirus pandemic shut down play, unfortunately – but it's enough for me to form conclusions on this boot and its suitability for the British mountains.
My first real day out with the boots was a typical early season outing: I didn't know whether I'd need winter gear or not, so I brought ice axe and crampons along just in case. It turned out that Torridon has escaped most of the snow although I found a few hard snow banks near the summit of Beinn Eighe to play around in. It was an 18km hill day with 1116m of ascent, mostly on steep and rocky ground – a good test of any boot.
I soon realised that I'd made a mistake adding the volume reducers. My feet felt a little pinched and cramped by the end of the day, especially the tops of my ankles thanks to the high cuff. I got rid of the volume reducers and experimented with lacing for the next day out. This was another big mountain day covering a similar distance and ascent, and with much more snow this time. The result: no more pinching. I found that I didn't need to use the top pair of lacing hooks at all, and that ignoring them made for a significantly more comfortable fit.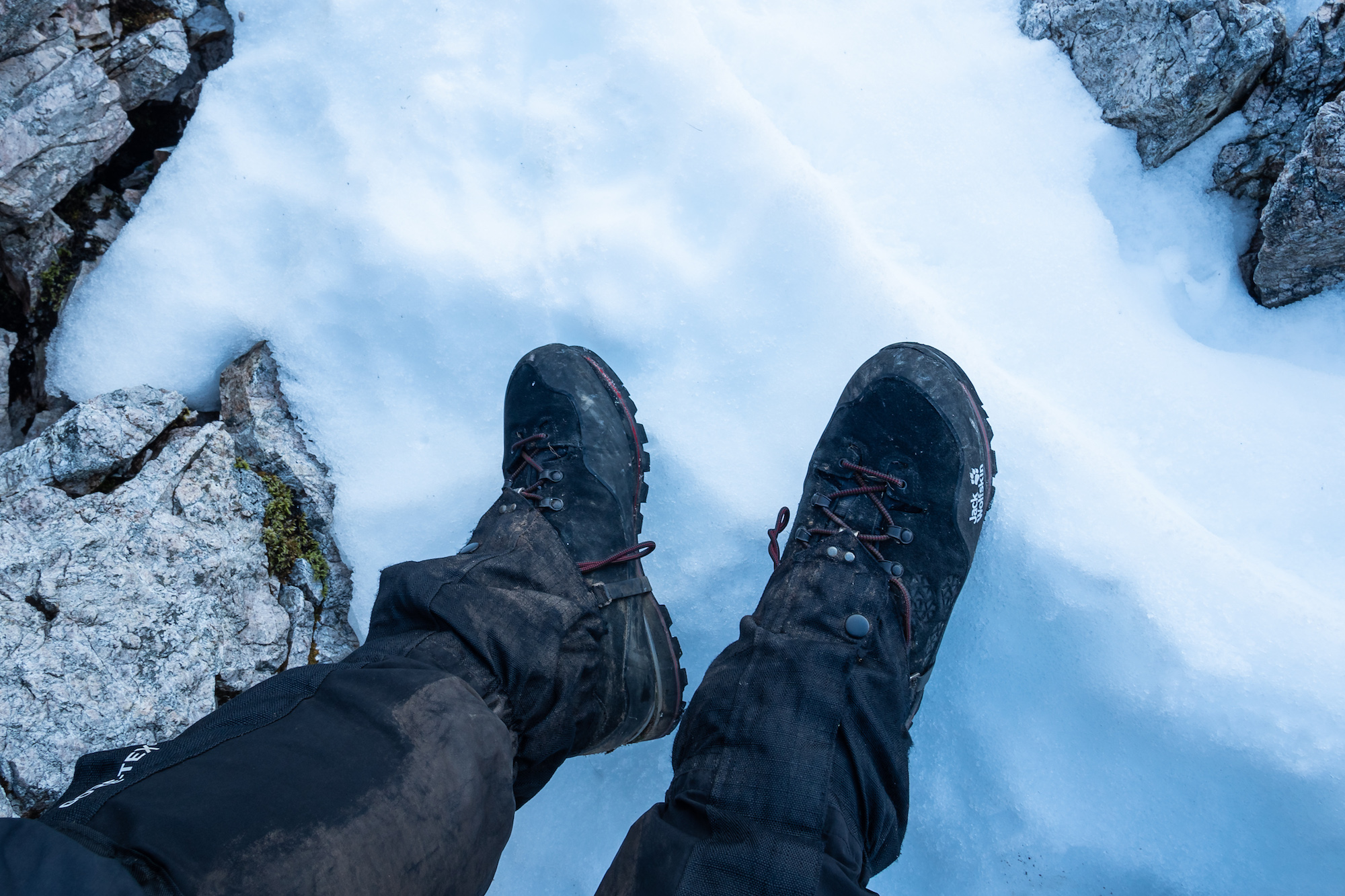 Subsequent outings confirmed this assessment. In addition to adjusting how I wore the boots, there was also, of course, the factor of breaking them in. As expected with stiff leather boots, the more you wear them, the more they adapt to your feet.
They are stiff, with only a little flex near the toe – much stiffer than the average 3/4-season boot. They don't feel at all nimble on snow-free ground, but they feel unassailably secure and stable on steep snow, which is where they excel. I've found these boots excellent for kicking steps with or without crampons. They take strap-on crampons perfectly. Although I haven't tested them on graded winter ground, I think they'd be fine for the odd Grade I gully or Grade II winter ridge, but I'd want something stiffer for steep ice or mixed ground.
They're also great for use with snowshoes. In March I made a big trip through the Cairngorms in perfect winter conditions, and I wore either crampons or snowshoes pretty much all the time. The boots performed flawlessly. Despite my initial concerns about a narrow forefoot, I've had no blisters, and no discomfort at all after the initial period of adjustment. The Texapore O2+ membrane has kept my feet dry too.
Durability is top notch. There is virtually no wear to the sole so far, despite miles of tramping over rocky and loose ground, and no visible wear to the uppers at all. I think these boots will last a long time.