Chris Townsend is impressed with this warm, light, synthetic insulated jacket.
Thick, warm synthetic insulated jackets have been around for decades. The problem is that they're usually heavy and bulky, so much so that, while I like thin synthetic jackets as fleece replacements, for real cold weather warmth I've always preferred down jackets even though synthetics are warmer and quicker drying when soaked.  The Rab Generator Alpine Jacket has changed my mind. As well as very warm it's lightweight and packs up quite small. For wet cold UK conditions it's ideal.
To achieve this low weight and bulk Rab has used PrimaLoft Gold Insulation with fibres infused with aerogel, an ultra-low-density material composed of 95% air. This combination is claimed to increase the warmth without increasing the weight. This insulation is soft and flexible as well as warm. It's also made from 90% recycled material.
The shell is made from tough, abrasion-resistant Pertex Quantum Diamond Fuse on the front, hood and arms with recycled Pertex Quantum on the back and under the arms. The Diamond Fuse fabric is made from diamond shaped filaments that lock together to create a snag resistant surface.
All this sophisticated materials technology isn't enough by itself of course, the design needs to work as well. Happily, with the Generator Alpine it's excellent. There's a chunky two-way front zip with a zip puller with a big loop so it's easy to use when wearing gloves, a large chest pocket with the same loop on the zip puller, two handwarmer pockets that are just usable when using a hipbelt, two inner open-topped pockets for keeping gloves or water bottles warm, and wide cuffs for ventilation and ease of use with different styles of gloves.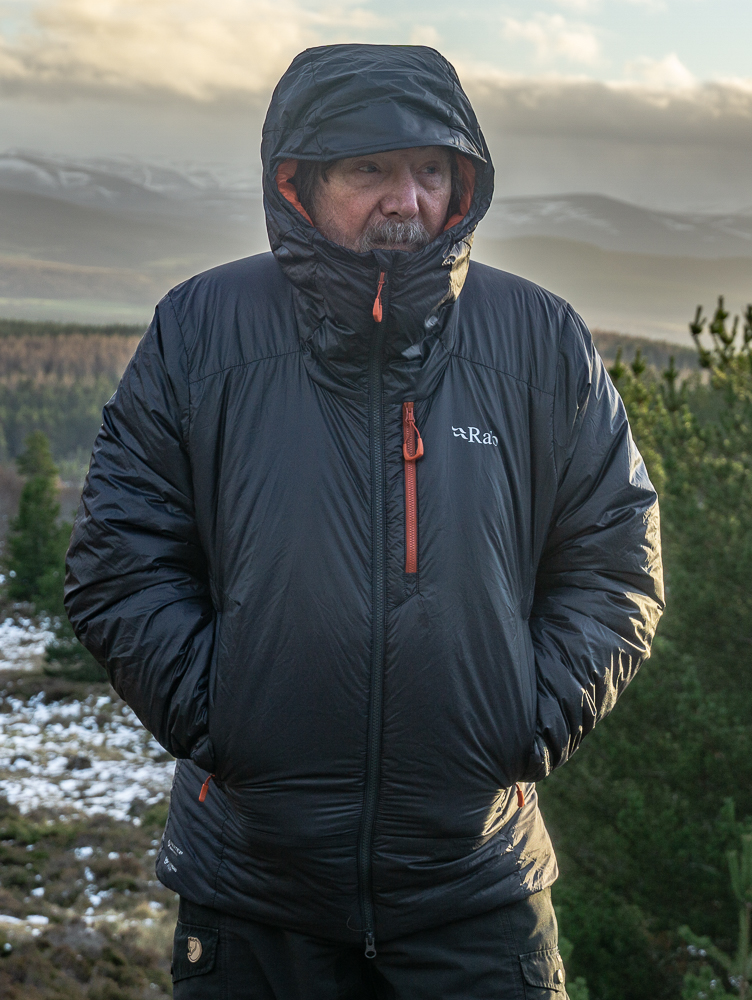 The hood, often a weak point on insulated jackets, is particularly good. It's helmet compatible and so large, but it can be cinched down comfortably. There are front and rear adjustments. The front ones are inside the jacket and need to be tightened before the front zip is fully done up. They can easily be loosened from the outside though by squeezing the circular cordlocks and pulling. The rear adjuster is quite large and fairly easy to adjust when wearing gloves, unlike many. I found that most of the time I only needed to use the rear adjuster to get a good fit with the hood, only using the front ones in the strongest winds.
The hood has a stiffened peak with a wired rim and gives excellent protection. The insulation is lighter weight than in the rest of the jacket to ensure the hood is flexible and doesn't reduce hearing.
Rab calls the Generator Alpine a belay jacket and says it's "designed for climbing, winter mountaineering and all cold weather adventures". Belay jackets are so-called because they are designed for mountaineers to wear over all their other layers when they're stationary belaying their climbing partners. To this end the Generator Alpine has a roomy fit. I can comfortably wear the large size over a thick fleece and winter weight waterproof jacket.
The Generator Alpine really is very warm and has a reassuring feel when donned in a storm. On snowy summits swept by bitterly cold winds I've found it snug and warm and have had no worries pulling it on over a waterproof drenched with sleet and wet snow. I haven't worn it for long while walking, it's just too warm, but I have kept it on descending from freezing summits until out of the worst of the weather. The outer is showerproof and so far the jacket hasn't got more than a little damp. I expect it to dry quickly when it does get soaked, as it inevitably will.
This is the first thick insulated jacket I can see myself carrying and wearing regularly due to the weight and the packed size. There are down jackets that weigh less and pack smaller, but the Generator Alpine is the closest synthetic insulated jacket to them that I've tried, and it has the big advantage of there being no concern about getting it wet. I like not having to take as much care as I do with a down jacket. I only have one complaint. For some reason it's not available in women's sizes, something I hope Rab will rectify soon.
The Rab Generator Alpine is quite expensive for a synthetic filled jacket. It is an exceptional one though.
BEST BUY: This product has been awarded our 'Best Buy' endorsement, meaning our reviewer believes it to be one of the best items of its kind available.