Klättermusen's new Brimer 24L is a substantial pack with a back system designed for fairly heavy loads even though it only has a capacity of 24 litres. It's made from a tough-feeling recycled nylon and has a Kevlar- reinforced base. In the back there's a rigid tubular aluminium hourglass-shaped frame along which slides the foam padded shoulder strap yoke so you can adjust its position. The hipbelt has wide, lightly padded fins attached to a lumbar pad with thicker foam. All the parts of the harness that touch the body – shoulder straps, shoulder yoke, hipbelt, lumbar pad – are covered with open mesh foam for ventilation. There's a daisy chain of fabric loops on the shoulder straps.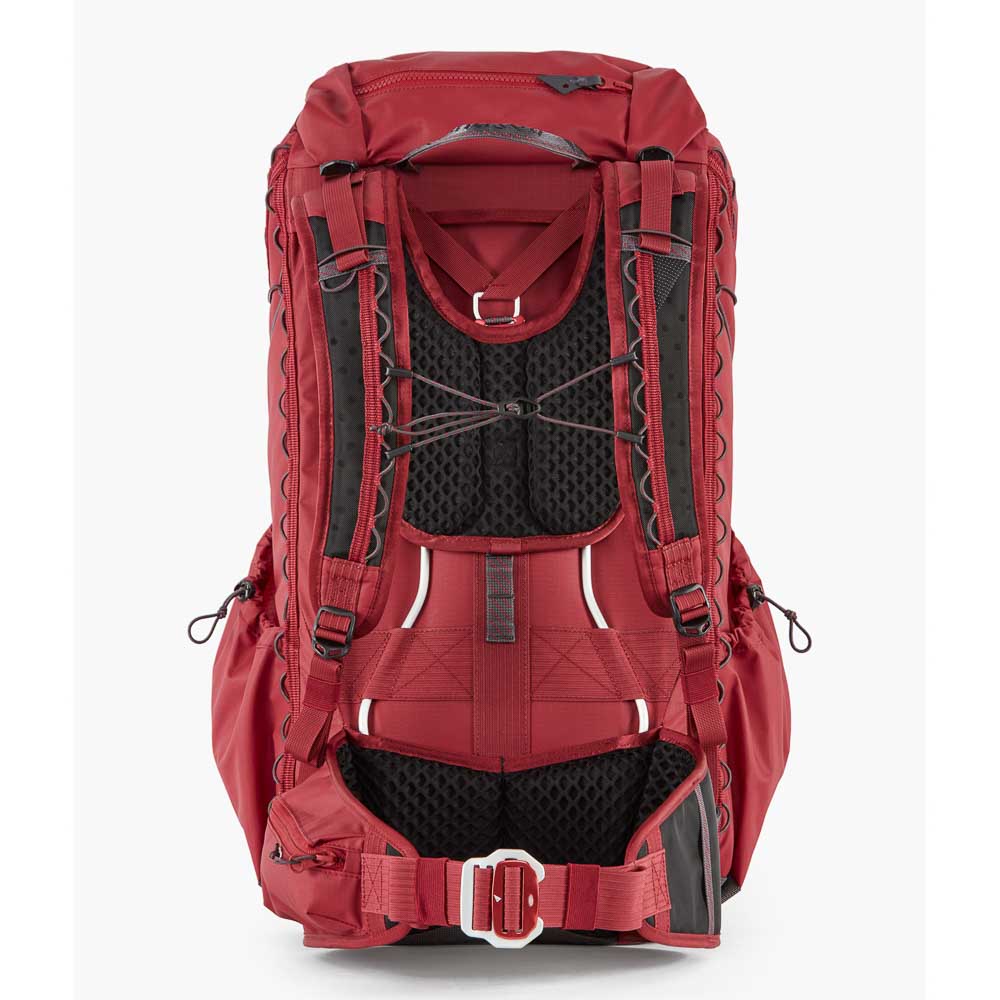 DESIGN
The Brimer has an unusual closure with a combined clip buckle and cinch cord. This took a little getting used to but once I was familiar with it I found it quick and easy to operate. There's a small, zipped pocket on the outside of the lid and another small pocket for valuables inside the pack. There are two open-topped lower side pockets. Rather than the usual mesh these are made from the same fabric as the pack and have Kevlar-reinforced bases. They're roomy and close with drawcords. On the hipbelt there's one zipped pocket and on the other side a loop for attaching items. A thin elastic bungy cord is threaded through loops on two daisy chains that run down the pack. This cord can be used for attaching gear and for compressing the pack round the contents.
IN USE
I found the Brimer comfortable to carry. I deliberately loaded it with heavy camera gear, and it felt fine. That meant some of my walking gear had to go in the side pockets and shoved behind the bungy cord. With a harness like this I'd rather have a roomier pack and there is one too, the Brimer 32L (£207). As it is the Brimer 24L is great if you want a really comfortable pack and maybe carry a bit more than a light day load. It is quite expensive but should last well.
RECOMMENDED: This product has been awarded our 'Recommended' endorsement, meaning our reviewer believes it is a strong product which works well for its intended purpose.
Chris Townsend likes this tough daypack made from recycled materials.